Exploring Rockefeller Center & Radio City Music Hall
Walking down the streets of Manhattan there is something fascinating to be found at almost every corner, if it is in the form of a building, a sculpture, an interesting window display, or an architectural detail, it is easy to find something to admire just about everywhere! We were just walking around Rockefeller Center and admired once again, the spectacular Art Deco sculptures in relief by Lee Lawrie & Leon Solon, as well as the amazing Art Deco plaque "News" by Isamu Noguchi. Feast your eyes on these beauties at Rock Center and enjoy your walk around the Big Apple!
We added a few photos of our recent visit to Radio City Music Hall. Don't miss this Art Deco gem when in New York. We love Radio City and we hope it will keep it's "Old New York" charm forever. It is truly one of the greatest buildings in New York with an incredible Art Deco interior!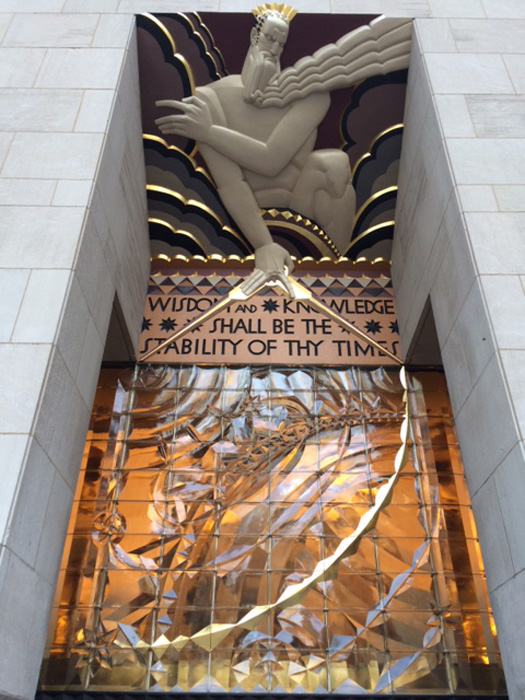 The sculpture "Wisdom" from 1930 by Lee Lawrie at 30 Rockefeller Plaza with chromatic color studies by Leon Solon.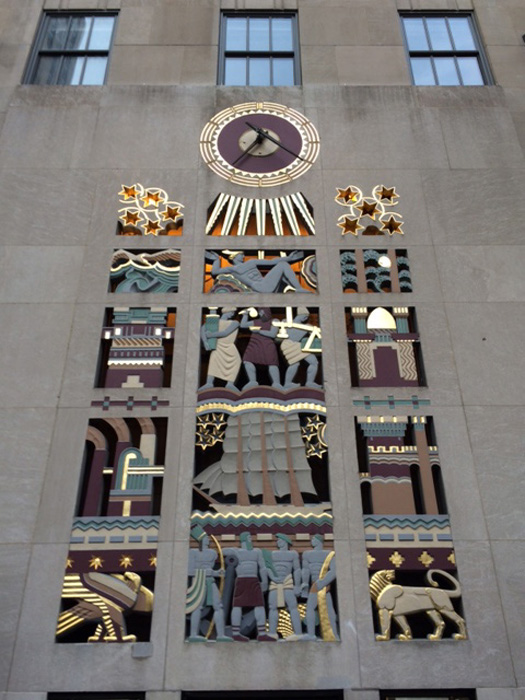 Cut out sculptural relief by Lee Lawrie at 45 Rockefeller Plaza with chromatic color studies by Leon Solon.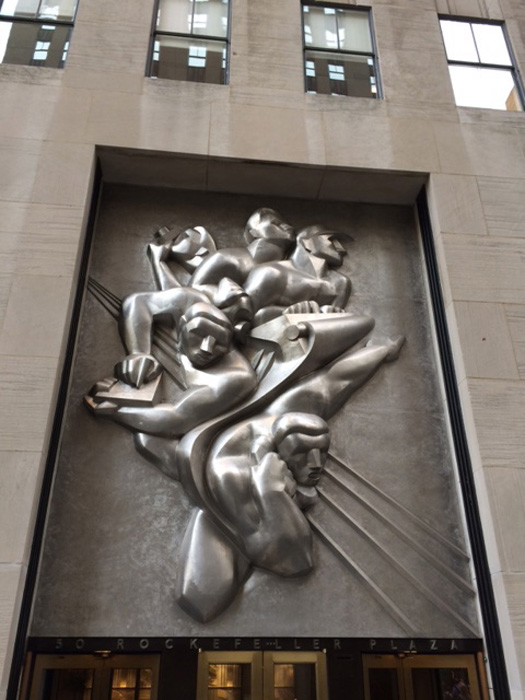 The sculpture "News" was Isamu Noguchi's first major architectural commission and can be found at the entrance of 50 Rockefeller Plaza. This dynamic plaque symbolizes the business of the building's former tenant, the Associated Press. One of the major Art Deco works in the Center, it depicts five journalists focused on getting a scoop. AP's worldwide network is symbolized by diagonal radiating lines extending across the plaque. Intense angles and smooth planes create the fast-paced rhythm and energy of a newsroom. News is the first heroic-sized sculpture ever cast in stainless steel and the only time Noguchi employed stainless steel as an artistic medium.