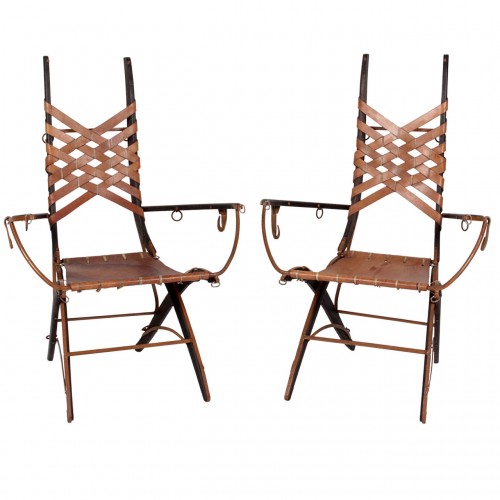 Alberto Marconetti / Italian Post-War Design Armchairs c. 1960's
More Information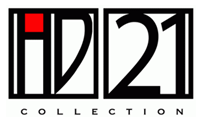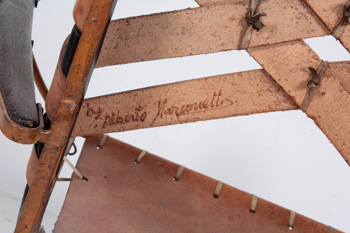 Product Description
Alberto Marconetti / Italian Post-War Design Armchairs c. 1960's
Related Products
Nigel Coates, Rare, Early and Iconic Genie stool 1988

NIGEL COATES  (b. 1949)  England
BRANSON COATES ARCHITECTURE  London

"Genie" stool  1988

Carved and sandblasted solid ash seat on twisted mild steel legs

Marks: NIGEL COATES  GENIE STOOL
Illustrated: 1000 chairs, Charlotte & Peter Fiell (Cologne: Taschen Verlag, 1997), p. 615.

H: 26: x D: 13 1/2″

Price: $9,500

British architect and designer. He studied at Nottingham University and the Architectural Association, London, where he graduated in 1974 and subsequently taught until 1989. In 1983 he formed the group NATO (Narrative Architecture Today) with a group of former students and began to practice independently; two years later he went into partnership with Doug Branson (b 1951). Coates became known for his fluid and lively graphic style and the overt theatricality of his designs. His proposals for the redevelopment of London, involving sophisticated allegories of popular culture, were shown in two exhibitions: ArkAlbion (1984), with drawings of new development areas such as County Hall and the Isle of Dogs, and Ecstacity (1992), with computer simulations and video clips. In the renovation (1980) of his own flat in London he juxtaposed the original, ornate late 19th-century interior with 'found' furniture and decorative objects. The publication of this project brought Coates to the attention of Japanese clients who were seeking fashionable Western designers, and he carried out several projects in Japan that became increasingly theatrical: in Tokyo the Metropole Restaurant (1985) evokes a European café, while the Parco Café Bongo (1986) juxtaposes classical English furniture with an imitation aeroplane wing mounted on the ceiling; and the Arca di Noè (1988), Sapporo, is an eclectic mixture of classical motifs and a concrete boat. Coates's radical approach was dissipated in later British works, such as a series of London shops: one for Katharine Hamnett in Sloane Street (1988) has a shop front formed of aquaria, and one for Jigsaw in Knightsbridge (1992) has its shop front formed of a two-storey copper column in the shape of a phallus. In 1992 he began designing an extension to the Geffrye Museum, London.
Coates was an influential teacher at the Architectural Association from 78- 86, and has lectured extensively abroad. In 1995 he was appointed Professor of Architectural Design at the Royal College of Art and now divides his time equally between the college and his office. Nigel Coates furniture is represented in the Modern Furniture Collection of the Victoria & Albert Museum, London.

"I go for architecture that overlays and enhances. By blending observation and wit with reason, I want my work to generate a sense of the unexpected, and the seemingly spontaneous."

 

 

Filippo Tommaso Marinetti, "Les Mots en Liberte Futuristes" 1919

FILIPPO TOMMASO MARINETTI (1876-1944) Italy

"Les Mots en Liberte Futuristes" 1919

Bound volume with folding plates
Edizioni Futuriste di "Poesia"
Published by Corso Venezia, 61, Milan

Dimensions:
Book: H: 8 15/8" x W: 5 1/16"
Custom leather box: H: 8 15/16" x W: 6 1/16" x D: 1 3/16"
Custom silk slipcase: H: 10" x W: 16 5/8" x D: 1 7/8"

With this fundamental book whose subject was the so-called "words-in-freedom," F.T. Marinetti summarized about 15 years of research in the field of the renewal of poetic and literary language. This book features several typographic compositions spread in fold-out pages where the author shows his great creativity in typographic composition by using typefaces of very different style and size, as well as hand-designed typefaces and calligraphic writings. The results are of striking, impressive, visual effects that have since influenced many writers and poets.