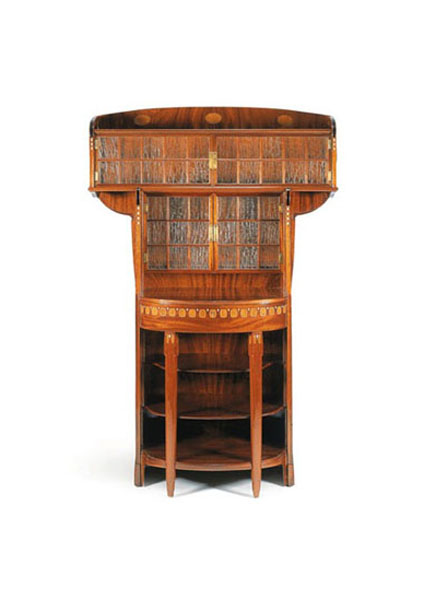 Alfred Grenander / W. Kummel 1904 St. Louis Exhibition cabinet, unique 1904
More Information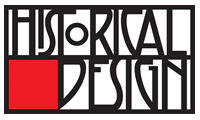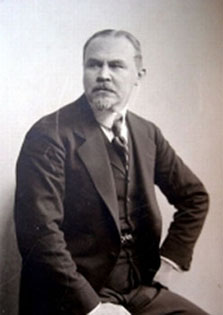 Product Description
Alfred Grenander / W. Kummel 1904 St. Louis Exhibition cabinet, unique 1904
Related Products
WMF Jugendstil Art Nouveau Four Seasons Jewelry box c. 1900

WMF  [Württembergische Metallwarenfabrik]  Germany

"Four Seasons" Art Nouveau Jewelry box c. 1900

Silver plate with Jugendstil design buttress handles and open work handle with a frieze of Art Nouveau maidens representing the four seasons, velvet lined with two original keys.

Marks: WMF mark, I/O (in a box), E

For more information see: WMF: Glas, Keramik, Metall, 1925-1950, Jörg Schwandt (Berlin: Kunstgewerbemuseum, Staatliches Museum Preussischer Kulturbesitz, 1981); Metallkunst, Band IV (Berlin: Brohan-Preussischer Kulturbesitz, 1981) pp. 546-579.

H: 7 1/2″ x W: 17″ x D: 5 1/2″

Price: $3,500

Gustave Herter Renaissance revival "portrait" cabinet 1858 – 1864

GUSTAVE HERTER (1839-1883) b. Germany/New York

Renaissance revival "portrait" cabinet   1858 – 1864
Carved cherry wood portrait plaque, mahogany, exotic wood inlays and gilding; black and gold veined marble top

Marks: G. Herter / New York (impressed mark)

Provenance: Patrick A. Valentine Family, Lake Oconomowoc Wisconsin; Phillip Danforth Armour, Chicago and Lake Oconomowoc, Wisconsin.

H: 42" x W: 43 1/2" x D: 22"

Price: $125,000

This Renaissance Revival cabinet is an exceptional example of the style as it developed in the United States from the middle of the 19th century into the early years of the Civil War. Along with intricate marquetry and gilded elements, the cabinet boasts a rare carved wood civil war era portrait. Herter's case pieces in this style were generally ornamented with bronze medallions or plaques imported from Europe. In addition, the G. Herter signature makes this piece a great rarity as the cabinetmaker rarely signed his work. This spectacular cabinet also has an interesting provenance. The original owner, Phillip Danforth Armour, founder of the famous Chicago Meat Packing Co., likely acquired the cabinet at the time of his wedding in 1863. Thirty years later, the cabinet was moved to the Armours' summer estate, Danforth Lodge, which was built on Oconomowoc Lake in Wisconsin. The mansion was raised in 1953 but the cabinet survived in the family of Armour's widow who had married Patrick A. Valentine, a principal in the Armour company.

"Danforth Lodge", Oconomowoc Lake, Wisconsin (known as Newport of the Midwest) a grand summer residence, built in 1893 by Phillip Danforth Armour (founder of the Armour Meat Packing Co., Chicago, Illinois). After Phillip Danforth Armour died, his wife married Patrick A. Valentine, an officer of the Armour Meat Packing Co. In 1916 they enlarged it into an even grander estate, which was later sold and subdivided in 1941. The mansion was eventually torn down in 1953.

Herter Brothers of New York City became one of the leading cabinetmaking and decorating firms of the nineteenth century. Gustave Herter (1830-98) and his younger brother Christian (1840-83) emigrated from Germany to New York. While Gustave spent time working at Tiffany, Young, and Ellis (later Tiffany and Company), Christian had studied at the Ecole des Beaux-Arts in Paris, France. Their partnership led to prominent commissions including the homes of wealthy industrialists, William H. Vanderbilt, J. Pierpont Morgan, and Potter Palmer, among others. Dictated by the favored tastes of the Aesthetic Movement and its quest towards "art for art's sake," the Herters' work achieved a perfect blend of classic and craft as they became one of the first "tastemakers" of the period, designing exquisite furniture as well as interior schemes.

***A related work of Herter Brothers Renaissance Revival can be found in the Music Room Mirror from the Milton Latham Residence  at the Los Angeles County Museum of Art.

Herter Brothers

The firm of Herter Brothers, New York, (working 1864–1906), founded by Gustave (1830–1898) and Christian Herter (1839–1883), begun as an upholstery warehouse, became one of the first firms of furniture makers and interior decorators in the United States after the Civil War. With their own design office and cabinet-making and upholstery workshops, Herter Brothers were prepared to accomplish every aspect of interior furnishing including decorative paneling and mantels, wall and ceiling decoration, patterned floors and carpets and draperies.

The Herters were born in Stuttgart, Württemberg. Gustave was born Julius Gustav Alexander Hagenlocher, with his unmarried mother's surname. She married Christian Herter (1807–1874) in 1835, and he adopted Gustave. Christian Augustus Ludwig Herter, Gustave's half-brother, was born in 1839. Gustave and Christian's father was a skilled cabinetmaker and they followed him in the trade. Gustave Herter came to New York City in 1848 and by 1858 was working under his own name. Christian was in New York by 1859 and joined his brother in the firm (renamed Herter Brothers) by 1864.

The firm was at the forefront of the panoply of furnishing styles that preceded the Mission style: Renaissance Revival, Neo-Grec, Eastlake, the Aesthetic Movement, ebonized "Anglo-Japanese style" furnishings of the 1870s – 1880s for which the firm is best recognized today, and the wide range of furnishings in revival styles required for Gilded Age houses.

The Red Room of the White House was furnished with Herter Brothers furniture during the administration of Ulysses S. Grant. Several pieces of Herter Brothers furniture remain in the White House including a center table and a slipper chair. This center table bears the remains of the only known Herter Brothers paper label; generally the firm stamped their furniture, a common practice in the 19th Century.

Among their most prominent clients were the Vanderbilts. Between 1879 and 1882, Herter Brothers decorated William Henry Vanderbilt's new Fifth Avenue mansion.

At 634 Fifth Avenue, in 1880–1882, they decorated the mansion of Darius Ogden Mills, on the site of part of Rockefeller Center now occupied by the colossal bronze Atlas. Their bills came to US$450,000. At the same time they were furnishing the nearby Jay Gould residence at 579 Fifth Avenue, at Forty-seventh Street.

The Herters did much of the interior work for the Eldridge Street Synagogue.

The White House's interiors were extensively renovated during the administration of Theodore Roosevelt. Executing the designs of architect Charles Follen McKim, Herter Brothers created the plaster ceiling and ornately-carved oak paneling for the expanded State Dining Room. The firm's workshops also provided the heavily carved paneling for the renovated East Room.

Very few Herter Brothers interiors remain extant. "Elm Park" in Norwalk, Connecticut was built 1864-68, and partially decorated by Herter Brothers. Open to the public as the Lockwood-Mathews Mansion Museum, the drawing room, music room and rotunda/art gallery are examples of the Herters' interior design schemes, including lavishly carved and inlaid woodwork and frescoed walls and ceilings. The recently restored drawing room retains a suite of Herter furniture purchased for it by the home's second owner, Charles D. Mathews.

Furniture from an early Herter commission survives in Victoria Mansion in Portland, Maine.

A notable surviving Herter interior is the John Thatcher home, now the Rosemount Museum, in Pueblo, Colorado (however, this work was carried out by the firm after the death of Christian Herter and the retirement of his brother, Gustave; connoisseurs and collectors tend to concentrate on the furniture and interiors designed during the brothers' supervision of the firm).

Examples of Herter furniture are in major public collections in the United States. The Metropolitan Museum of Art in New York City presented an exhibition, "Herter Brothers: Furniture and Interiors for a Gilded Age," in 1995.