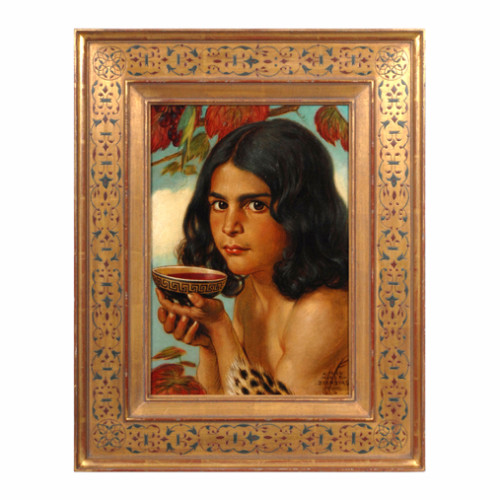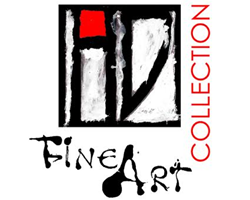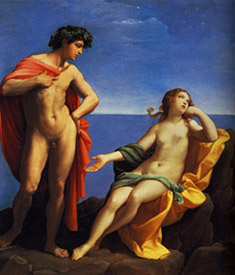 Product Description
Alfred Meyer-Bernburg, Bacchus, Oil on board, 1924
Related Products
Andree Flamant-Ducany-Gide / Valsuani Foundry French Cubist bronze "African" mask sculpture 20th Century

ANDREE FLAMANT-DUCANY-GIDE France
VALSUANI FONDEUR (1899-1981) Paris, France

Cubist mask sculpture  20th Century

Cast bronze with rich brown-black patina (possibly cast at a later date by the Valsuani Foundry)

Marks: G. Flamant, 2/8 C. Valsuani Cire Perdue (signed on chin)

H: 11" x W: 7" x D: 5 ½";
On stand: H: 18 ½"

Price: $35,000

ANDREE FLAMANT-DUCANY-GIDE
Flamant-Gide was born in Nimes, France.  He was both a painter and sculptor and exhibited regularly at the Salon des Artists Francais beginning in 1923. He sculpted in an angular Cubist style influenced by African Art and was a fellow artist of Joseph Csaky, Gustave Miklos, Jacques Lipchitz and Henri Laurens who were considered the leading Art Deco sculptors in Paris during the 1920's.

CUBISM
Cubism drew its influence from: Cezanne's structural analysis in his oil landscapes, e.g. 'La Montagne Sainte Victorie' c.1887; Gauguin's figurative landscapes, e.g. 'Haymaking' 1889; and African tribal Art such as Gabon masks. European artists were greatly influenced by African and Oceanic Art during the late 1890s and early 1900s. African sculpture, with its bold shapes and lines, had a great impact on the development of Cubism. Maurice de Vlaminck became a keen admirer and collector of African masks after seeing them in a Paris anthropological museum. He purchased similar masks and his excitement for these works displaying bold primitive expressions and simplistic design filtered through to Matisse, Derain, Gris and Picasso, who all became collectors as well. By the 1920s African art exhibitions were common in Paris and other cities throughout Europe.
Cubist sculpture brought the simplified shapes of Cubist painting together with the three-dimensional modeling medium of sculpture. The first Cubist sculpture, which could be properly deemed as such was made by Picasso in 1909 and was titled 'Head of a Woman'. However Picasso did experiment with sculptural forms as early as 1907 when he found himself fascinated and deeply influenced by African masks. Cubist sculpture was mostly reminiscent of Analytical Cubism in its stripping away of illusionist details to reveal the fundamental form contained in each individual subject, be it human or still-life.

VALSUANI FOUNDRY
The Valsuani foundry was started by the brothers Claude and Attilio Valsuani who learned the foundry trade while employed at the Hebrard foundry.  While working for Hebrard, Claude Valsuani showed great promise as a finisher and eventually worked his way up to become the Technical Director of the Hebrard foundry. In 1899 Claude Valsuani started his own foundry in Chatillon, casting mostly small works for various artists primarily using the lost wax technique of casting (cire perdue). In 1905 he moved his foundry to 74 Rue des Plantes in Paris. Among the famous sculptors who had the Valsuani foundry cast their works were: Renoir, Picasso, Despiau, Paul Troubetzkoy, Matisse, and Gaugin. Claude Valsuani died in 1923 in his native Italy but his son, Marcele then took over the foundry and continued the tradition of producing extremely fine bronzes until the 1970's.

Christian Dell / Bauhaus "Tee-Ei" Tea infusers (Rare set of eight) 1924

CHRISTIAN DELL (1893-1974)  Germany
BAUHAUS  (1919-1933) Germany

"Tee-Ei"  (tea ball) 1924 (rare set of 8)

Silvered brass.

***These are all in fine original, untouched condition.

Illustrated: Christian Dell: Silberschmied und Leuchtengestalter im 20. Jahrhundert, Beate Alice Hofmann, Museum Hanau (Hanau: Heller Druck,1996) illus. 15, p.56; Modernist Design 1880-1940, Alastair Duncan, The Norwest Collection (Woodbridge, Suffolk: The Antique Collectors' Club, 1998), p. 173; Decorative Arts 1850-1950, Judy Rudoe, (London: British Museum Press, 1991) cover,  p. 276; Die Metall Werkstatt am Bauhaus, (Berlin: Bauhaus-Archiv, Museum für Gestaltung, 1992) pp. 140-141 Silver of a New Era,  (Rotterdam: Museum Boymans-van Beuningen, 1992)  p. 157;  cat. no. 140.

Length: 5 1/4″

Price: $9,600

Christian Dell, metal artist and industrial designer, played a formative role in shaping the Bauhaus style. Dell was the master of the metal workshop at the Bauhaus, 1922-25, in Weimar, working closely with László Moholy-Nagy.

Born the son of a locksmith in Offenbach in 1893, he had a great impact as a teacher on the curriculum of the Weimar metal workshop. He had done an apprenticeship as a silversmith in Hanau before and had also attended the drawing academy, followed by a stay at the Weimar School of Applied Art. Henry van de Velde, director of this institution, coined Christian Dell's early works with his organic-flowing use of forms, a feature that can also be observed on Dell's later works.

Metal workshop at the Bauhaus in Weimar:
From 1922, the former goldsmith, silversmith and coppersmith workshops of the Weimar phase became a laboratory for design where metal vessels and lamps were made. This is also where the designs for industry, as well as metal furniture, were ultimately created. In 1922, the silversmith Christian Dell took over as master of works. Following Itten's departure in 1923, the workshop developed in a new direction with the Hungarian Constructivist László Moholy-Nagy. Instead of individual pieces, prototypes were now made for mass production. In order to manufacture the individual models, a production line was established.