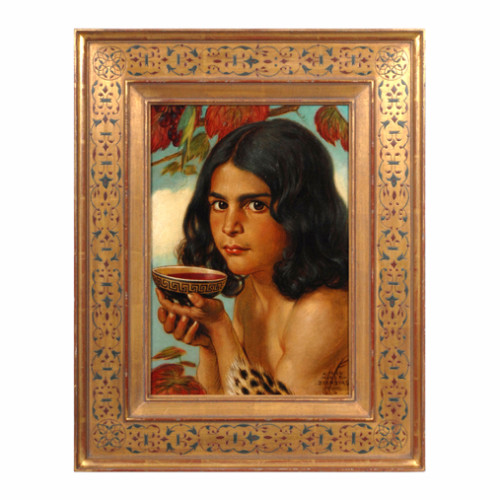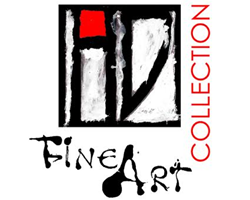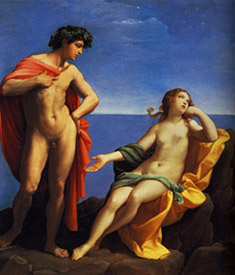 Product Description
Alfred Meyer-Bernburg, Bacchus, Oil on board, 1924
Related Products
Gerrit V. Sinclair "Town along Railroad", Oil on board, gilt frame c. 1942

GERRIT V. SINCLAIR   (1890-1955) USA

Town along Railroad c. 1942

Oil on board, gilt frame

Signed: GV Sinclair (lower right corner on front of painting)

For more information see: Who Was Who in American Art (Madison, Conn.: Sound View Press, 1985) p. 571.

Painting H: 15" x W: 20"

Framed H: 20 7/16" x W: 25 7/16"

Price: $29,500

Gerrit V. Sinclair was born in Grand Haven, Michigan in 1890.  He studied art at the School of the Art Institute of Chicago from 1910 to 1915.  His most well known teachers at the Art Institute were John Vanderpoel and John Norton.  In 1917 the artist enlisted in the Army Ambulance Corps and served in northern Italy and Austria.  Scenes from his experience abroad are recorded in his works of the early 1920s.  Following the war, Sinclair settled in Milwaukee, Wisconsin, where he became a member of the faculty of the Layton School of Art upon the school's founding in 1920.  He continued to teach at the Layton School and at the Oxbow Summer School of Art in Saugatuck, Michigan until his retirement in 1954.  Sinclair is recognized both as an important artist and teacher from the Great Lakes region.  During his lifetime Sinclair's paintings were exhibited at the Salon d'Automne in Paris, the Salon Printemps in Paris, the Pennsylvania Academy of Fine Arts, the National Academy of Design, the Whitney Museum in New York, the New York Watercolor Club, the Brooklyn Museum, the Corcoran Gallery of Art in Washington D.C., the Carnegie Institute in Pittsburgh, the Art Institute of Chicago and in many other museums and galleries.  He received numerous prizes and commissions for his work including a W.P.A. mural commission for the Federal Building in Wassau, Wisconsin.  Sinclair was a member of Wisconsin Painters & Sculptors, Wisconsin Federation of the Arts and the Wisconsin Painting Museum. His style is a blend of realism and Impressionism but is clearly modern in its abstract concern for composition and color.  Sinclair is best known for his regionalist paintings of rural and urban Wisconsin.  His farm scene entitled "Spring in Wisconsin" was exhibited at the 1939 World's Fair in New York.  Gerrit V. Sinclair died in Milwaukee, Wisconsin in 1955.

Roger Georges Andre Duval, "La Chambré" Oil on canvas 1924

ROGER GEORGES ANDRÈ DUVAL (1901-?) Meudon (Seine-et-Oise), France

La Chambré 1924

Oil on canvas

Signed and dated: ROGER DUVAL XXIV(lower left)

Exhbited: Paris, Salon des Indépendants, 1926, no. 1122

For more information see: Dictionnaire des Peintres, Sculpteurs, Dessinateurs et Graveurs, Vol. 4, E. Bénézit (Paris: Librairie Gründ, 1976).

Painting: H: 23 2/3" x W: 36 1/5"

Framed: H: 35" x 47 5/8"

Roger Duval painted in a modernist figurative style and beginning in 1920 regularly exhibited at the Salon d'Automne and the Salon des Indépendants in Paris. In 1925 he was awarded a prize by Paul Poiret for a painting entitled Conversation and again in 1926 for another painting entitled Bal Musette. Also in 1926, La Chambrée (1924) was exhibited in Paris at the Salon des Indépendants. By 1928 Duval's technique had evolved into a moderninst/cubist style and a group of his paintings were featured in an Exposition of Painting and Sculpture in Boston, MA.

 It is interesting to note Duval's shared vision with Picasso in their depiction of peasant figures in repose. Their full-bodied, voluptuous and sensual forms illustrate both artists' sculptural approach to painting in the early 1920s. However by the mid-1920s Duval and Picasso's painting styles evolved from these softer, rounded shapes into more angular, abstracted forms.