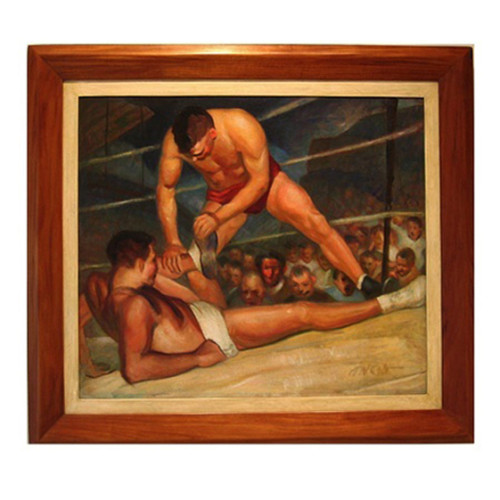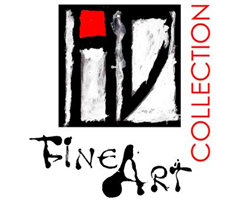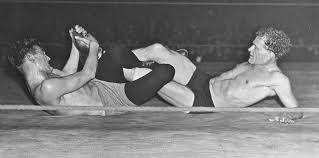 Product Description
Arthur N. Colt, "The Wrestlers", Oil on canvas c. 1938
Related Products
Zygmund Sazevich "Portrait of Victor Arnautoff" Oil on canvas 1925

ZYGMUND SAZEVICH (1899-1968)

Portrait of Victor Arnautoff 1925

Oil on canvas

Signed: Z. Sazevich 1925 (lower right)

Framed: H: 34 5/16" x W: 29 9/16"

Price: $65,000

Zygmund Sazevich was born in Russia in 1899, and studied briefly at the University in Kazan in 1917, before traveling to Manchuria where he lived and worked as an actor and stage scenery painter. He emigrated to the U.S. via Japan in the early 1920s and entered the School of Architecture at the University of California, Berkeley, supporting himself by working as a house painter and helping stage plays for a local Russian theater company.
Sazevich met Russian artist Eugene Ivanoff, and together they shared living quarters and studied at the California School of Fine Arts in San Francisco. Sazevich was awarded two scholarships, one in painting and one in sculpture.
 During the 1920's Sazevich exhibited with the San Francisco Art Association, and in 1929 won first prize at their annual exhibit, followed by several sculpture commissions. That same year Sazevich and Ivanoff traveled to live and work in Paris. 
Back in San Francisco in 1931, his work was included in a show of garden sculptures at the California Palace of the Legion of Honor, along with works by Adaline Kent, Ruth Cravath, and others. By 1935 he was working as a W.P.A. muralist. Sazevich and his wife Zena, a decorator, purchased a home in the City, which they filled with Sazevich's sculptures, woodcarvings, and hand-made furniture.
In 1939 Sazevich exhibited at San Francisco's Golden Gate International Exposition. His cast terrazzo sculpture Mississippi won the 1940 purchase prize at the annual San Francisco Art Association exhibition, and he had a one-man show at the San Francisco Museum of Art in 1941.
During World War II, Sazevich worked in a shipyard creating wood patterns, and in later years he designed and made hand-blocked Christmas cards that were in great demand. His clients included celebrities such as Greer Garson, Joan Fontaine, and Red Skelton.
From the late 1940s until the 1960s, Sazevich taught art classes, both at the California School of Fine Arts and at Mills College in Oakland. 
He continued to exhibit at the San Francisco Museum of Art through the 1950s, and in 1953 was featured in the museum's Four Sculptors of the West show. Sazevich also had two solo shows at Mills College in 1950 and 1954, and a show at Raymond & Raymond in San Francisco in 1951.
Zygmund Sazevich passed away in San Francisco in 1968. In 1982 his work was included in The Oakland Museum's seminal exhibition 100 Years of California Sculpture.

 Though his works are rare today, Zygmund Sazevich was a prolific, versatile and highly-regarded San Francisco Bay Area artist and instructor whose passion for his medium was evident not only in his sculptures and carvings, but also in his drawings and paintings. Sazevich believed that the two-dimensional rendering of the subject was integral to the process of sculpture, along with the necessity for the artist to have a feeling for the material with which he worked. His convictions were reflected in the great variety of woods, metals, and stone he used to create his sculptures, as well as in his paintings.

Gerrit V. Sinclair "Town along Railroad", Oil on board, gilt frame c. 1942

GERRIT V. SINCLAIR   (1890-1955) USA

Town along Railroad c. 1942

Oil on board, gilt frame

Signed: GV Sinclair (lower right corner on front of painting)

For more information see: Who Was Who in American Art (Madison, Conn.: Sound View Press, 1985) p. 571.

Painting H: 15" x W: 20"

Framed H: 20 7/16" x W: 25 7/16"

Price: $29,500

Gerrit V. Sinclair was born in Grand Haven, Michigan in 1890.  He studied art at the School of the Art Institute of Chicago from 1910 to 1915.  His most well known teachers at the Art Institute were John Vanderpoel and John Norton.  In 1917 the artist enlisted in the Army Ambulance Corps and served in northern Italy and Austria.  Scenes from his experience abroad are recorded in his works of the early 1920s.  Following the war, Sinclair settled in Milwaukee, Wisconsin, where he became a member of the faculty of the Layton School of Art upon the school's founding in 1920.  He continued to teach at the Layton School and at the Oxbow Summer School of Art in Saugatuck, Michigan until his retirement in 1954.  Sinclair is recognized both as an important artist and teacher from the Great Lakes region.  During his lifetime Sinclair's paintings were exhibited at the Salon d'Automne in Paris, the Salon Printemps in Paris, the Pennsylvania Academy of Fine Arts, the National Academy of Design, the Whitney Museum in New York, the New York Watercolor Club, the Brooklyn Museum, the Corcoran Gallery of Art in Washington D.C., the Carnegie Institute in Pittsburgh, the Art Institute of Chicago and in many other museums and galleries.  He received numerous prizes and commissions for his work including a W.P.A. mural commission for the Federal Building in Wassau, Wisconsin.  Sinclair was a member of Wisconsin Painters & Sculptors, Wisconsin Federation of the Arts and the Wisconsin Painting Museum. His style is a blend of realism and Impressionism but is clearly modern in its abstract concern for composition and color.  Sinclair is best known for his regionalist paintings of rural and urban Wisconsin.  His farm scene entitled "Spring in Wisconsin" was exhibited at the 1939 World's Fair in New York.  Gerrit V. Sinclair died in Milwaukee, Wisconsin in 1955.