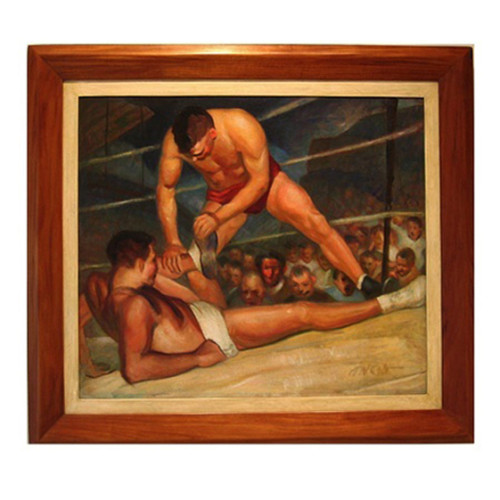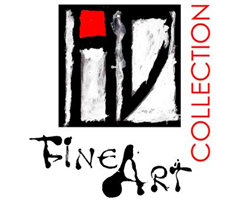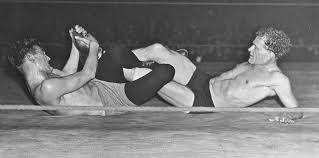 Product Description
Arthur N. Colt, "The Wrestlers", Oil on canvas c. 1938
Related Products
Victor Arnautoff, The Felt Hat, Oil on Canvas c. 1930

VICTOR ARNAUTOFF (1896-1979) USA

The Felt Hat c. 1930

Oil on canvas, white gold frame

Signed: V. Arnautoff, lower right

Exhibited: Art Center San Francisco, 1931 (see image of the review in the San Francisco Examiner, July 12th, 1931)

For more information see: The New Deal for Artists, Richard D. McKinzie (Princeton, NJ: Princeton University Press, 1973), Coit Tower, San Francisco : Its History and Art

Painting: H: 26" x W: 21"
Framed: H: 32 ½" x 27 ½"

Price: $60,000

Victor Arnautoff created paintings and watercolors, focusing on portraits, still lifes and rural landscapes in his early years, and moved to more socially conscious themes later in his career. Arnautoff was a native of Russia, to which he returned during the 1960s after thirty years in the United States. He came to San Francisco from Russia via China, bringing his wife and children with him, and studied at the California School of Fine Arts studying with Ralph Stackpole and Edgar Walter before going to Mexico. There he worked as an assistant to the famous Mexican muralist Diego Rivera. During the 1930s, Arnautoff worked as project director and one of the artists selected to create the famed Coit Tower murals, he played a key role in determining the political and social content of the frescoes painted in the San Francisco landmark. His own contribution, City Life, appears to be a lively, non-political melding of downtown San Francisco scenes; however, closer study reveals two leftist newspapers on the newsstand, while the city's most mainstream daily, the San Francisco Chronicle, is strangely missing. Arnautoff also painted frescoes in the Military Chapel at San Francisco's Presidio, in the Anne Bremer Library of the San Francisco Art Institute, and in high schools and other buildings in the Bay Area. He was a professor of art at Stanford University from 1939 until his retirement in 1963.

Jean Marion Gates Hall, "Napa Valley" Oil on canvas 1940

JEAN MARION GATES HALL (1911-2001) USA

Napa Valley 1940

Oil on canvas, original wood frame

Signed: with her monogram initials JGH (lower right)
Marked on back: Jean Gates Hall, June 18, 1940, Napa Valley

Canvas: H: 14″ x W: 17 1/4″
Framed: H: 17 1/2″ x W: 20 1/2″

Price: $4,250

Born in Memphis, TN on May 19, 1911.  Jean Gates studied at the Cummings School of Art in Des Moines.  At age 14 she moved to Los Angeles with her family.  There she continued at the Chouinard Art School while working for Warner Bros, Walt Disney, and Mintz Studios.  Upon moving to San Francisco, she married writer James D. Hall in 1938.  Her illustrations were used in her husband's children's books.  She established a studio in the "Monkey Block" (now the Transamerica Pyramid) and was active in the local art scene.  She later earned her B.A. degree at San Jose State University (1955) and M.A. degree at UC Davis (1966).   Working in oil and watercolor, her painting style and subject matter evolved with the years from descriptive realism to linear pictures, and finally an entirely new medium called Magpage.  Mrs. Hall was a resident of Oakland in the 1980s and died in Cedar Ridge, CA on June 23, 2001.

Exhibitions:  Iowa State Fair, 1926; California State Fair, 1937; GGIE, 1939;  Paul Elder Gallery (SF), 1939 (solo); NMAA, 1941; SFMA, 1942 (solo); De Young Museum, 1944 (solo); California WC Society, 1945-53; UC Davis, 1946, 1965 (solos); Kingsley Art Club (Sacramento), 1965.