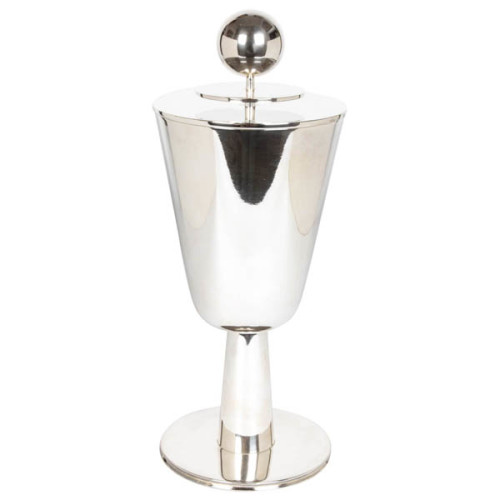 Breuhaus de Groot / WMF Ikora Germany Art Deco Rare "Pokal" Covered Footed Cup 1928
More Information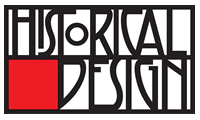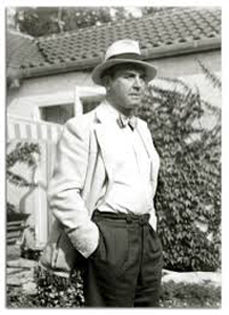 Product Description
Breuhaus de Groot / WMF Ikora Germany Art Deco Rare "Pokal" Covered Footed Cup 1928
Related Products
Alfred Grenander / W. Kummel 1904 St. Louis Exhibition cabinet, unique 1904

ALFRED GRENANDER (1863-1931) Sweden / Germany

W. KUMMEL Berlin, Germany (cabinetmaker)

Cabinet (unique) c. 1904

Flamed mahogany, ebony, ivory and fruitwood inlays, brass hardware and details, textured glass

Marks: American import label (from Germany) for the St. Louis exhibition

Exhibited: The 1904 St. Louis Exhibition, German Section in the Herrenzimmer

Illustration of Grenander room: Deutsches Kunstgewerbe St. Louis 1904, Hugo Nachtlicht, 1904, p. 80.

Commentary on Grenander's display at St. Louis Exhibition: Deutsche Kunst und Dekoration, Band XV Oktober 1904-Marz 1905, "Die Wohnungskunst auf der Welt –Austellung in St. Louis", Dr. Hermann Muthesius, p. 213-16.

Related bookcase-cabinet illustrated: Deutsche Kunst und Dekoration, Band XVI April-September 1905, p. 426.

For other works by Grenander see: Deutsche Kunst und Dekoration, Band XVI April-September 1905, p. 395-407, 426, 427, 671-73, 694, 695; Das Deutsche Kunstgewerbe 1906, 111. Deutsche Kunstgewerbe-Austellung Dresden 1906, (München, Verlagsanstalt P. Bruckmann A.G., 1906) p. 129-133, 232, 261

H: 79 1/2" x W: 57" x D: 23"

Price: $95,000

Alfred Grenander was born in June 1863 in Skövde, Sweden, and came to Berlin in 1885 to study. The city became his home, and he built his first buildings here together with his brother-in-law Otto Spalding. In 1897 Grenander began teaching at the Unterrichtsanstalt des Berliner Kunstgewerbemuseums (college attached to Berlin's Museum of Arts and Crafts). His involvement with underground railway architecture began in 1900 and came to dominate his life's work, with more than 80 buildings. He died on 14 July 1931 in Berlin.

From the turn of the century through the early 1930s, Alfred Grenander provided the emerging metropolis of Berlin with an extensive net of subway stations. He was an architect, draughtsman, and city planner; as well as a remarkable furniture designer. Grenander was the celebrated German representative at the 1904 World's Fair in St. Louis, where he was being honored as "the renewer of German art." This mahogany cabinet inlaid with pewter, ebony and ivory was exhibited in the elegant Herrenzimmer of the German pavilion at the Louisiana Purchase Exposition, St. Louis, Missouri, 1904, was bought in 1904 by a Kansas City, Missouri family and the piece descended in the family.

Wilhelm Kage / Gustavsberg Sweden Art Deco Important Prototype Surrea vase c.1940

WILHELM KÅGE (1889-1960) Sweden
GUSTAVSBERG Gustavsberg, Sweden

Prototype Surrea vase c. 1940

Matte glazed porcelain
Marks: Gustavsberg/Kåge logo, 707.G.M. (exhibition label)
Illustrated: Wilhelm Kåge: Konstnär och Hantverkare, Nils Palmgren (Stockholm: Nordisk Rotogravyr, 1953) p. 237.
This prototype vase was exhibited at the Nationalmuseum in Stockholm (see installation photo)

H: 16 1/2" x W: 10 1/2"

Price: $55,000

The Swedish ceramicist Kåge studied painting before attending the Copenhagen Artists' Studio School under Johan Rohde. He was already a successful poster artist when he joined the Swedish Ceramic Company in Gustavsberg. He enjoyed a long career as artistic director there, from 1917 until 1949, and continued designing for the firm until the year of his death. He encouraged the use of modern forms in his artistic pottery throughout his association with Gustavsberg.
The rare models known as the Surrea series, were created for an exhibition in Stockholm. They represent one of the more experimental collaborations between Kåge and the ceramic company. Unfortunately, Kåge's masterworks remained experiments. Technical difficulties in firing the large models combined with a lack of public enthusiasm for the avant-garde forms kept the series from going into actual production. Examples survived through the interest of private collectors and the now defunct Gustavsberg Museum in Stockholm.