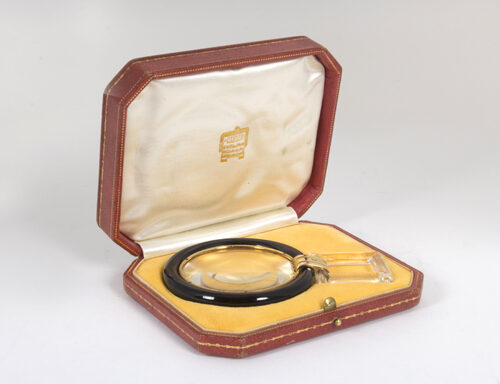 Cartier Paris, Magnifying glass, onyx, rock crystal and 18K gold, signed, original red leather box, c. 1920
More Information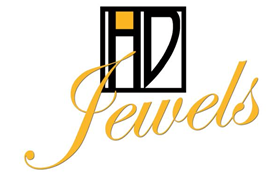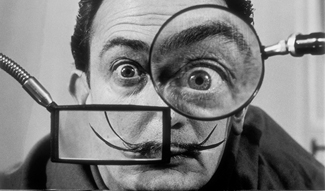 Product Description
Cartier Paris, Magnifying glass, onyx, rock crystal and 18K gold, signed, original red leather box, c. 1920
Related Products
Auger & Gueret (Alphonse Auger et Antoine Gueret) , Paris, "Grasshopper" brooch in finely detailed 18K gold, enamel and rose cut diamonds, original leather box, signed, c. 1895

Amedee de Caranza Art Nouveau Rare Iridescent Art Glass vase 1903-1906

AMÉDÉE DE CARANZA  (active 1875-1914)  (b. Turkey / active France)
COPILLET ET CIE  Noyon

Nasturtium vase   1903-1906

Blown glass with floral & foliate luster decoration handpainted on a muted iridescent ground.

Signed: A. de CARANZA (on the side near base)

Marks: Copillet et Cie, Noyon, 842 (twice)

For more information and related illustrations: European Art Glass  (New York: Ray & Lee Grover, Charles E. Tuttle Publishers, Inc., 1970) pp. 69, 94-96; L'Art Du Verre En France 1860-1914, Janine Bloch-Dermant (Edita Denoel, 1974) pp. 36-37; Glass: Art Nouveau to Art Deco, Victor Arwas (New York: Abrams, 1987) pp. 56-58;  L'Europe de L'Art Verrier, des Precurseurs de l'Art Nouveau a l'Art Actuel 1850-1990, Giuseppe Cappa (Liège: Mardaga, 1991) pp. 72-74.

H: 10″

Price: $11,500

Copillet, H.A. Thomas Henri Alfred Copillet was originally a printer, and produced a local newspaper in Paris. When he moved his works to 13 Fauburg de Paris he acquired a kiln in the process, and thus in 1903 was began a new glass works. His designers were Amedee de Caranza and Edouard de Neuville. They produced a whole range of Art Nouveau glassware, many with a dark iridescent finish. They also produced opaline glass, and glass panels for use in church windows. The company went bankrupt in 1906, although the new management (Lefevre and Lhomme) kept a little of the production going for a while, the factory was destroyed during the First World War.