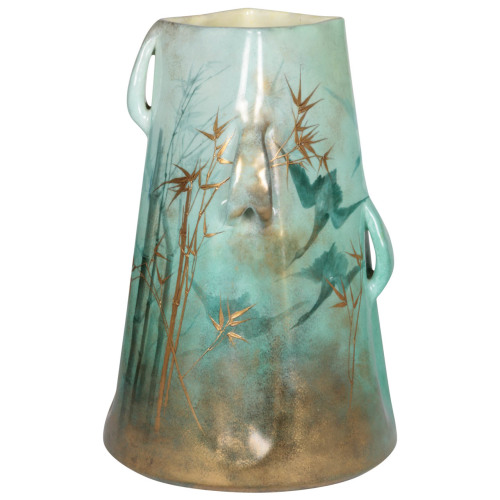 Clement Massier / French Art Nouveau "Bamboo and Flying Crane" Vase circa 1900
More Information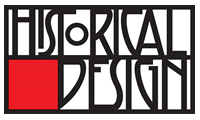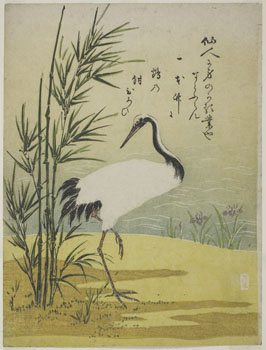 Product Description
Clement Massier / French Art Nouveau "Bamboo and Flying Crane" Vase circa 1900
Related Products
Mazzega Murano / Italian Art Glass White opalescent tube top vase c. 1975

AV MAZZEGA MURANO (Italy)

Vase  c. 1975

White opalescent blue blown glass with a bottom tube support and a flared
test tube style top

For related information see:  Italian Glass Murano Milan 1930-1970, Helmut  Ricke and Eva Schmitt (Munich: Prestel, 1997) illus. 66, 67;  I Vetri di Fulvio Bianconi, Rossana Bossaglia (Torino: Umberto Allemandi & C., 1993) illus. 17, 21; Murano Glas 1945-1970, Marc Heiremans (Antwerpen: Galerij Novecento, 1989) illus. 181;  I Vetri Venini, Franco Deboni (Torino: Umberto Allemandi & C., 1989) illus. 105.

H: 14"

Price: $3,200

Tsuchida Yasuhiko, Art Glass Mosaic Vase 1999

Tsuchida Yasuhiko  (b. 1969) Osaka, Japan/ Italy

Art glass mosaic technique vase   1999

Overall matte finish art glass vase with an elaborate mosaic technique inset with red rectangular patchwork sections and blue murrina jewels all on a chocolate brown body with a black glass foot

Marks: Tsuchida Yasuhiko 99, 77

For more information see: Tsuchida Yasuhiko, exh. cat., Franco Schiavon (Murano, Italy: Palazzo del Vetro, 2000).

Provenance: Pauly & Co. Venice

H: 4 3/4″ x Dia: 5 1/8″

Price: $5,450

Yasuhiko Tsuchida was born in Osaka, Japan in 1969. In 1988, soon after graduating TSUJI Culinary Institute, he left Japan to explore food and art in Paris. Since 1992, he has lived in Venice, Italy. Tsuchida has been making glass work in Murano Island since 1995, and next year assumed the office of art director at Schiavone Glass Co. Ltd. In 1996 he presented a glass sculpture entitled "Bamboo Collection"
with Japanese motif of bamboo. The work was highly acclaimed, which gave him a chance to start to hold solo exhibitions around the world. In 2000, Tsuchida became a member of the board of directors at Venetian Glass Institute, and a chief director there in 2003. In 2004, he won Honorary Technique Prize in Düsseldorf, Germany, and in 2008, received Award of Contribution to Cultural
Promotion from Grosseto city, Toscana. In the same year, he
represented Japan at International Open Exhibition of Sculpture, and won the Grand-Prix. In 2010, Tsuchida was invited to the Issei Miyake "IM10" Project Competition, and held a solo exhibition at Lorusso Gallery, Andria, Italy. Tsuchida continues to exhibit in many solo shows around the world.