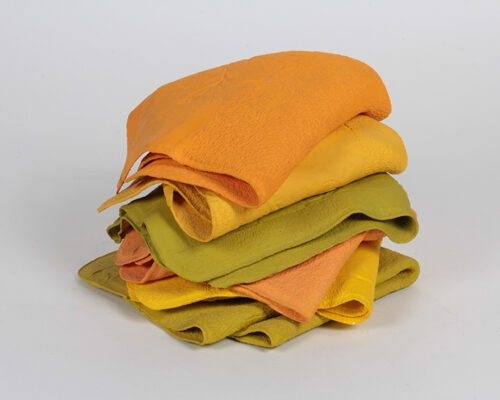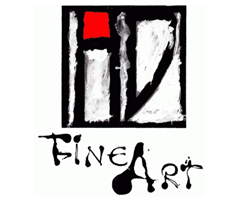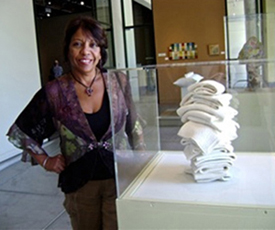 Product Description
Emma Luna "Stack of terry wash cloths" sculpture
Related Products
Asprey & Co., Important Cardinal Sculpture gem set with natural rubies, 18K gold and amethyst quartz, signed,1980

ASPREY & CO. LTD. (founded 1781) London, UK

Important Natural Ruby Gem Set 18K Gold Cardinal Bird Sculpture   1980

Finely chased and chiseled 18K yellow and white gold realistically rendered sculpture of a Cardinal bird set with
75+ carats (approx.) of natural gem quality oval and round cut Burmese rubies (GIA certificate) further heightened with enamel eyes and blackened gold face plumage details, the 18K gold and natural ruby cardinal sets atop a natural Amethyst crystal "mountain rock" with a tooled and gilt (script mark) on the leather under-pad.

Marks: A & Co. (in a quatrefoil), Crown mark, 750 (gold standard mark) Lion's head (London assay mark) "F" date mark for 1980, tooled and gilt Asprey (script mark) on the leather under-pad

Provenance: Privately commissioned by the Sultan of Brunei's younger brother, Prince Jefri Bolkiah who also later became the owner of Asprey & Co in the 1995. This rare sculptural 18K gold and natural ruby Cardinal was handmade by the finest jewelers and work masters in the workshop of the London Asprey & Co. located above the flagship store at 167 New Bond Street.

H: 3 ¾" x L: 5 3/4" x W: 1 ½"(Cardinal only)
H: 6" x W: 6 ¾" x D: 5 ¾" (with Cardinal atop natural Amethyst crystal rock)

As one might guess, a large part of the animal symbolism of the cardinal comes from the brilliant red color of the males. In fact, its name is derived from the royal red vestments worn by Catholic cardinals. This shock of red, especially against the stark backdrop of winter snow, is a magnificent sight. The male cardinal reminds us passion, warmth and vibrancy is available to us – even under the cloak of Winter's grey clouds. Interestingly, the more bold and bright his color is, the more successful the cardinal will be at prolonging his lineage. Dull colored male cardinals are less likely to mate successfully than bright colored ones. True to the fire of his color, the crimson cardinal has got some major spunk. He will aggressively defend his territory, and fight attackers with ferocity. Indeed, they have been known to fight ghost males (their reflections) in mirrors for hours on end. Both male and female give us glorious songs. Along with peeps and pips and warbles, the tuned ear can also hear "cheer, cheer, cheer!" Very appropriate to the animal symbolism of cardinals, because they are a delight to both eyes and ears. The cardinal makes a fantastic animal totem. It reminds us to hold ourselves with pride, not ego pride but rather the cardinal asks us to stand a little taller, be a bit more regal and step into our natural confidence as if we were born to lead with grace and nobility. Those who attract the cardinal as their totem are naturally energetic, love life, and happily help others where and when they can!

Michele Oka Doner Tree Bark server (unique) 1998

MICHELE OKA DONER (b. 1945) USA

Tree Bark server (unique) 1998

Solid cast silver in a naturalistic form of a piece of tree bark with an inherent hole.

***The weight is in excess of 250 troy ounces of silver

Exhibited: Inside Design Now: National Design Triennial, Cooper-Hewitt, National Design Museum, New York, 2003.

Illustrated: Michele Oka Doner, Natural Seduction, S. Ramljak, M. Lapidus, A. C. Danto (New York: Hudson hills Press, 2003) pp. 170-171; Inside Design Now: National Design Triennial, Donald Albrecht, Ellen Lupton, et al. (New York: Cooper-Hewitt, National Design Museum, 2003), p. 146.

H: 3 1/2″ x L: 16″ x D: 7″

Price: $39,500

Michele Oka Doner is an internationally acclaimed New York-based artist and designer whose work translates natural forms–plant fronds, berries, shells, and life observed beneath the lens of the microscope–into objects of extraordinary power and seduction rendered in bronze, precious metals and stones, concrete handmade papers, ceramic, and now, glass. Since first appearing on the national scene in 1970 as the youngest artist showcased in the defining landmark museum exhibition Objects USA. Oka Doner has built a career encompassing monumental sculptures, public art, jewelry, and functional objects that range from fireplace tools to evening bags. Oka Doner was born in Miami Beach in 1945. Though she received her formal education and advanced degrees at the University of Michigan in Ann Arbor, the artist has always cited as her primary laboratory the turbulent natural treasures of Southern Florida's oceans, tidal pools, beaches, gardens and tropical forests–boundless living resource libraries she visits on a monthly basis to gaze upon and gather samples that later inspire pieces of every size and type. Oka Doner has said that she strives with her work to "play the role of the translator and editor of life forces creating objects that go far beyond static formal beauty to encourage contemplation and wonder." Informed by her ongoing research into scientific literature and poetry, as well as her expeditions in the natural world, Oka Doner uses the tools of physical expression to invite us along on her wanderings through the realm of the infinite. Oka Doner is also admired for her numerous site-specific, permanent public art commissions including such projects as the golden tiled Radiant Site at New York's Herald Square Subway Station (1990) and A Walk on the Beach, a half-mile long expanse of terrazzo and bronze floor continually unfolding at Concourse A of Miami International Airport (1995 to present). Oka Doner's sculptures and functional objects are included in many prestigous private and public collections, including those of The Metropolitan Museum of Art and the Smithsonian's Cooper-Hewitt National Design Museum in New York City, the Art of Institute of Chicago and the Virginia Museum of Fine Arts, among others. She has participated in scores of distinguished exhibitions internationally and has been recipient of numerous grants and awards, including honors from the Kress Foundation and the New York State Council for the Arts. In 2004 she received the coveted Award of Excellence from the United Nations Society of Writers and Artists.