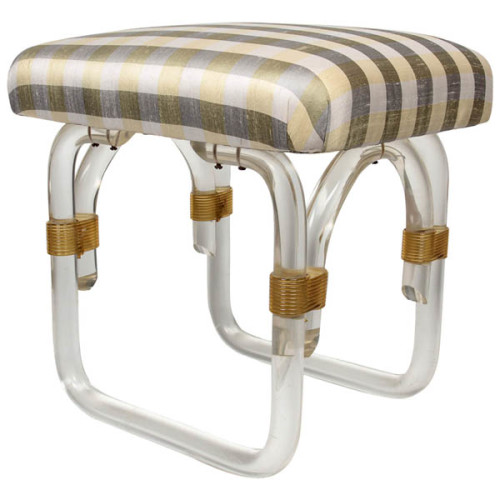 Grosfeld House New York (attr.) Modern / Art Deco Lucite Stool c. 1940
More Information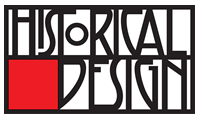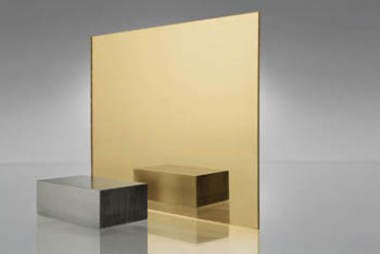 Product Description
Grosfeld House New York (attr.) Modern / Art Deco Lucite Stool c. 1940
Related Products
Ohlsson & Rice Rare Streamline American Art Deco Tether Race Car Model No. 88 with Trailer c. 1950

OHLSSON & RICE (founded 1941) Los Angeles, CA
Tether Race Red car Model No. 88

Gas powered tether car racer 1950

Steel and various metals with the car and trailer details painted red, rubber tires and cork details

The license plate reads: California, 19-50, 61U421

H: 5″ x L" 13 1/2″ x D: 7 1/2″

Price: $3,000

In 1941 Irv Ohlsson teamed up with Harry Rice, and the firm of Ohlsson & Rice was founded producing model race cars and propellers. No other engines at the time combined the reliability, ease of maintenance, simplicity of operation and unlimited life of the Ohlsson & Rice engines. The Second World War put a temporary hold on their success, however, as all manufacturing facilities were turned over to military production. By the time the war shut down their production, they had produced about 75,000 engines.

As soon as the war was over, Ohlsson & Rice got back into production. Even with a shortage of needed materials and machines somewhat worn out by 3-shift a day wartime production use, they jumped back into a market that had a seemingly endless demand for their products. Modelers were hungry to get back into flying, and O & R took advantage of the market by buying the machinery needed to meet the huge demand.

Ohllson & Rice die cast tether cars were first manufactured in 1946. The early model cars had solid rear brake drums. open air front grill, 10 air vent slots in the seat, windshield, manual fuel pump, external hand brake lever, 4 nerf bars or radius rods,  and plated front axle.  The cars were fitted with a .23 or .29 Ohlsson and Rice engine. The easiest way to tell their plane engines from the car engines was the exhaust port.  The cars have a straight cut exhaust and the planes had an angled cut port.  However they are interchangeable except to be estetically correct. Basic colors included white, black, red , blue and yellow. The .29 engine were available in either spark ignition models or with a glow plug.  In the early days Ohlsson and Rice had trouble with their engines and discovered a lot of the problems were due to inferior fuel sources. To rectify this they started to manufacture their own Nitro Glow fuel.  This seemed to cure their engine problems. The later models in the fifties went to a closed front grill , 1 air vent slot in seat,  hollow brake drums,  no windshield and a smaller .049 engine. The last of the midget racers were made in 1959.

Charles Catteau / Boch Freres Keramis Belgium Glazed pottery vase c. 1930

CHARLES CATTEAU (1880-1966)
BOCH FRERES KERAMIS  La Louviere Belgium

Tulip vase c. 1930

Glazed earthenware

Marks: "Keramis" Made in Belgium , D. 2524 B, 945

H: 10 1/4″ x D: 6 1/2″

Price: $1,750

Charles Catteau could be regarded as one of the most versatile ceramic artists of his generation, especially for the style of Art Deco. Catteau advanced the forms, techniques and decoration of modern ceramics, creating an exceptionally original, new and decorative genre.

Hired as a ceramic decorator in Ecole Nationale de Sèvres from 1903 to 1904, he began producing designs that were rather traditional, based on the observation of nature, and showing the influence of Japonisme, characterized by pure lines and meticulous details. From 1904 to 1906, he worked in Nymphenburg Porzellan Manufaktur near Munich, a factory specializing in new hand painting procedures under a slip, as well as Art Nouveau.

In 1907  he finally moved to Louvière in Belgium where he was promoted to head of the decoration department at Boch Freres Keramis at the age of 27.  This is where most of his exceptional talent came to the fore especially during the period between the two World Wars. Influenced by the great creative art movements of the time (Africanism, Japonisme, Cubism, Abstraction) and his observation of nature gave him inspiration for his designs, with the  integration of  plants, stylized animals and geometric motifs. The international avant-garde movements were also an influence leading to his use of purely abstract, geometric designs and intense colors. Charles Catteau was incredibly resourceful and  explored various harmonies of form, techniques, designs, colors, shades, topics, variants and influences. In this way Catteau became a representative par excellence of Art Deco designs, giving it his personal touch. He was instrumental in introducing technical innovations during the 20's and 30's to aid mass production of ceramic products and expand availability of affordable products. During difficult times in Europe, he created vivid, colorful, original and uplifting ceramic wares.

Charles Cotteau motto was "Art for All" and he also taught decorative painting at the School of Industrial in Louvière. In 1925 he obtained international recognition in the exhibition of Decorative Arts in Paris. which helped raise the profile of Boch Freres. He remained at the company until he retired to Nice in 1946 .