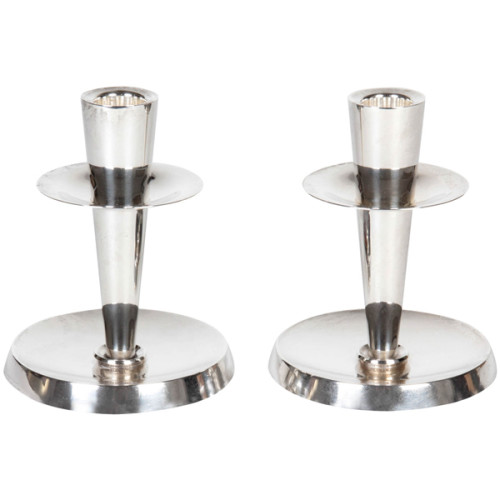 International Silver Company / Kurt Eric Christoffersen Sterling "Continental" candlesticks c.1955
More Information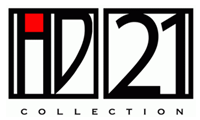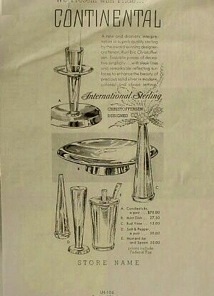 Product Description
International Silver Company / Kurt Eric Christoffersen Sterling "Continental" candlesticks c.1955
Related Products
William Frederick Chicago Unique Sterling Cocktail / Cordial drinks set c.1945-50

WILLIAM FREDERICK (1921-2012) Chicago (USA)

Unique Modernist Cocktail/Cordial drinks set
c.1945-50

Handwrought sterling silver complete serving set comprising a pitcher with handle, six glasses/cordials with handles and an arching handled tray.

***Approximately 90 troy ounces total weight

Marks:  FREDERICK, STERLING (on each piece)

Provenance: William Frederick Chicago, Private Collection Chicago, Private Collection New York

For more information on William Frederick see: Chicago Metalsmiths, Sharon S. Darling (Chicago: Chicago Historical Society, 1977)

Tray H:  5 1/2" x D: 11" x W: 14 ½"
Pitcher/Server H: 6 ¾" x W: 5 ¾" x D: 4 ½"
Glass/Cordial H: 3" x W: 2 ¾" x D: 1 3/8"

Price: $32,500

William Frederick had the unique distinction of being one of the longest practicing and successful American silversmiths of the 20th Century! Bill (as he liked to be called) studied engineering at the Massachusetts Institute of Technology at Cambridge as well as the Rochester Institute of Technology and was drawn to the craft of silversmithing very early on in his life. He was both familiar with and inspired by the local Chicago silver shops such as Lebolt, The Randahl Shop, The TC Shop etc. and as a young man tried to get a job with Daniel Pederson at the renowned Kalo Shop, but was turned down by Pederson saying, "he would be paid only one dollar per day. Bill, however admits that he would have taken it!  Befitting to the legacy of important architecture of the Midwest, Bill's first workshop was a Frank Lloyd Wright garage! His early visits to both the Chicago World's Fair in 1933-34 and the New York World's Fair in 1939 further influenced his early design sensibility and cemented the role of engineering in his rational approach to working with his hands and totally handcrafting objects from flat sheets of silver. He also preferred to be known as a designer and maker of utilitarian silver; objects that can actually be used and not just displayed in glass cases. Bill was the epitome of a professional silversmith too and was generous with both his knowledge and expertise with aspiring students and other professionals throughout his 70+ years as a craftsman of beautiful silver objects. In fact, through the years as one silver shop after the next closed in the Chicago area, Bill became the repository of each one of the various workshops' tools mentioned above eventually numbering more than 500 tools and he carefully looked after them and put them all to good use himself. Every piece of silver that Bill made was completely hand raised and handcrafted so he either featured the planishing marks or hammer tone on the surface or sometimes removed them to give a more modern machine age appeal.

According to Bill's own recollection, his inspiration for this set was the structural and arcing shadows and forms of the Trylon and Perisphere at the 1939 New York World's Fair. He also wanted to design glasses where one's fingers did not touch the vessel itself so he devised a separate button like detail for holding both the glasses and the handled pitcher. The Saxophone was a very popular musical instrument in many of the famous Jazz Clubs that were all the rage in gangster-land Chicago and he cleverly adapted the "button" idea from the push button keys of the instrument for the handle design of the goblets and pitcher of this set. In fact, he liked to mention to anyone that he served a shot to with the set that after a few drinks one could most certainly play a tune or two or at least begin to hear the musical notes dancing about! Bill taught silversmithing and industrial design on and off throughout his career at the School of the Art Institute of Chicago as well Columbia College and Loyola University and worked each and every day of his life and totally dedicated himself to the art of silversmithing. Even though Bill's resume includes numerous awards and exhibitions he had a very unassuming demeanor and thought in the end his silver designs should speak for themselves and would ensure his legacy to future generations. William Frederick's "One Man Show" at the Chicago historical Society was over 35 years ago and as he used to say, he is the last "dinosaur" of the great era of Chicago silversmithing. It is indeed the end of an era for Chicago Silver and one of the great 20th Century American Silversmiths, Bill Frederick died in May 2012 at the age of 90.

Peter Shire Memphis Group California Art Pottery Rare Early "Peach Tea Set" 1980

PETER SHIRE  (b. 1947)  USA

Rare and early "California Peach" teaset   1980

Handmade earthenware with polychrome glazes
Made by Shire at his studio in Echo Park, California

Signed:  Shire 1980 EXP  (painted on base of each)

Model illustrated: Tempest in a Teapot, the Ceramic Art of Peter Shire, Norman M. Klein et al. (New York: Rizzoli, 1991) p. 11.

Teapot H: 10"  x  W: 11 1/4" x D: 5 1/2"
Pair of teacups H:  7 3/4" &  8"

Price: $8,500

Peter Shire (born 1947) is a Los Angeles artist. Shire was born in the Echo Park district of Los Angeles, where he currently lives and works. His sculpture, furniture and ceramics have been exhibited in the United States, Italy, France, Japan and Poland; Shire has been associated with the Memphis Group of designers, has worked on the Design Team for the XXIII Olympiad with the American Institute of Architects, and has designed public sculptures in Los Angeles and other California cities. Shire has been honored by awards for his contribution to the cultural life of the City of Los Angeles.