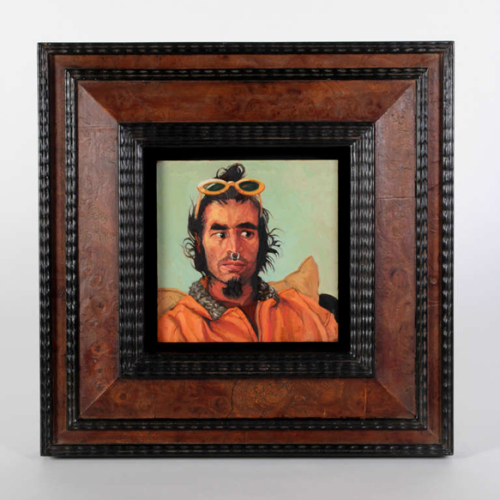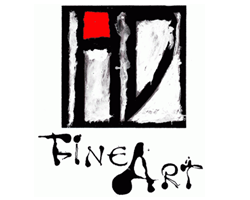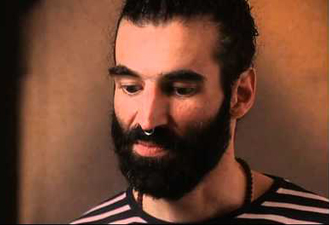 Product Description
Jack Richard Smith "Spiros Antonopoulos" Oil on Copper 2004
Related Products
Jeffrey Hartman "Motobecane" Oil on canvas 1978

JEFFREY HARTMAN USA

"Motobecane" 1978

Oil on canvas

Signed: "Jeffrey Hartman '78", "© 78 HARTMAN" (on the back)

Framed H: 26 1/2" x W: 18 1/2"

Price: $18,000

Belgian art dealer Isy Brachot coined the French word Hyperréalisme, meaning Hyperrealism, as the title of a major exhibition and catalogue at his gallery in Brussels in 1973. The exhibition was dominated by such American Photorealists as Ralph Goings, Chuck Close, Don Eddy, Robert Bechtle and Richard McLean; but it included such influential European artists as Gnoli, Richter, Klapheck and Delcol. Since then, Hyperealisme has been used by European artists and dealers to apply to painters influenced by the Photorealists. However, Hyperrealism is contrasted with the literal approach found in traditional photorealist paintings of the late 20th century. Hyperrealist painters and sculptors use photographic images as a reference source from which to create a more definitive and detailed rendering, one that often, unlike Photorealism, is narrative and emotive in its depictions. Strict Photorealist painters tended to imitate photographic images, omitting or abstracting certain finite detail to maintain a consistent over-all pictorial design. They often omitted human emotion, political value, and narrative elements. Since it evolved from Pop Art, the photorealistic style of painting was uniquely tight, precise, and sharply mechanical with an emphasis on mundane, everyday imagery. Hyperrealism, although photographic in essence, often entails a softer, much more complex focus on the subject depicted, presenting it as a living, tangible object. These objects and scenes in Hyperrealism paintings and sculptures are meticulously detailed to create the illusion of a reality not seen in the original photo. That is not to say they're surreal, as the illusion is a convincing depiction of (simulated) reality. Textures, surfaces, lighting effects, and shadows appear clearer and more distinct than the reference photo or even the actual subject itself.

Peter Svenson, "Triangle Painting", Oil on canvas 1976

PETER SVENSON (b. 1944)

 "Triangle Painting" 1976

Oil on Canvas

Signed: Peter Svenson 1976, Turkey Shoot (on the stretcher) and canvas on verso.

H: 41 ½" x W: 48"

Nationally recognized artist and writer Peter Svenson was born in 1944 and received a bachelor of arts degree from Tufts University and a masters of fine arts in painting from the University of North Carolina.

Svenson created "Turkey Shoot" in 1976 based on color field painting theories. The triangular shaped canvas is unusual in this style of painting, the lines are precise, the paint is thinly laid on the primed canvas in flat primary and secondary colors. "During the late 1950s and 1960s, color field painters emerged in Great Britain, Canada, Washington, DC and the West Coast of the United States using formats of stripes, targets, simple geometric patterns and references to landscape imagery and to nature." Some of the artists of the Washington Color School included Gene Davis, Morris Louis, Kenneth Noland and Sam Gilliam.

Peter Svenson's work relates to this group of Washington color field artists working in the style in the 1950s, 60s and 70s.