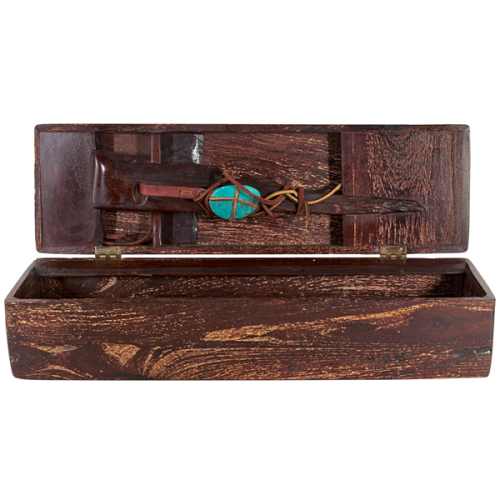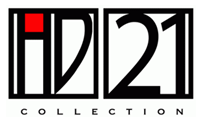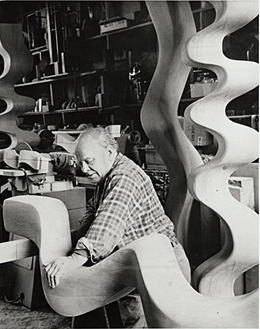 Product Description
Jan de Swart hand carved Zebra wood Mystery box c. 1970
Related Products
Linda Lee Johnson, Organic Shaped Sculpted Silver bird bowl Vessel XII c. 2004

LINDA LEE JOHNSON Washington, DC

Sculpted silver bowl "Vessel XII" c. 2004

Irregular organic shaped lost wax cast silver bowl with an irregular shaped top and one pierced hole (3/4 inch). Approx. silver weight is 80 troy ounces.

Marks: Logo monogram, 5/20, initial monogram

H: 5 1/4″ x W: 8 1/2″ x D: 7 1/4″

Price: $24,000

At the age of three Linda Lee Johnson was given a handmade Native American bracelet from her father, a naval aviator, and subsequently another every time they crossed the country. By the time she was seven, she had seven bracelets which she never removed. She was an American field service exchange student to Greece in high school. It was here that she developed her love of theater, sculpture and ancient
jewelry. She graduated from the University of California, Berkeley, in English literature and dramatic art and immediately began to study sculpture making.

She was a founding member of the Berkeley Repertory Theatre, and a professional actress for nineteen years with many major roles in New York city and regional theaters around the country and abroad.

She studied jewelry making in New York City 1984-88.

In 1986, she was asked to place her pieces in Tiffany & Co. in all major stores. At the same time she had many featured pieces of jewelry, small sculpture and functional objects in the Museum of Modern Art design store.

Barney's New York began to represent her in l989, where her jewelry and limited edition decorative art work are still found today.

She lives in Washington DC and the Adirondack Mountains where she continues to craft and sculpt her jewelry and decorative works of art.

Marcello Fantoni Torched bronze and white plaster painted mirror 1950's

MARCELLO FANTONI (1915-2011) Italy

Starburst mirror 1950's

Torched bronze and original white plaster painted finish.

Marks: Fantoni, Firenze, Italy (hand script)

***This mirror has great style and character.

Overall dimension: H: 26″ x L: 33″ x D: 4″
Mirror dimension: H: 12″ x L: 17″

Price: $17,500

Born in Florence on October 1, 1915, Marcello Fantoni registered at the Institute of Art at Porta Romana in 1927 to attend the course The Art of Ceramics, which at that time was taught by the ceramist Carlo Guerrini, artistic director of the Cantagalli factory. Other teachers also contributed to his artistic formation including Libero Andreotti and Bruno Innocenti in sculpture and Gianni Vagnetti in the figure. He graduated in '34 as a 'maestro' of art, and began working as a ceramist. In 1936, after having worked for a few months as the artistic director of a factory in Perugia, he established himself at Villa Fabbricotti in Florence and founded the Fantoni Ceramic studio. It's production of serial and unique pieces had remarkable success at the Florentine Arts and Crafts Exhibit in '37, revealing itself in line with the most recent tendencies, so much so that at the beginning of hostilities his production had already received notable artistic and commercial attention in Italy and abroad. After the war years, when Fantoni was involved in the resistance, in '46 he began the creative and productive fervor that will allow him to enlarge his company, reaching at the beginning of the next decade the impressive size of over fifty collaborators. Among his employees were many students who, in ceramics and other fields, would become excellent artisans and even famous artists. In the following decades, especially between 1950 and the 70's, the success of his work continued to increase, his unique pieces of sculpture and sculptural work, characterized by a design in step with the contemporary artistic currents, like archaic stylization inspired by Etruscan models, rendered modern because of their modern handling of materials, glazes and colors. For this original spirit of modernity, his works are in many private collections and in some of the most important museums of the world: in the United States his works can be seen at the Metropolitan Museum of Art of New York, the Brooklyn Museum, the Museum of Fine Art of Boston, the Currier Gallery, the Syracuse Museum. In Britain they are in the Victoria and Albert Museum of London, the City Art Gallery of Manchester, at Royal Scottish Museum of Edinburg. In Japan they are present at the Museum of Modern Art of Tokyo and Kyoto. In Italy they are represented at the International Museum of Ceramics in Faenza, the National Bargello Museum and at the Gabinetto Disegni e Stampe of the Uffizi. In his long and versatile career, Fantoni has completed works for churches, public and private buildings, schools, cinemas, theaters and ships cementing himself in both figurative and abstract ceramics and various metals, and qualifying himself also in the field of medalism. In 1970 he founded the International School of Ceramic Arts at his laboratory in via Bolognese in Florence. Fantoni died at the age of 95 in 2011.