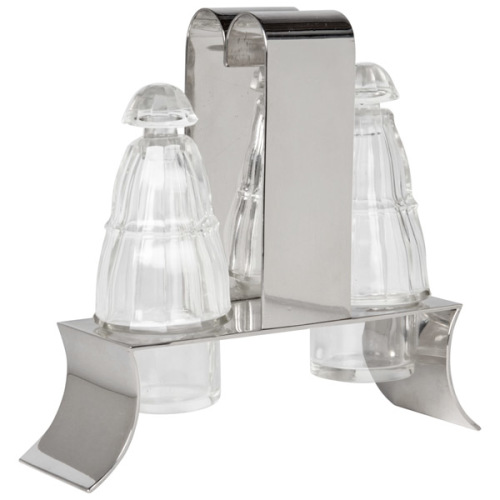 Josef Hoffmann, Wiener Werkstaette, Silverplate and Crystal Cruet Set c.1922  
More Information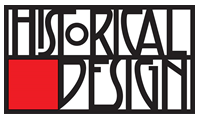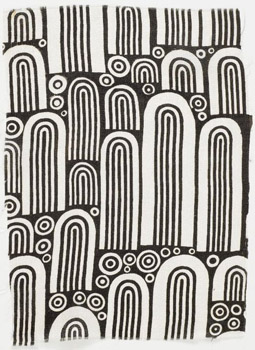 Product Description
Josef Hoffmann, Wiener Werkstaette, Silverplate and Crystal Cruet Set c.1922
Related Products
Marcello Fantoni Torched bronze and white plaster painted mirror 1950's

MARCELLO FANTONI (1915-2011) Italy

Starburst mirror 1950's

Torched bronze and original white plaster painted finish.

Marks: Fantoni, Firenze, Italy (hand script)

***This mirror has great style and character.

Overall dimension: H: 26″ x L: 33″ x D: 4″
Mirror dimension: H: 12″ x L: 17″

Price: $17,500

Born in Florence on October 1, 1915, Marcello Fantoni registered at the Institute of Art at Porta Romana in 1927 to attend the course The Art of Ceramics, which at that time was taught by the ceramist Carlo Guerrini, artistic director of the Cantagalli factory. Other teachers also contributed to his artistic formation including Libero Andreotti and Bruno Innocenti in sculpture and Gianni Vagnetti in the figure. He graduated in '34 as a 'maestro' of art, and began working as a ceramist. In 1936, after having worked for a few months as the artistic director of a factory in Perugia, he established himself at Villa Fabbricotti in Florence and founded the Fantoni Ceramic studio. It's production of serial and unique pieces had remarkable success at the Florentine Arts and Crafts Exhibit in '37, revealing itself in line with the most recent tendencies, so much so that at the beginning of hostilities his production had already received notable artistic and commercial attention in Italy and abroad. After the war years, when Fantoni was involved in the resistance, in '46 he began the creative and productive fervor that will allow him to enlarge his company, reaching at the beginning of the next decade the impressive size of over fifty collaborators. Among his employees were many students who, in ceramics and other fields, would become excellent artisans and even famous artists. In the following decades, especially between 1950 and the 70's, the success of his work continued to increase, his unique pieces of sculpture and sculptural work, characterized by a design in step with the contemporary artistic currents, like archaic stylization inspired by Etruscan models, rendered modern because of their modern handling of materials, glazes and colors. For this original spirit of modernity, his works are in many private collections and in some of the most important museums of the world: in the United States his works can be seen at the Metropolitan Museum of Art of New York, the Brooklyn Museum, the Museum of Fine Art of Boston, the Currier Gallery, the Syracuse Museum. In Britain they are in the Victoria and Albert Museum of London, the City Art Gallery of Manchester, at Royal Scottish Museum of Edinburg. In Japan they are present at the Museum of Modern Art of Tokyo and Kyoto. In Italy they are represented at the International Museum of Ceramics in Faenza, the National Bargello Museum and at the Gabinetto Disegni e Stampe of the Uffizi. In his long and versatile career, Fantoni has completed works for churches, public and private buildings, schools, cinemas, theaters and ships cementing himself in both figurative and abstract ceramics and various metals, and qualifying himself also in the field of medalism. In 1970 he founded the International School of Ceramic Arts at his laboratory in via Bolognese in Florence. Fantoni died at the age of 95 in 2011.

Mizi Otten / Rena Rosenthal New York Enameled covered box c. 1925-30

MIZI OTTEN (1884-1955) Vienna, Austria, later New York, NY
RENA ROSENTHAL New York

Enameled cover plaque with a "Fantasy interior scene" mounted in a leather covered wood box c. 1925-30

Marks: M.O.(on enamel lower left), RENA (Rena Rosenthal) on back of box

H: 1 5/8″ x W: 7 3/4″ x D: 3 3/4″

Price: $7,250

Mizi Otten was born in Vienna in 1884. At an early age she knew that she wanted to be an artist. Despite the objections of her parents, who thought it unbecoming for their daughter to paint, she attended art school, studying painting and decorative arts in Vienna and Munich. After studying at the School of Art for Women and Girls and the School of Arts and Crafts in Vienna, she went on to produce designs for the Wiener Werkstätte in all areas of applied art: jewellery, metalwork, textiles, fashion, enamels, and commercial graphics. From 1920 she also designed large-format enamels. She was a member of the Neukunstgruppe (New Art Group) and the Austrian Werkbund and took part in all the major Wiener Werkstätte exhibitions, including the 1908 Kunstschau, the 1915 Fashion Exhibition, the 1925 Paris Exposition, the 1925 Deutsche Frauenkunst Exhibition and the 1930 Werkbund Exhibition.

By 1925 her work was considered of such exceptional quality that it was included in the Austrian pavilion at the International Exposition in Paris. She won the silver medal for enameling. Among the many attendees at this prestigious and historically significant exposition was Rena Rosenthal, an important American dealer whose New York gallery specialized in contemporary German and Austrian decorative arts. She and several other dealers purchased Otten's work and began selling it in the United States. Twelve years later she again won the silver medal for enamels at the International Exposition in Paris. With the threat of war looming, she immigrated to the United States in 1938. By the time she arrived in New York, her work was already well known in this country.

The year 1939 brought the artist tremendous exposure throughout the United States. Five enamels were juried into the Eighth National Ceramic Exhibition in Syracuse, nine works were shown in the Exhibition of Decorative Arts in Denver, and five works were included in the prestigious Golden Gate International Exposition in San Francisco. By 1940 Otten was firmly established as a prominent enamel artist in the United States. She went on to participate in three more of the Syracuse Ceramic Nationals—in 1940, 1941, and 1948. Her work was shown at the Metropolitan Museum of Art in New York in the early 1940s. In February 1944 a profile of Otten was published in Craft Horizons. The artist discussed how her style in enameling had changed since she had come to the United States. She stated that Americans preferred a more naturalistic approach, as compared to the more abstract style she had developed in Vienna. She was happy to embrace this new approach to enameling, however, and found tremendous satisfaction in her work. In 1950 she and Kathe Berl cowrote and self-published a manual on enameling technique entitled The Art of Enameling; or, Enameling Can Be Fun, which was one of the earliest how-to books on the subject to appear in this country.

*** Prior to emigrating to the US in 1938 and while in Vienna, Mizi Otten used her European name, Mitzi Otten-Friedmann.

Rena Rosenthal (1880–1966) was a trend-setting American retailer and businesswoman.
Rena Rosenthal was a promoter of applied arts in the modernist style whose patronage helped launch the careers of such noted designers as Donald Deskey, Tommi Parzinger, Ernst Schwadron and Russel Wright. She established the Austrian Workshop,later Rena Rosenthal Studio and then Rena Rosenthal Gallery. She retailed exclusive handcrafted glass, porcelain, fabric, metal and wood objects for home adornment through her shop at 520 (later 438) Madison Avenue. Many of these items were sourced in her father's and husband's native Austria; her shop distributed wares from the Wiener Werkstätte and from the Viennese designer Karl Hagenauer. She introduced the work of Austrian enamel artist Mizi Otten to North America, and was an early promoter of English potter and painter T. S. Haile. She loaned German pottery and Austrian metalwork items to the Worcester Art Museum's third annual exhibit of modern decorative arts, in 1929. While she is known now principally for her exclusive retail shop (regular advertisements were seen in House & Garden and Harpers magazines), her business was listed over the years in New York directories under "Painters & Decorators" and "Gift Shops", and in Chicago under "Art Goods." Rena Rosenthal was an influential arbiter of taste and fashion in the interior decorating world, particularly during the introduction of modernism to North America. She handled art works that ended up in collections of notable individuals like Geoffrey Beene and institutions such as the Cooper-Hewitt Smithsonian Design Museum.