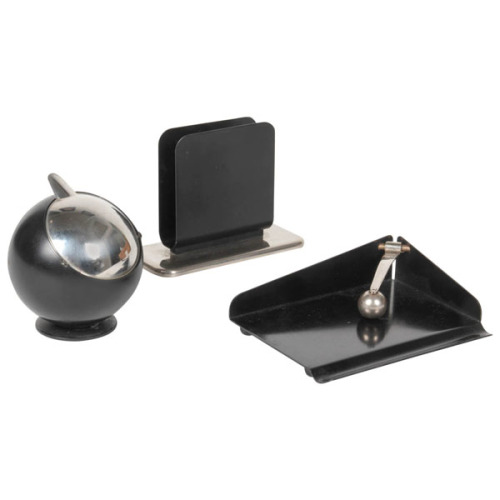 Marianne Brandt / Metallwarenfabrik Ruppelwerk / F.W. Quist Bauhaus Black enameled desk accessories & ashtray c. 1930
More Information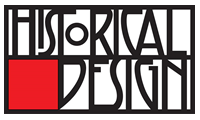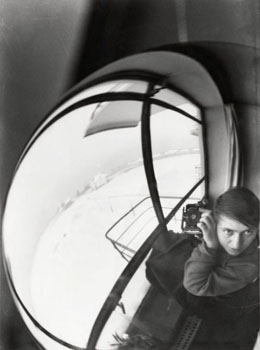 Product Description
Marianne Brandt / Metallwarenfabrik Ruppelwerk / F.W. Quist Bauhaus Black enameled desk accessories & ashtray c. 1930
Related Products
Leon V. Solon / American Encaustic Tiling Co. Pair of Art Deco cut out Architectural tiles c. 1930

LÉON V. SOLON (1872-1957) UK
AMERICAN ENCAUSTIC TILING CO Zanesville, OH (1875-1935)

Pair of Art Deco cut out Architectural tiles c. 1930

Finely hand modeled, sculpted and molded gunmetal black glazed earthenware figural tiles with silver detailed outlined edges of male and female warriors on horseback.
Signed (male tile): AETCO and Z102L (incised on back), also marked 2-101L and COLD 3192, Silver (marked in ink)
Signed (female tile): AETCO and Z102R (incised on back of tile), also marked Z101 and COLD 3192, Silver (marked in ink)

Tile: H: 9 ¼" x W: 9" x D: 1"

Tile and custom bronze display mount: H: 10″ x W: 12″ x D: 4″

SOLD

Leon Solon, the son of Louis Solon, became art director at Minton at the beginning of the 20th century. With his assistant, John Wadsworth, Solon created a line of art pottery in a style loosely based on the Viennese Secession. He later emigrated to the United States of America and in 1912 Leon became art director at the American Encaustic Tiling Co. Leon's role was to direct the overall development of AET's tile lines. Leon Solon's AETCo art department in New York designed the facade and showrooms using a planned glaze color scheme. The street entrance and facade were decorated with polychrome faience, including a bear's head over the entrance. In 1927, Solon lamented the 'dull and lifeless buildings of today' and called for increased use of color in skyscrapers. At 16 East 41st Street Solon found the opportunity to put such theories into practice. The interior was a polychrome labyrinth of tile art, with majolica fountains, faience radiator grilles, niches, cornices and even ceilings in intensely shaded red, blue, gold, green and other colors. But for the exterior Solon sought a more subdued, neutral character. On a wall of light yellow roughened stucco, he laid out a polychrome network — deep, burnt umber door and window enframements on the first floor, brilliant blue and gold heraldic plaques at the midsection and cream-and-blue rectangular patterns of square tile at the attic story. In a company brochure from about 1930 it shows that American Encaustic later tiled the ground floor stucco facade with a wild pattern of small rectangular tiles.

Jean E. Puiforcat / French Art Deco Sterling Box c.1930

JEAN E. PUIFORCAT  (1897-1945)  France
ORFÈVRERIE PUIFORCAT  Paris, France

Sterling silver with sterling and bone gear-like finial detail

Marks:  JEAN E. PUIFORCAT, French Guarantee mark for 950/1000 pure silver, E.P. insignia (Emile Puiforcat)

For related works of Puiforcat see: Jean Puiforcat, Françoise de Bonneville (Paris:  Editions du Regard, 1986) p.171; Jean Puiforcat:  Orfèvre Sculpteur (Paris: Flammarion,1951).

H: 3 1/4″ x Dia: 3 1/2″

Price: $5,500

Jean E. Puiforcat is the most famous name of Art Deco silverwork. This is a gently tapered round footed and covered box of beautiful form and proportion with a contoured gear-like bone and silver finial. Overall it is a signature example of French Art Deco silver and dates from the late 1920's and bears the early mark of Jean E. Puiforcat spelled out in addition to all of the appropriate French silver standard touchmarks. It is a really perfect example of French Art Deco silver by the French master of them all, Puiforcat!