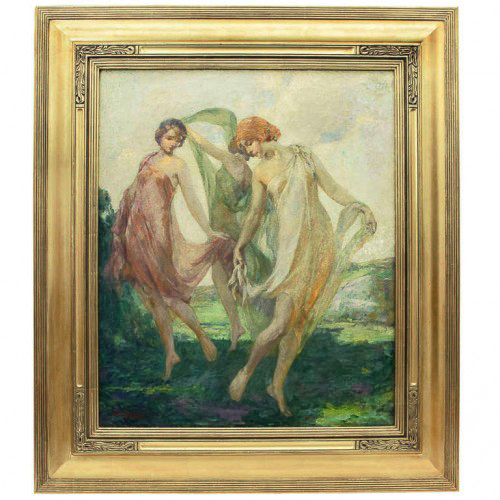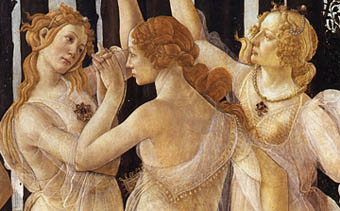 Product Description
Louis F. Berneker "The Three Graces" Oil on Canvas c. 1910
Related Products
Harold Christopher Davies, "Pacific seascape", Oil on canvas c. 1915

HAROLD CHRISTOPHER DAVIES (1891 – 1976) USA

Pacific seascape c.1915

Oil on canvas

Marks: HHG #4010, Hoover Gallery, 1681 Folson Street, San Francisco, CA 94103 (on wooden stretcher), the estate mark of the Harold Christopher Davies estate is on the reverse of the canvas

Exhibited: Hoover Gallery, San Francisco, CA, 1975

For more information: Harold Christopher Davies 1891-1976: A Retrospective Exhibition (Stockton, CA: The Haggin Museum, 1982); Susan Landauer: The San Francisco School of Abstract Expressionism (Berkeley/Los Angeles, CA and London, UK: University of California Press, Laguna Beach, CA: Laguna Art Museum, 1996)p. 8;Art in the San Francisco Bay Area 1945-1980: An Illustrated History (Berkeley, CA: University California Press, 1985)

H: 16" x W: 20"

Framed: H: 27 11/16" x W: 23 5/8"

Born in Seattle, WA on May 26, 1891, the Davies family moved to Cherrydale, VA when Harold was an infant. Davies began his formal art education at the age of fourteen, enrolling in the Corcoran Art Institute in Washington, D.C.  Later he continued his studies at the San Francisco Institute of Art.

The talent of Harold Christopher Davies was evident in his early California Impressionist landscapes such as this Pacific Ocean seascape which demonstrates his remarkable use of color and the bravura of his brushstrokes. An Abstract Expressionist, his later works are similar to those of De Kooning and Hans Hofmann. Harold Christopher Davies was a member of the Oakland Art League, the San Francisco Art Association and the Huntsville (Ala.) Art Association.

 After living in a variety of cities around the United States, Davies moved to Inverness, California in 1969 where he was free to devote all his time to his art.

Exhibitions:

San Francisco Art Association, 1921-1931

Oakland Art Gallery, 1931

Birmingham Museum, 1951

Southampton Museum, 1959

University of Long Island Museum, 1964

Parrish Art Museum, 1964, 1966, 1967

Hoover Gallery (San Francisco), 1975

Fresno Art Center, 1976 (Solo)

Haggin Museum, 1982

Huntsville Museum, 1982

Otis Oldfield, Water Pipes and Shadows, Oil on Canvas c. 1920

OTIS OLDFIELD (1890-1969) USA

"Water pipes and shadows" c. 1920

Oil on canvas, walnut frame

Signed: Otis Oldfield (lower left)

For more information see: Otis Oldfield 1890-1990, Centennial retrospective exhibition (San Francisco, CA: Inkwell Publishing, 1990).

Painting: H: 16 1/8" x W: 13"
Framed: H: 28 ¼" x W: 25 1/8"

Price: $42,500
***The Metropolitan Museum of Art in New York owns a famous Gelatin silver print photograph by Morton Schamberg from 1916 entitled "God". This image is akin to Duchamp's "Fountain" and is an iconic Dadaist assemblage of plumbing pipes mounted on a miter box. The "Water Pipes and Shadows" painting by Otis Oldfield similarly brings a certain animation and personality to an under sink composition of mundane drain pipes in a sophisticated "Rayonist" or "Cubist" stylization. Otis Oldfield was born in Sacramento, California in 1890. He enrolled in the Best Art School in San Francisco in 1909 and continued his studies at the Academie Julian in Paris. Returning to the U.S., Oldfield settled briefly Sacramento before returning to San Francisco to accept a post as a teacher at the California School of Fine Art. Oldfield developed a bold modernist style, which caused some controversy among critics covering his exhibits. In 1936 Oldfield was one of a group of San Francisco artists chosen for a WPA project to paint murals in San Francisco's Coit Tower. Following WW II, Oldfield taught at the California College of Arts and Crafts in Oakland. He died in San Francisco in 1969.