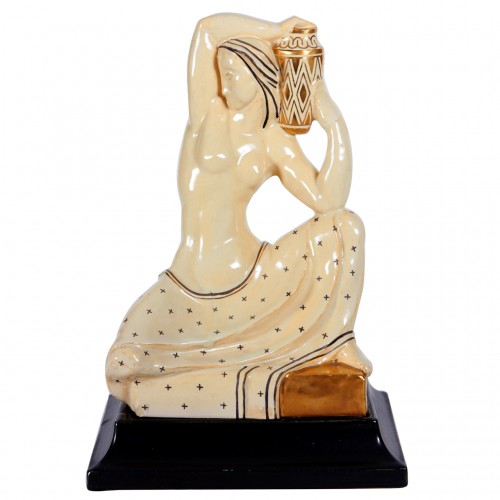 Walter Paul Suter (1901-?), American Art Deco glazed pottery sculpture 1929
More Information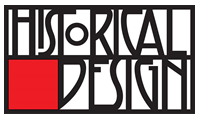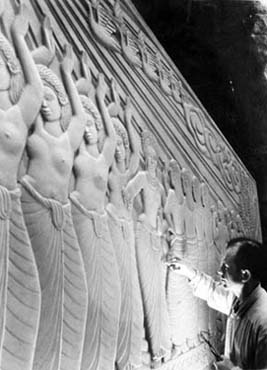 Product Description
Walter Paul Suter (1901-?), American Art Deco glazed pottery sculpture 1929
Related Products
Pedro de Lemos / Art Deco Orange glazed American Pottery Clydesdale Horse Sculpture c. 1930

PEDRO DE LEMOS (1882-1945) Bay Area, California

Clydesdale horse sculpture c. 1930

Hand modeled orange glazed terra cotta.

Marks: De Lemos Palo Alto (sticker on the bottom), various pencil notations on the foot bottom

H: 9 1/8″ x D: 3 1/2″ x W: 9 1/2″

Price: $3,000

Pedro Joseph de Lemos (25 May 1882 Austin, Nevada – 5 December 1945) was an American painter, printmaker, architect, illustrator, writer, lecturer and museum director. He started his art career in the Bay Area. He studied under Arthur Frank Mathews at the Mark Hopkins Institute of Art in 1900, later was a student of George Bridgman at the Art Students League in New York and of Arthur Wesley Dow at Columbia University Teachers College. The influence of traditional Japanese woodcuts is clearly seen in his work.

Pedro's father Francisco, a cobbler, emigrated from the Azores in 1872, and settled in Oakland, California where Pedro was educated. Pedro and his brothers Frank and John all followed careers in art. Pedro was employed by Pacific Press Publishing Company between 1900 and 1906, afterwards starting the Lemos Illustrating Company with his brothers in 1907. Later this became known as the Lemos Brothers Art and Photography Studio, which offered art classes in copper, leather and landscaping as well as the traditional media of drypoint, etching and illustrating.

Lemos worked from a studio overlooking Lake Merritt and taught art at the University of California, Berkeley, working at the same time as illustrator and designer and giving classes in decorative design and etching at the San Francisco Institute of Art, where he had earlier studied when it was the Mark Hopkins Institute. He helped found the California Society of Etchers and an aqua print of his was acclaimed at the 1915 Panama-Pacific International Exposition, for which he helped organise the California print exhibition. He filled the position of Professor of Design at Stanford University and became director of the Stanford University Museum of Art in 1919. Besides being the first president of the Carmel Art Association, he was an affiliate member of several art organisations such as the California Society of Etchers, the California Print Makers, the Palo Alto Art Association, the Chicago Society of Etchers and the Bohemian Club. In 1943 he was elected a Fellow of the Royal Society of Arts in London.

Münchner Werkstätten / Art Deco Large Glazed Pottery Vase c. 1928

MÜNCHNER WERKSTÄTTEN  Germany

Vase c. 1928

Blue and white modeled glazed earthenware with orange red outlines

Marks:   "M" over "W" mark, Germany

Provenance: Mr. Ernest L. King (Watkins) "Rockledge" Commission, Winona, MN c.1930's Phillip Brooks Maher (interior architect), descended in the King Family to Bud (E. L. King Jr.) and Betty King, Winona, MN, Hollander Gallery, Milwaukee, WI, Private Collection, New York, NY

H: 9 ¾" x W: 8 ¼" x D: 8 ¼"

Price: $5,450

ROCKLEDGE, the summer home of Ernest and Grace King (the Watkins Family Company fortune was made from door-to-door sales of health potions and hygiene related products) was built and designed in its entirety from the expansive main home building with all of the furnishings to the custom silver service all the way down to the hand woven carpets and lace curtain designs, is arguably the most famous American Arts and Crafts commissioned home in America and was built and meticulously designed by George Washington Maher. It was finished in 1912, and was used by the Kings for the month of August only for a couple of decades before the interior was completely redone in the fashionable Art Deco design of the 1930's. George Washington Maher's son Phillip Brooks Maher, was hired for the project and went shopping for the best of the design of the period in both New York and Paris. He assembled a legendary collection of Art Deco design that comprised many important examples of both American and European Art Deco including the famous Donald Deskey square form telescope table, a Gilbert Rohde "Z" clock, a pair of Mies van der Rohe red lacquer and wicker armchairs, DIM furniture and rugs from Paris and rare Paolo Venini floor lamps and sculptural glass pieces among many other major 20th Century design works. This rare vase was indicative of the avant-garde furnishings throughout the King Home as well as the exquisite quality and attention to the detail of every single object that the Kings surrounded themselves with and became accustomed to enjoying and living with whether they were at their Daytona Beach resort, their lakeside property at Lake Tahoe or their plantation in Hawaii!