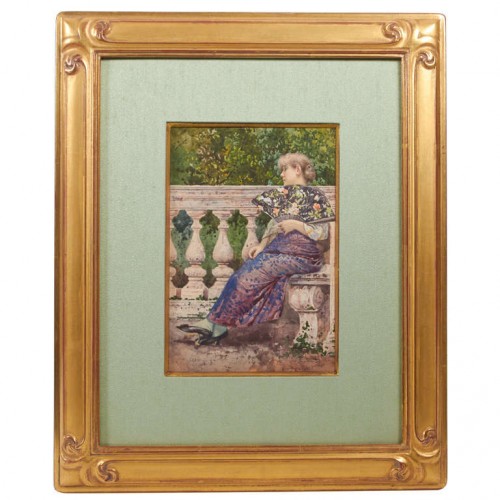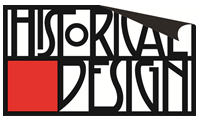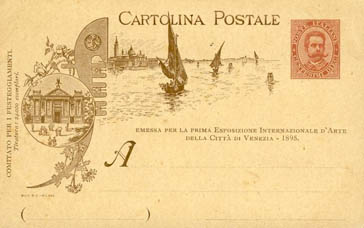 Product Description
Giovanni Battista Filosa, In the Garden, Watercolor, 1884
Related Products
Stephen Longstreet "Jazz Festival Trio – Night Faces", Paper cut-out, mixed media and paper collage

STEPHEN LONGSTREET (1907-2002)

"Jazz Festival Trio – Night Faces" c. 1970's

Paper cut-out, mixed media and paper collage

Signed: Longstreet (lower right), titled in pencil (upper left)

Artist's printed address label verso

H: 38″ x W: 28 3/8″

Stephen Longstreet was born on April 18, 1907 in New York City and attended Rutgers University (1926) and Harvard University (1927), and graduated from the New York School of Fine and Applied Art (1929); also studied in Paris with Matisse and Bonnard, as well as in Rome, London and Berlin; became painter, writer, art critic, and lecturer on art; literary critic for Reader's Syndicate (1952-80) and for the Los Angeles Daily News; designed stage sets for RexRoth poetry jazz, 1952; president, Los Angeles Art Association. (1972-75); professor of modern writing, University of Southern California (1975-80); wrote radio plays, screenplays, and dozens of books ranging from novels to biography to travel, including: Decade, 1929-1939 (1940), The Pedlocks: A Family (1951), Gettysburg (1961), The World Revisited (1953), and The Real Jazz, Old and New (1956).

The world of jazz was a constant theme throughout Longstreet's life.
Longstreet was introduced to ragtime and jazz by future singing legend Paul Robeson, then an All-American football player at Rutgers University. Their friendship began in 1918, when Robeson spotted the 11-year-old Longstreet sketching him as he practiced dropkicking. In his 1986 book "Storyville to Harlem: Fifty Years in the Jazz Scene," Longstreet explained that Robeson made him "aware of the gap between the music taught on paper and the 'razzmatazz' sounds of the scratchy jazz recordings." While studying at the School of Fine and Applied Arts in New York in the late '20s, Longstreet drew the musical scenes in Greenwich Village, the speak-easies and the Cotton Club in Harlem. "I had hoped to capture with black marks on white paper, this music created by these people, and set down what they looked like, felt and did before they were gone," he later wrote. By the late '20s, Longstreet was furthering his artistic studies in Paris, where he met Picasso, Matisse and other artists. He also met and drew James Joyce, Gertrude Stein and the American "jazzmen" who were, he later wrote, "escaping from Judge Lynch and the back of the bus." After returning to the United States in 1930, he traveled south to New Orleans, discovering the "strange and wonderful sounds" of jazzmen playing in Storyville, the city's red light district, and capturing them in his work. He later drew and painted Count Basie, Sarah Vaughan, Billie Holiday, Duke Ellington and other jazz greats. Of Longstreet's depictions of the century's jazz scene, Louis Armstrong wrote in 1971: "You want to feel the smell–the color–the great 'OH MY' feeling of the jazzmen, and stomp around in the smoke and dusk of the joints … then you just go and locate some of the drawings and paintings of this cat Steve Longstreet and steal you a few."

Over the years, Longstreet's jazz-era works, including collages, watercolors and ink drawings, were exhibited in museums and galleries, including the National Portrait Gallery at the Smithsonian Institution. The University of Chicago Library, The Graphic Arts Collection and Department of Rare Books and Special Collections at Princeton University Library, as well as UCLA all have extensive collections of Longstreet's artwork.

Richard Hambleton Untitled (Marlboro Man) Acrylic on canvas c. 1983

RICHARD A. HAMBLETON (1954-) USA

Untitled (Marlboro Man) c.1983

Acrylic on canvas

Signed: "RHambleton"

For more information see: Artists Observed, photographs by Harvey Stein, preface by Corness Capa, essay by Elaine A. King (New York: Harry N. Abrams, Inc., Publishers, 1986), p. 121; Capured: A film/video history of the Lower East Side, Clayton Patterson (New York: Seven Stories Press, 2005), p. 149, 301 and 530; New, Used & Improved: Art for the 80's, Peter Frank (New York: Abbeville Press, 1987), 46-48, 50-51 and 60.

Framed: H: 54 7/8" x W: 41 ½"

Hambleton can handle paint. When he throws white or black on the canvas, his waves break, his rodeo rider bucks, a man shot seems blown apart. – Michael Brenson, New York Times, March 30, 1984

During the 1970s, a loosely woven network of aspiring artists made a break into the public venue by raising graffiti to a new level of significance. Richard Hambleton was among a growing number of artists who came to be known as "illegal street artists." He seemed undaunted by the consequences of being perceived as deviant and moved in and out of the urban alleyways, leaving behind a wake of paper paste-ups, freehand drawings, photos and stenciled images. When Hambleton moved from Vancouver in 1980 he left behind several hundred life-size diazo prints of himself plastered all over the city. Upon his relocation to New York, Hambleton was often spotted with friends that included Jean-Michel Basquiat and Keith Herring. He continued painting his energized, life-size figures that earned him the label pop-expressionist, a parody on modernity's generic expressionism.