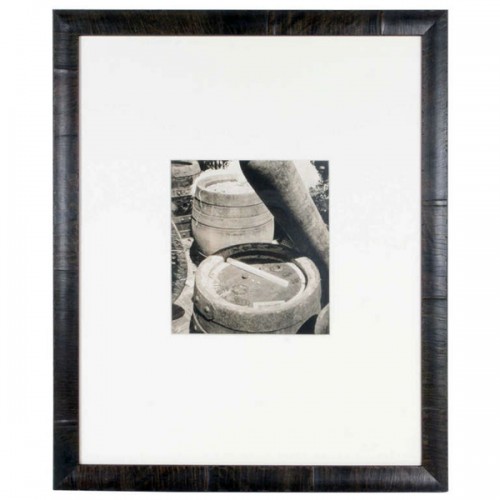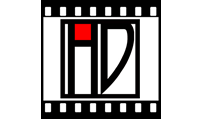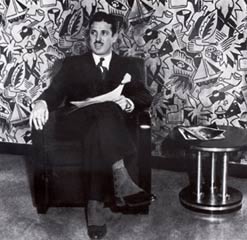 Product Description
Donald Deskey, Barrels, Gelatin silver print, c.1925-30
Related Products
Carlotta Corpron, Light Cubes, Gelatin silver print c. 1947

CARLOTTA CORPRON (1901-1988) USA

Light Cubes c. 1947

Silver gelatin print, patinated steel frame

Signed: Carlotta M. Corpron, Denton, Texas, RM6 #1081.47 (stamped on back)

Framed size: H: 13 ¾" x W: 16 ¾"

Price: $40,000

Corpron became a teacher at Texas Woman's University in 1935 and in 1942 she led a light workshop at Texas Woman's University for photographer Laszlo Moholy-Nagy. Although he praised her rapport with her students, Moholy-Nagy did not encourage Corpron's independent photography. More influential on her work was the arrival of Gyorgy Kepes, who came to Denton to write a book in 1944. His interest in Corpron's work prompted her to produce several series of photographs that were the most original of her career. At his suggestion Corpron experimented by placing white paper cut in simple shapes within a perforated box that was open at one end. When flashlights were shined through the holes onto the paper shapes, interesting patterns of light and shadow were reflected. The resulting abstract photographs comprised Corpron's "Light Patterns" series.

In her "Light Follows Form" series she extended her exploration of the modeling properties of light to three-dimensional form. In this series, she used light filtered through Venetian blinds or glass to dramatize a plaster cast of a Greek head. She also experimented with solarization, a process in which already exposed negatives are exposed. Works such as Solarized Calla Lilies (1948) convey a surreal elegance, but Corpron favored more original methods of expression. She regarded her "Space Compositions" and "Fluid Light Designs" series as her best work. In the former she used still-lifes composed of eggs, nautilus shells, or glass paperweights, usually combined with a curving reflective surface, to produce an illusion of receding three-dimensional space. She emphasized distortions of form that occurred in her egg photographs by experimentation during the development process. Her work is included in the collections of the Museum of Modern Art in New York City, the Art Institute of Chicago, the New Orleans Museum of Art, the Dallas Museum of Art, and the Amon Carter Museum in Fort Worth.

Nathan Lerner, Dowels Light Box Study, Silver gelatin print c. 1937

NATHAN LERNER (1913-1997) Chicago, USA

Dowels Light Box Study c.1937

Silver gelatin print

Signed on back

Illustrated: New Bauhaus, 50 Jahre: Bauhausnachfolge in Chicago (Berlin: Bauhaus-Archiv and Argon Verlag GmbH: 1987), p. 177

H: 18 5/8" x 22 ½" (framed)

Nathan Lerner's long career was inextricably bound up in the history of visual culture in Chicago. Born in 1913 to immigrants from Ukraine, he began studying painting at the Art Institute of Chicago at the age of 16, taking up the camera to perfect his compositional skills. At 22 he began doing a kind of photojournalism, developing his well-known series on "Maxwell Street," an immigrant neighborhood hit hard by the Depression, and also photographing the southern Illinois mining area. In 1936 when the New Bauhaus was established in Chicago by Lazlo Moholy-Nagy, Lerner became one of its first scholarship students and turned increasingly to photographic experimentation. He began making semi-abstract, strongly Constructivist images involving luminous projections, solarization, photograms and other methods, and his interest in manipulating light led him to invent the first "light box." In 1939 he became the assistant of Gyorgy Kepes, head of the school's light workshop; together, they wrote "The Creative Use of Light" (1941). With Charles Niedringhaus in 1942 he developed a machine for forming plywood that was used in making most of the school's furniture. After working as a civilian light expert for the Navy in New York during World War II, Lerner returned to the school, now called the Institute of Design, and was named education director after Moholy-Nagy's death in 1946. He left in 1949, opening a design office that became nationally known for its furniture, building systems and glass and plastic containers (including bottles for Revlon and Neutrogena and the Honeybear honey container). In 1968 Lerner married Kiyoko Asia, a classical pianist from Japan, and over the next two decades made numerous trips to Japan, where he took his first color photographs, as well as Mexico. He had his first solo exhibition of photography in 1973 and thereafter exhibited regularly in galleries and museums in the United States, Europe and Japan. His work is included in photography and design collections around the world. (Roberta Smith, New York Times, February 15, 1997).