FINE ARTS
20th CENTURY AMERICAN PAINTING & SCULPTURE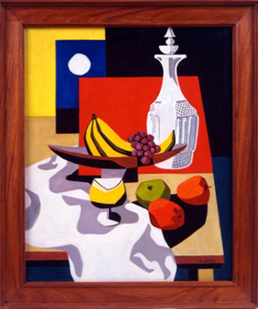 HD Fine Art Collection focuses on American Painting and Sculpture from 1900 through the latter part of the 20th Century. Both landscape and figurative work are depicted in a more realistic manner including turn of the Century Impressionist works and naturalism of the Arts & Crafts era, stylized imagery of the 1920's and 1930's with Precisionism, Social Realism and works from the WPA (Works Progress Administration). Louis Berneker and Edmund F. Ward stylistically lead the way into the 20th Century while Harold Christopher Davies and Joseph Raskin represent a Naturalist spirit. Zygmund Sazevich shows the beginnings of Cubist Modernism and New Realism is evident in the work of Virginia Armitage McCall and Otis Oldfield. WPA artists, Gerritt V. Sinclair and Robert Schellin depict Midwest city life during the Depression Era and Victor Arnautoff features a still-life reminiscent of his San Francisco Coit Tower mural project. The beginning of Post-War abstraction is depicted in the work of Michiel Gloeckner and Duval Eliot, stylized sculptures with contrasting themes of two female figures by Walter Suter and Gertrude Burgess Murphy.
View 20th Century American Painting & Sculpture here.
20th CENTURY EUROPEAN PAINTING & SCULPTURE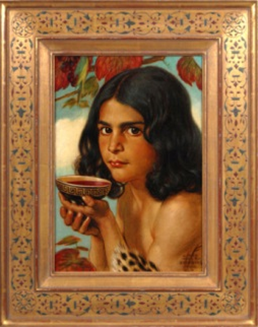 HD Fine Art Collection focuses on European Painting and Sculpture from 1900 through the latter part of the 20th Century. Both landscape and figurative work are depicted in a more realistic manner including turn of the Century Symbolism and the naturalism of the art Nouveau and Arts & Crafts eras, as well as stylized imagery of the 1920's and 1930's. Carlos Schwabe and Alfred Meyer-Bernburg lead the way into the 20th Century with symbolic and mythological themes. Roger Georges Andre Duval references the beginning of Cubist Modernism and Art Deco stylization is evident in the work of Eugene Pougheon. Surrealism makes a unique statement in the work Rotislaw Racoff. In bronze sculpture the curve of the Art Nouveau line, the zig-zag of tribal themes and the stylized forms of Art Deco merging with natural forms is represented by Sophie Burger-Hartmann, Andree Flamant-Ducany Gide, Jan & Joel Martel, Dujam Penic and Andre Vincent Becquerel among many others.
View 20th Century European Painting & Sculpture here.
POST-WAR TO PRESENT PAINTING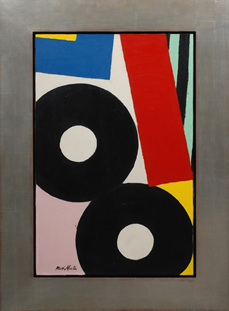 HD Fine Art Painting focuses on Post-War American and European art with an emphasis on abstract art. Geometric abstraction from the 1940s and 50s, including the California Hard Edge Group, is a focus along with both the New York and California Abstract Expressionist Schools. Karl Benjamin, Frederick Hammersley, Leo Valledor and Jerrold Davis are some of the West Coast artists represented. Conrad Marca-Relli, John Grillo, Jay Rosenblum and Robert Breer represent the East Coast artists among many others.






View Post-War to Present Painting here.
POST-WAR TO PRESENT SCULPTURE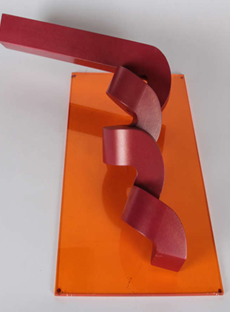 HD Fine Art Sculpture focuses on Postwar American and European sculpture. The 1950s and early 1960s are represented with a wide range of mediums from the expressive acrylic hand of Leo Amino to the stainless steel spray of Harry Bertoia to the sensuous forms in marble of Etienne Hajdu and in bronze of Maurizio Casari. Pop sculpture comes alive through the wit of Claes Oldenburg and the signature wrapping of Christo and lastly a poignant contemporary gesture "housed" in the satirical work of Erwin Wurm.






View Post-War to Present Sculpture here.
PETER CANTY (b. 1938)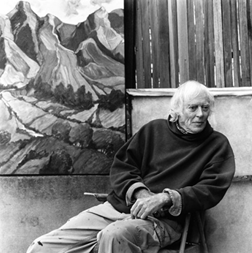 Berkeley artist Peter Canty received his BA in art from the Chouniard Art Institute, Los Angeles (now California Institute of the Arts) and an MA from the University of California, Santa Cruz in 1969.  Heavily influenced by the Post-Impressionist masters Van Gogh, Gauguin, and Cezanne, in his own words Canty describes his interest in landscapes, believing they are "the best vehicle for motion, force, and color dynamics".  Although his work references realistic subjects, Canty's imagery is drawn strictly from his own imagination. Drawn from his own mind the paintings also come to reality in his own "garden" studio. The spaciousness of being outdoors and Canty's eye to the appeal of large paintings in the Contemporary market place has encouraged him to paint many of his canvases in a formidable scale often in the 3-5 foot range. The viewer of his lush canvases is offered the opportunity to fully engage in his most favored subject, the naturalism of the California. The compositions may include a Pacific coastal scene, Cypress groves, a rustic forest with vegetation or a vase of freshly cut indigenous flowers.
View Peter Canty paintings here.
TIM LIDDY (b. 1963)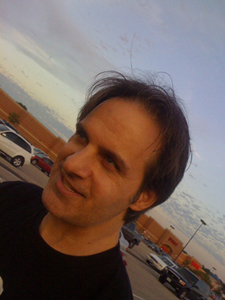 The idea of play has been a recurring theme in the work of artist Tim Liddy. Basing his circa series, primarily on the reproduction of vintage board game covers, Liddy sometimes plays with the boundaries of truth and fiction—never letting on which is real and which is not—in his own period assimilations.  A keen observer will see decades of American culture unfold within these board games: social norms and paradigms, gender and racial stereotypes, class separation, and occupational procurement, among other underlying themes. By Liddy re-contextualizing the subject, viewers get a glimpse of our shared past, perhaps experiencing fond nostalgia or utter embarrassment.  Tim Liddy's painted constructions so closely resemble their board game inspirations that many viewers walk right past, thinking they must be found objects. Liddy relishes the confusion. The works are actually elaborately enameled copper sculptures, each seemingly printed word and every abraded strip of masking tape made by the artist. Once you've discovered the truth, you are caught up in the astonishing detail and verisimilitude, and you're drawn in to investigate more closely. Within the recognizable format of a mid-twentieth-century game box are surprising elements that are often at odds with the traditional object. Liddy inserts wry commentary on mid-century social mores into this comfortably recognizable context. The fact that the boxes seem to be held together tenuously by tape suggests the rapidly eroding conventions of an earlier era.
View Tim Liddy paintings here.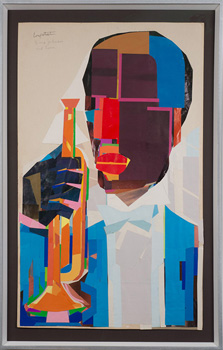 American and European original drawings and water colors are represented with both figural and architectural themes with a Modernist point of view. From turn of the Century Fantasy Realism to the stylized Cubist portraits by François-Louis Schmied and Theodor Wende to the Social Realism of Nile Behncke and the Harlem Renaissance artist Sogata.


View American & European Drawings and Works on Paper here.
POSTERS, PRINTS, & LITHOGRAPHS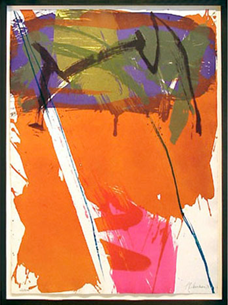 Posters and lithographs span graphic design from Russian Avant-garde to the 1939 New York World's Fair. Also included are the Art Deco themes of Robert Pougheon and John Macgilchrist with Post-War and Contemporary work by artists such as Claire Falkenstein, Alexander Liberman, Jasper Johns, Claes Oldenburg and Roy Lichtenstein.
View Posters, Prints, & Lithographs here.
VINTAGE ROCK POSTERS (1966-1971)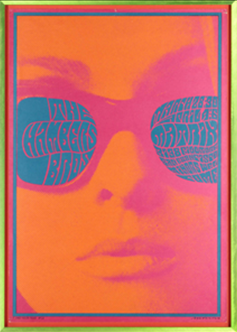 Both daring and highly experimental, the San Francisco rock posters produced by Bill Graham and The Family Dog are among the most graphic artworks of the 1960's. Influenced by the poster designs of earlier Art Nouveau and Secession works by artists such as Alphonse Mucha and Gustav Klimt, talented contemporary artists of the 1960s designed outrageous and dramatic new imagery and highly stylized lettering. Between 1966 and 1971 over 450 colorful and imaginative rock posters were created to announce the most famous rock group bands and their performances in San Francisco. In addition to announcing the concerts themselves, the posters further entreated the hippie culture in San Francisco's Haight-Ashbury to attend the subsequent dances and become part of what was termed "happenings". These rock posters were designed by San Francisco artists such as: Wes Wilson, Rick Griffin, Victor Moscoso, Bonnie MacLean, Stanley Mouse & Alton Kelley and others. Historical Design's collection of vintage 1st edition rock posters was originally purchased by a San Francisco collector in 1973 and were later authenticated by Chet Helms who was directly involved with Bill Graham and the original production of the posters.  Chet Helms later became a well-known and respected San Francisco art dealer and was the owner of the gallery, Atelier Dore.
View Vintage Rock Posters here.
ABSTRACT PHOTOGRAPHY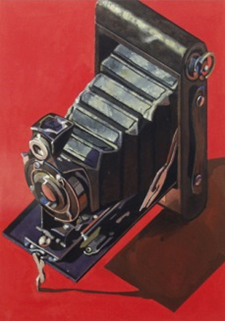 HD Abstract Photography focuses on Avant-Garde / Modernist photographs from the 1920's to the present. Legendary photographers, such as Paul Strand, Florence Henri, Berenice Abbot, Lewis Hine, Karl Struss among many others are represented. German New Realism comes alive with photos by Werner Mantz and the teachings of the New Bauhaus led by Moholy-Nagy are represented in the work of Nathan Lerner, Carlotta Corpron and Gyorgy Kepes. A Contemporary point of view is reflected in the work of Thomas Barrow, Aram Gesar, Grant Mudford and others.
View Abstract Photography here.
FIGURATIVE PHOTOGRAPHY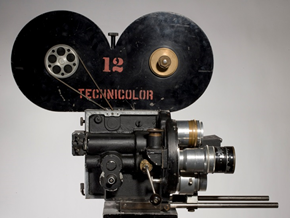 HD Figurative Photography focuses on Avant-Garde/Modernist photographs from the 1920's to the present. Legendary photographers, such as Edward Steichen, Edward Weston, Man Ray, Andre Kertesz, Lotti Jacobi, Herbert Bayer, Xanti Schawinsky and Werner Rohde among many others are represented.  In the second half of the 20th Century, the innovative works of Weegee and the dramatic "Red Series" nudes by Christian Vogt, as well as the enigmatic and experimental work of Louviere & Vanessa usher the collection into the 21st Century.
View Figurative Photography here.
CARL VAN VECHTEN PHOTOGRAPHY (1880 – ­ 1964)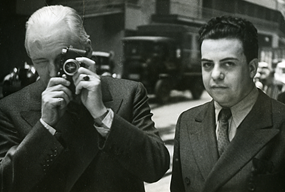 Carl van Vechten was a highly regarded  American cultural impressario of the early 20th century, an influential writer and author who created some of the most salacious stories and novels of the Jazz Age.  By the early 1930s, he began experimenting with portrait photography. Van Vechten was fascinated by American black culture and became one of the most important patrons and promoters of the Harlem Renaissance. He was at the center of it all and his photographic portraits of the leading literary artists of the period, as well as many stage and film actors, dancers and other performers and celebrities have become one of the most significant photographic portrait archives of the 20th Century. Amongst his close confidents were iconic figures such as Gertrude Stein, Langston Hughes, Alfred Knopf and George Gershwin. Large collections of van Vechten's photographs can be found at the Beinecke Library at Yale University, Fisk University, the New York Public Library, the Carl Priebe Collection at Marquette University in Milwaukee, Brandeis University at Waltham,MA, the Library of Congress, the Prentiss Taylor collection in the Archives of American Art/ Smithsonian as well as the Museum of the City of New York.