HISTORICAL DESIGN JEWELS GIFT GUIDE – HOLIDAYS 2016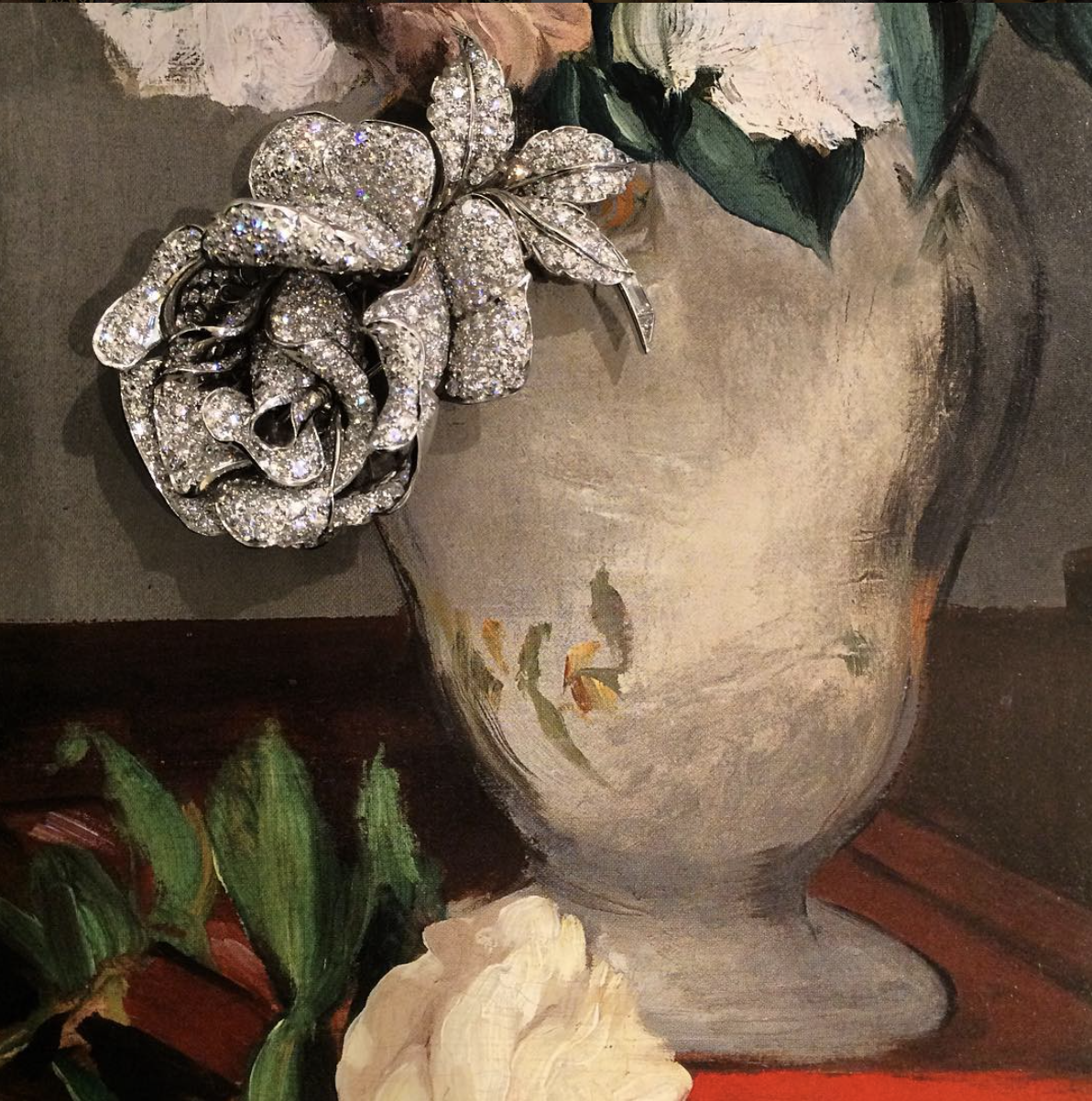 Paul Flato, sculptural "Rose" brooch, pave diamonds set in platinum, c. 1930's, Art: Peonies by Edouard Manet c. 1864-65 (image courtesy of the Metropolitan Museum of Art, New York)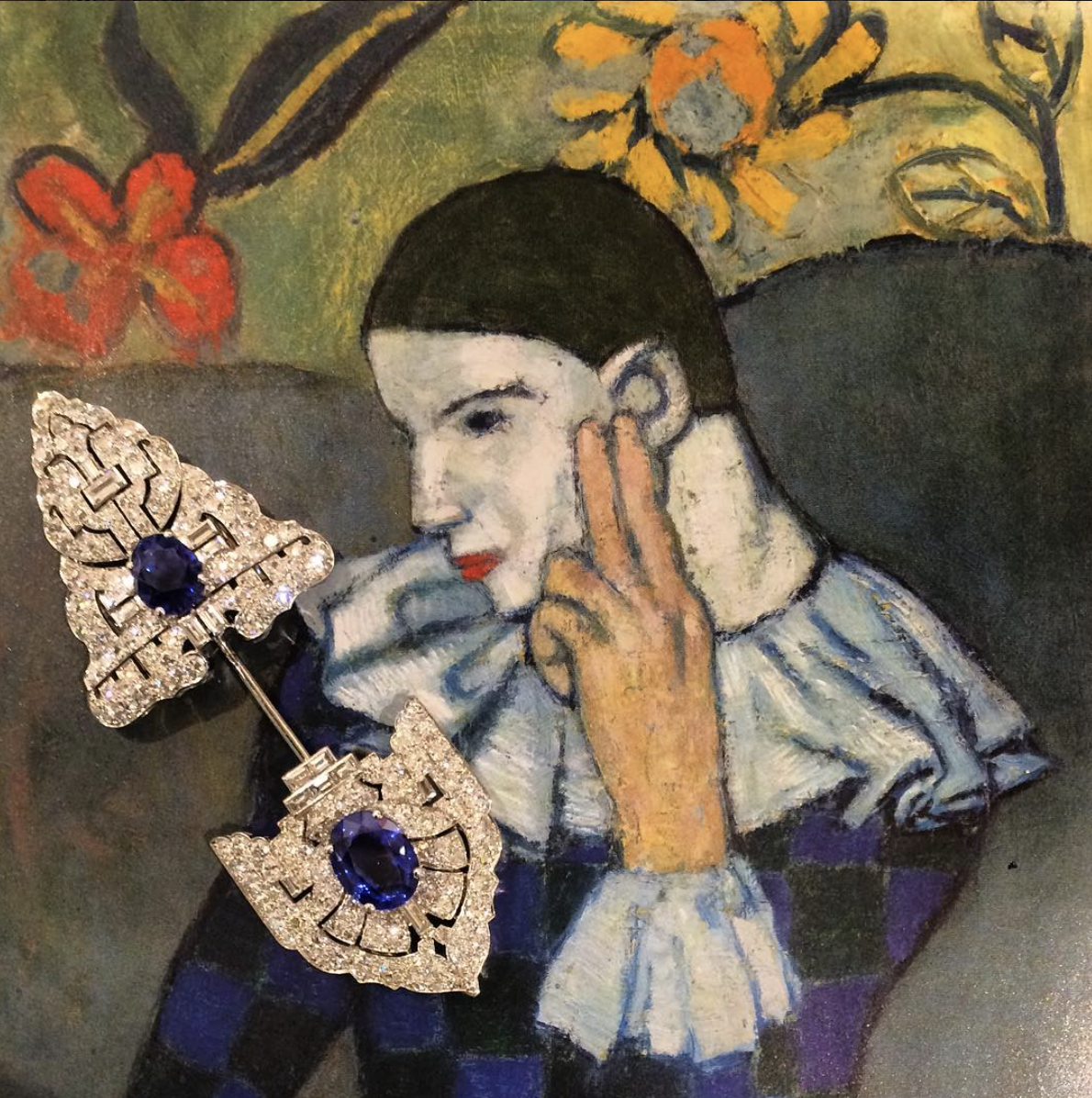 Art Deco jabot / double clip brooch, Intricate openwork design set in platinum with 16 baguette diamonds and approx. 200 round diamonds set with two natural oval Ceylon sapphires (approx. 12 1/2 carats TW, G.I.A. certificate) c. 1925, Art: Seated Harlequin by Pablo Picasso 1901 (image courtesy of the Metropolitan Museum of Art, New York)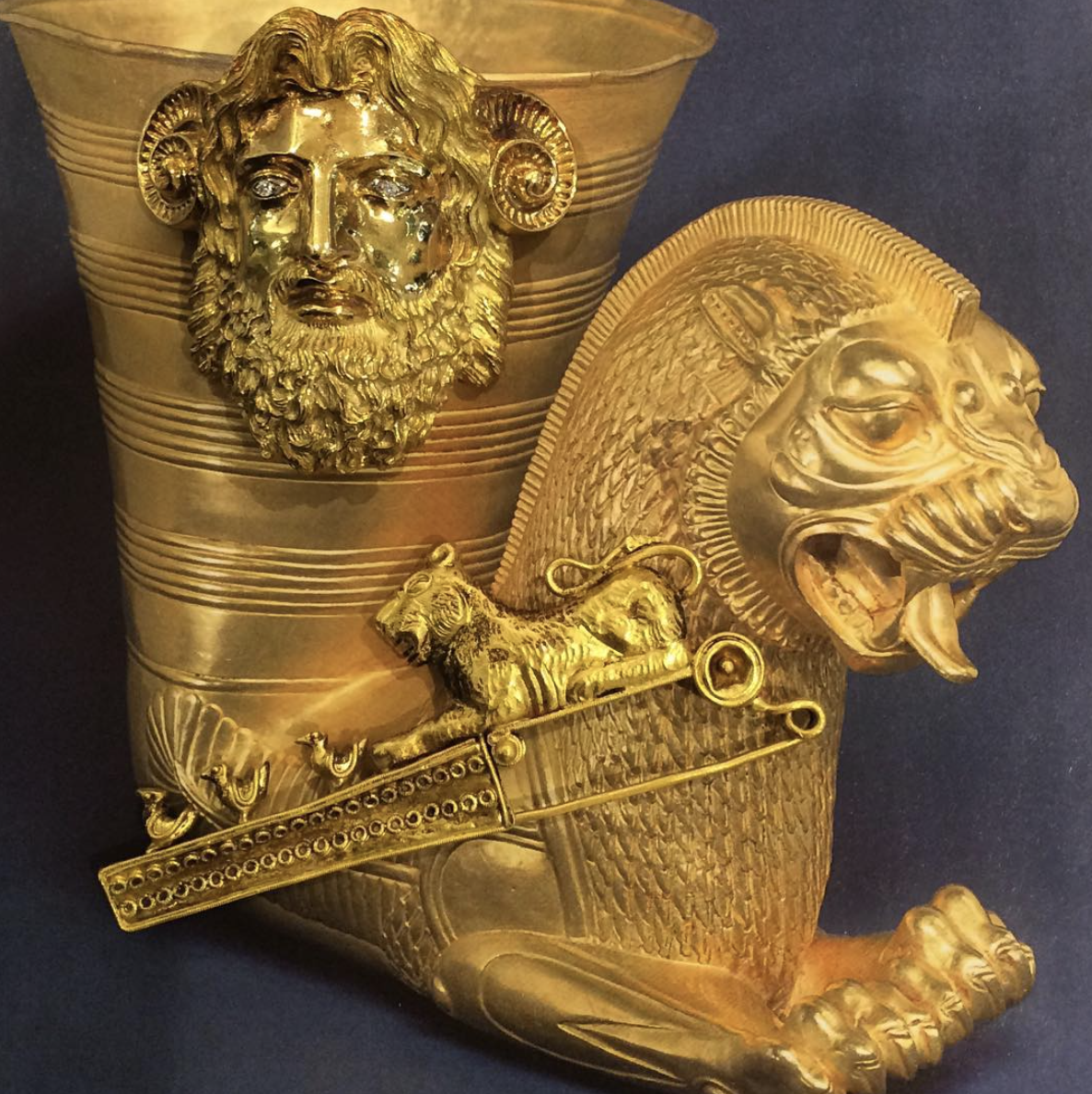 Wander, Paris "Pan" pendant/brooch, elaborately chiseled and cast 18K gold set with diamond eyes, signed, c.1970's (upper left), 19th Century "Etruscan Revival" 18K gold fibula brooch with a full figure lion and birds c. 1880 (lower right), Art: Vessel Terminating in the Forepart of a Fantastic Leonine Creature, Iran (image courtesy of the Metropolitan Museum of Art, New York)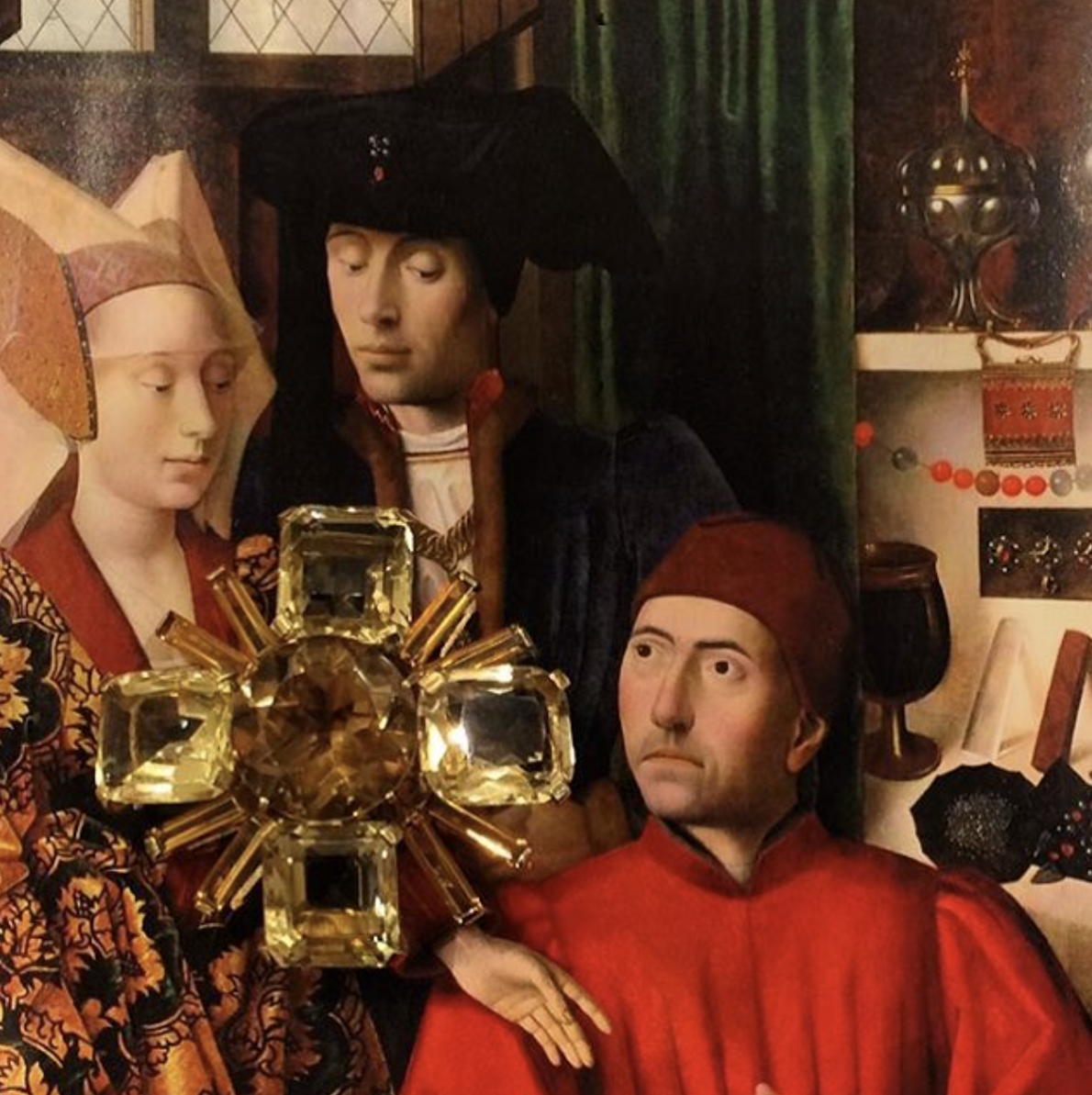 Seaman Schepps "Maltese Cross" brooch, two color square, long baguette and round cut citrines set in gold, signed, c. 1940's, Art: A Goldsmith in His Shop by Petrus Christus, 1449 (image courtesy of the Metropolitan Museum of Art, New York)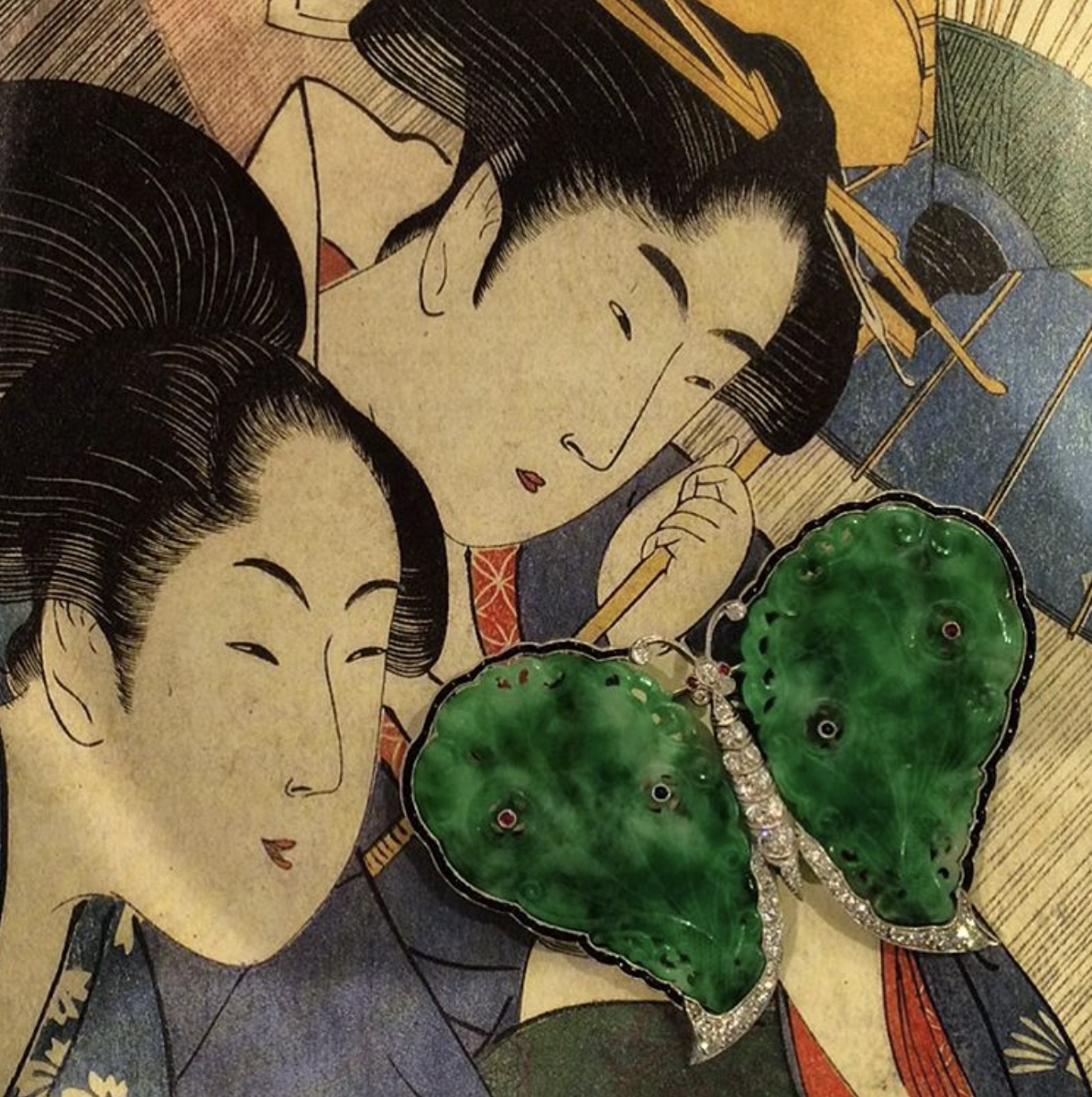 Art Deco Butterfly brooch, carved jade, diamonds, sapphires, rubies and buff cut onyx set in platinum, marked, c. 1925, Art: Two Women Under an Umbrella by Kitagawa Utamaro, 1790's (image courtesy of the Metropolitan Museum of Art, New York)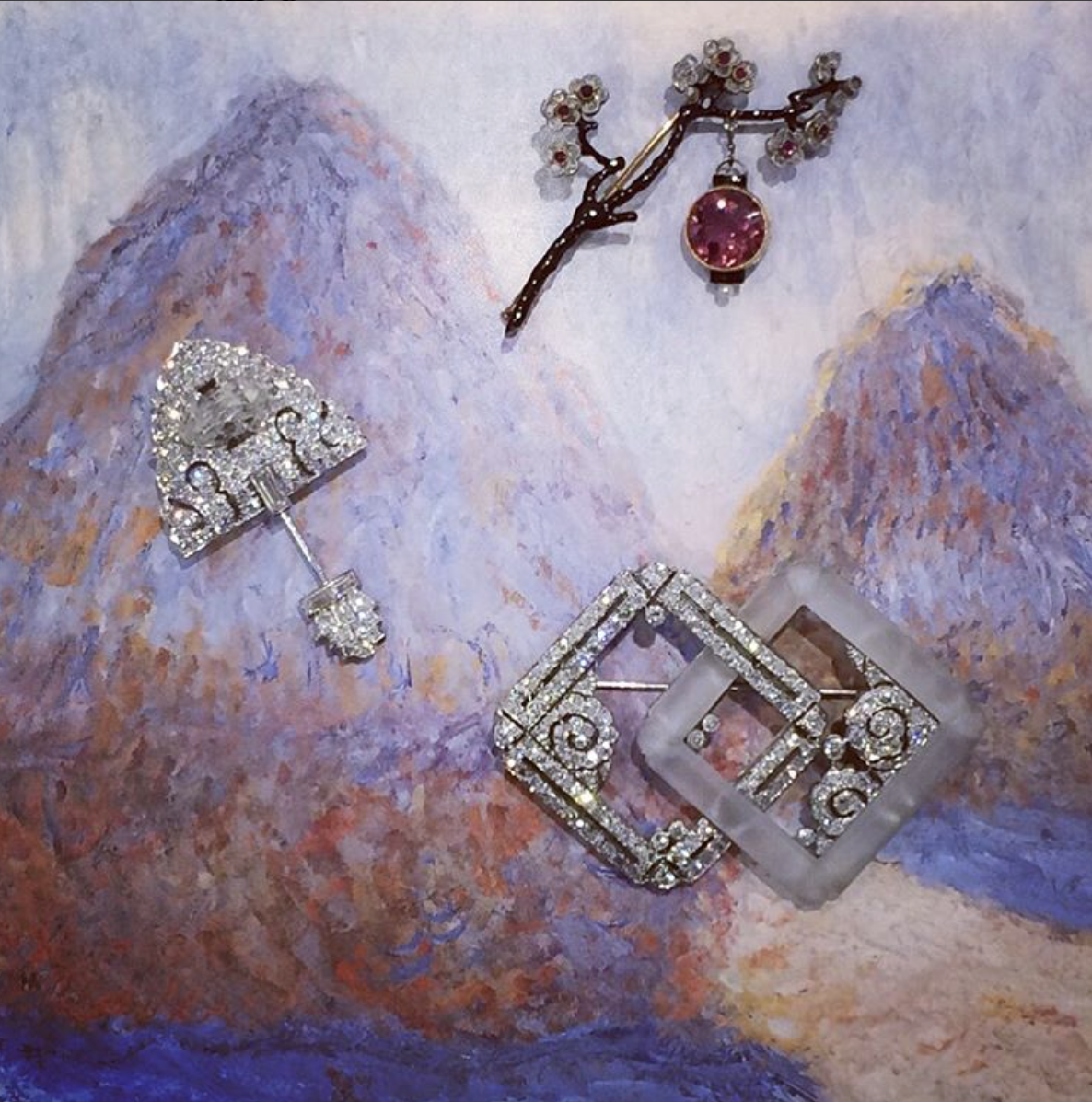 Cartier jabot brooch, fan shaped with round and baguette shaped diamonds (Indian Royal Briolette diamond, 6.11 carats, G.I.A. certificate) set in platinum, signed c. 1925 (left);  Sigmund Zuckermandl, Vienna, "Cherry Blossom" brooch, enameled 18K gold set with diamonds and pink tourmalines further set with a large round pink tourmaline as a hanging lantern and a pearl, signed, c. 1890 (middle); French Art Deco, Fancy "Interlocking Squares" brooch, diamonds and rock crystal set in an openwork platinum design, marked, c. 1920's (right), Art: Haystacks (Effect of Snow and Sun) by Claude Monet, 1891 (image courtesy of the Metropolitan Museum of Art, New York)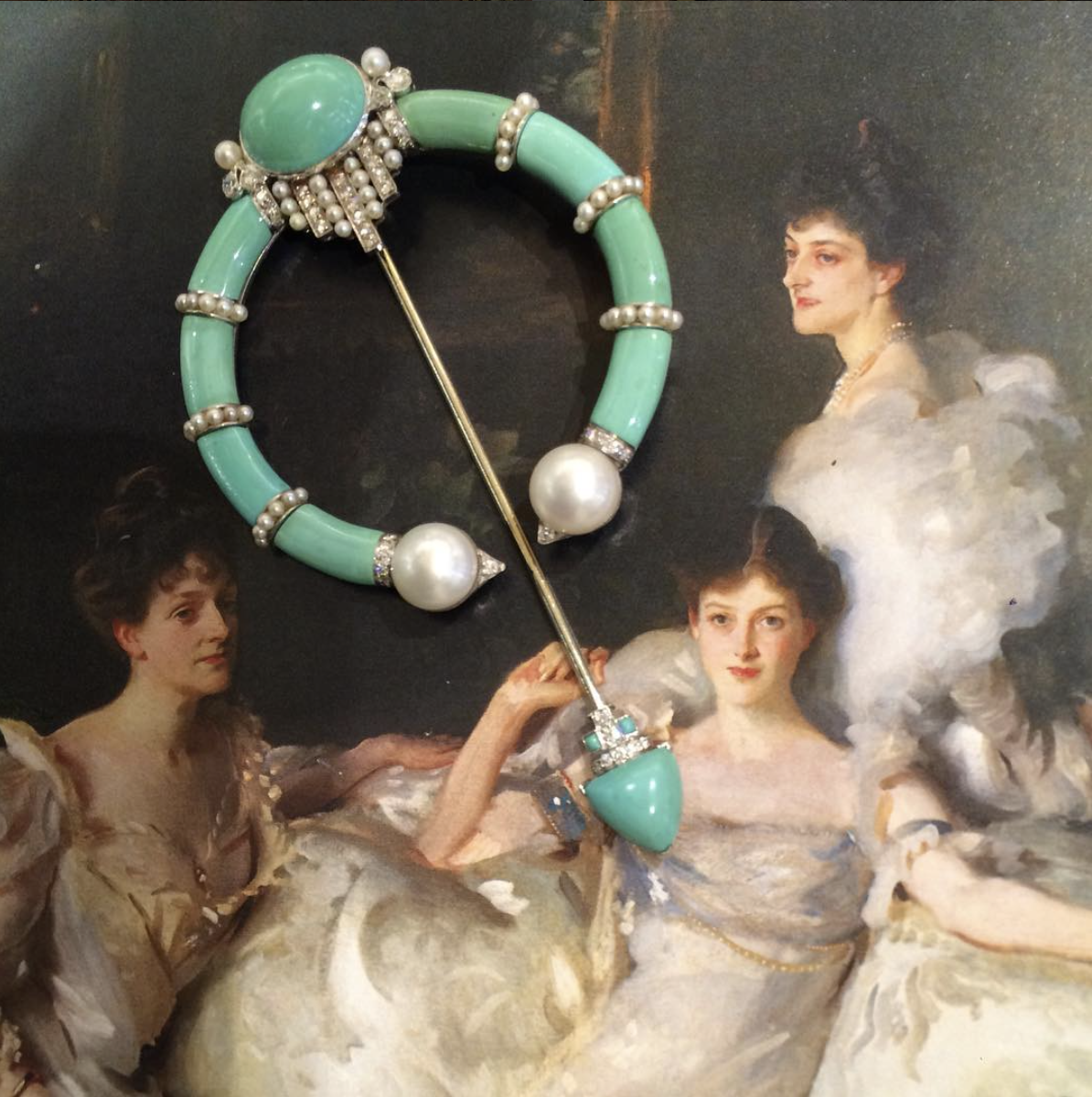 French Art Deco Penannular brooch, elaborate platinum mounting set with natural pearls, diamonds and gem quality Persian turquoise, marked, c. 1925, Art: The Wyndham Sisters: Lady Elcho, Mrs. Adeane, and Mrs. Tennant by John Singer Sargent, 1899 (image courtesy of the Metropolitan Museum of Art, New York)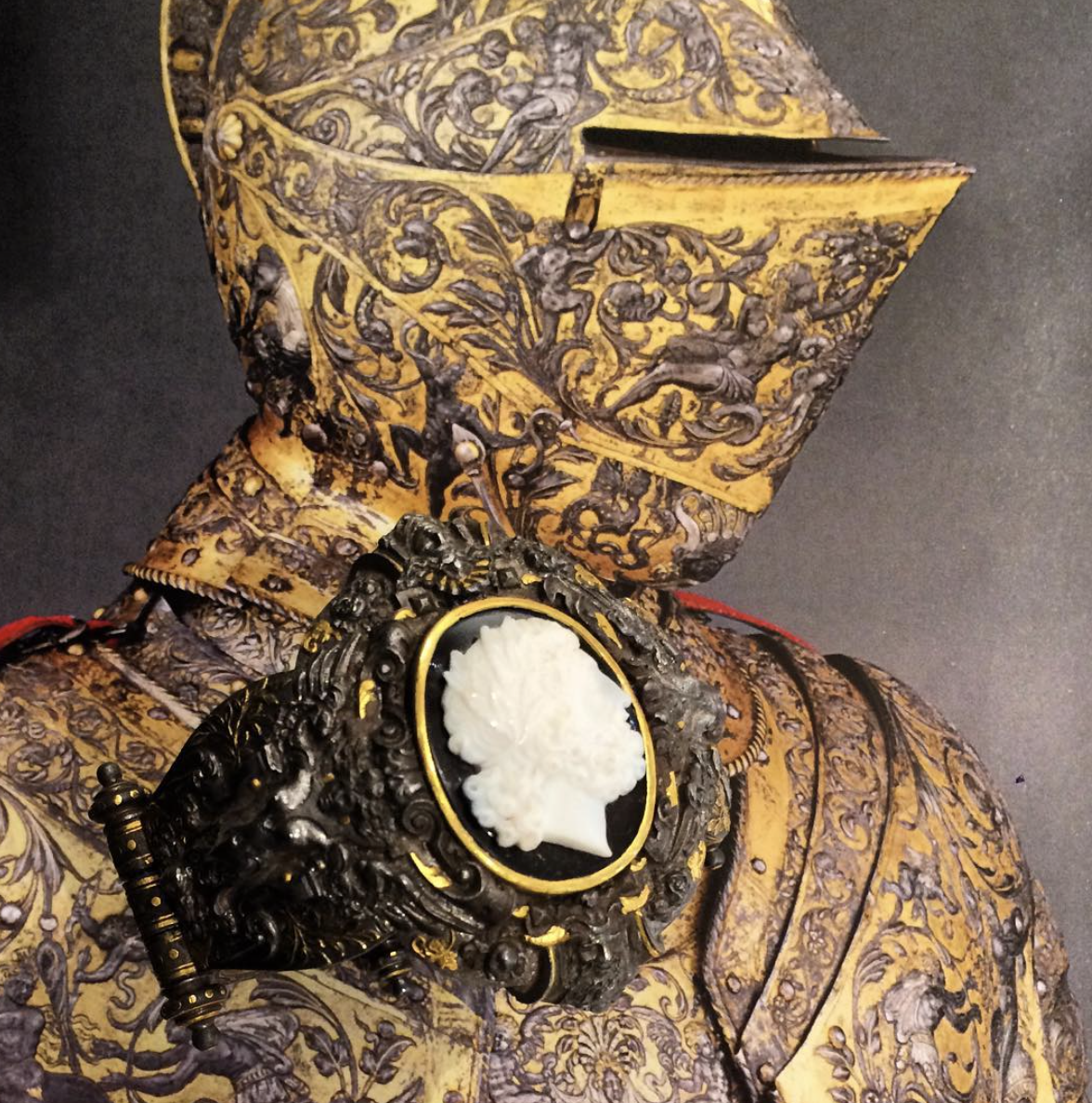 Boucheron "Renaissance Revival" cuff / bracelet, attributed to a design by Paul Legrand and made by Tissot, highly sculptural gold inlay, damascene steel set with an intricately agate carved cameo c. 1878, Art: Armor of Henry II, King of France, c. 1555 (image courtesy of the Metropolitan Museum of Art, New York)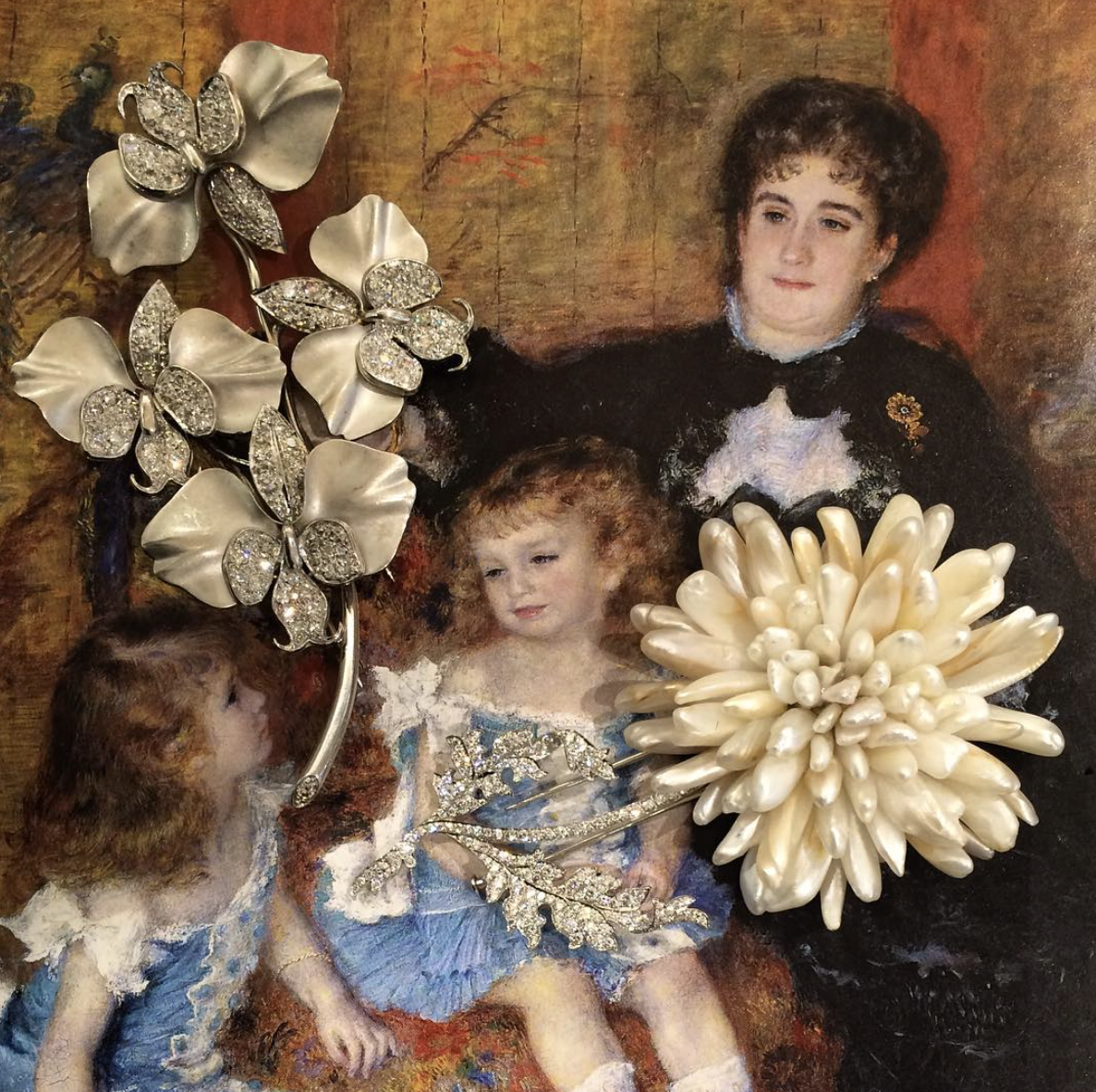 French Art Deco "Orchid" brooch, matte finished platinum Cymbidium orchid" spray set with pave diamonds (approx. 9 carats TW), signed c. 1935 (left), W. Truman Ltd. / Peter Truman for The Goldsmith's Company "Chrysanthemum" brooch in platinum and diamonds and natural Mississippi pearls, contemporary made for Tiffany & Co., signed (right), Art: Madame Georges Charpentier and Her Children, Georgette-Berthe and Paul-Emile Charles by Auguste Renoir, 1878 (image courtesy of the Metropolitan Museum of Art, New York)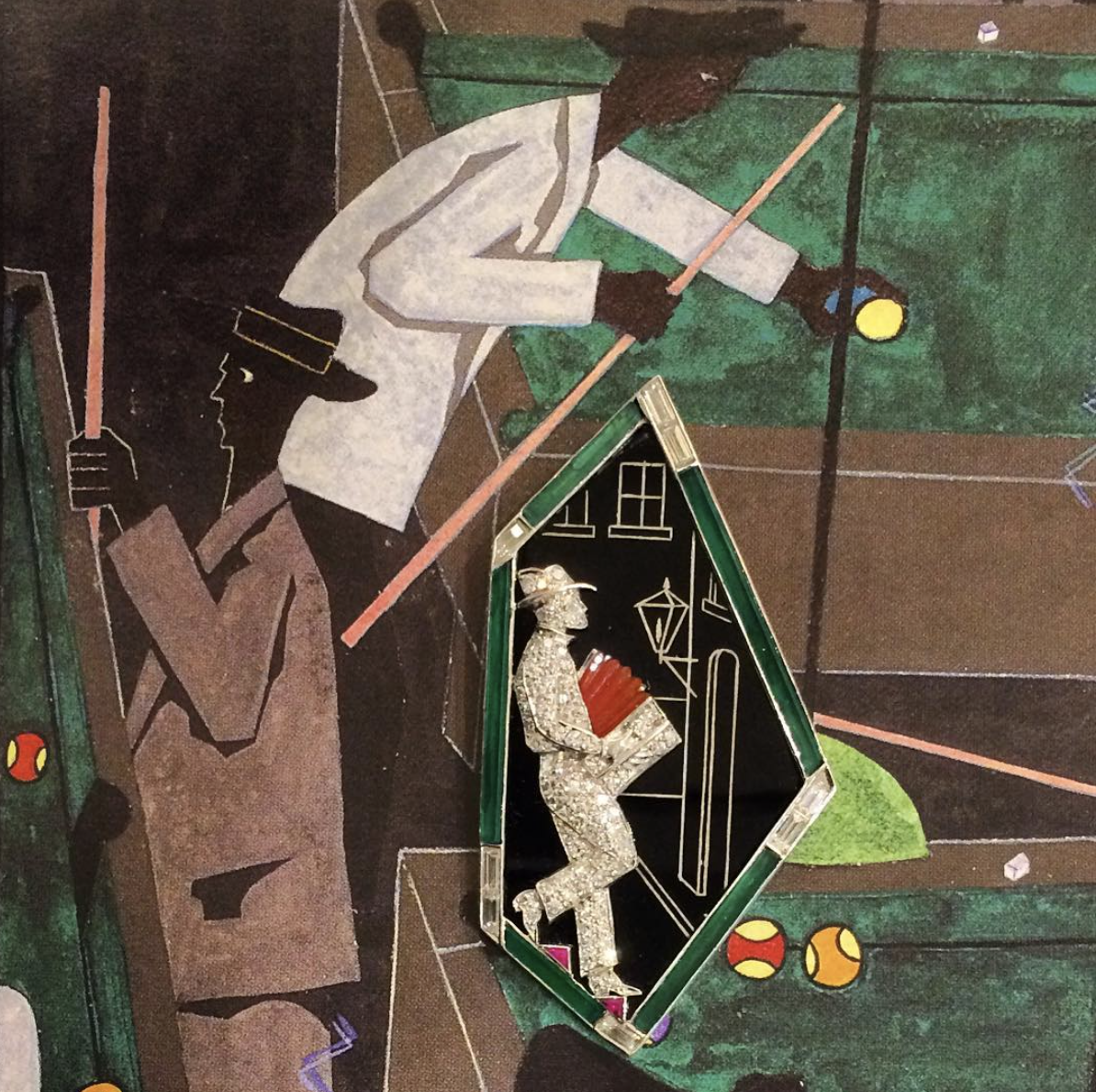 American Art Deco "Jazz Accordion Player" brooch with platinum inlaid onyx, rubies, chrysoprase, carnelian and pave diamonds, marks, c. 1930, Art: Pool Parlor by Jacob Lawrence, 1942 (image courtesy of the Metropolitan Museum of Art, New York)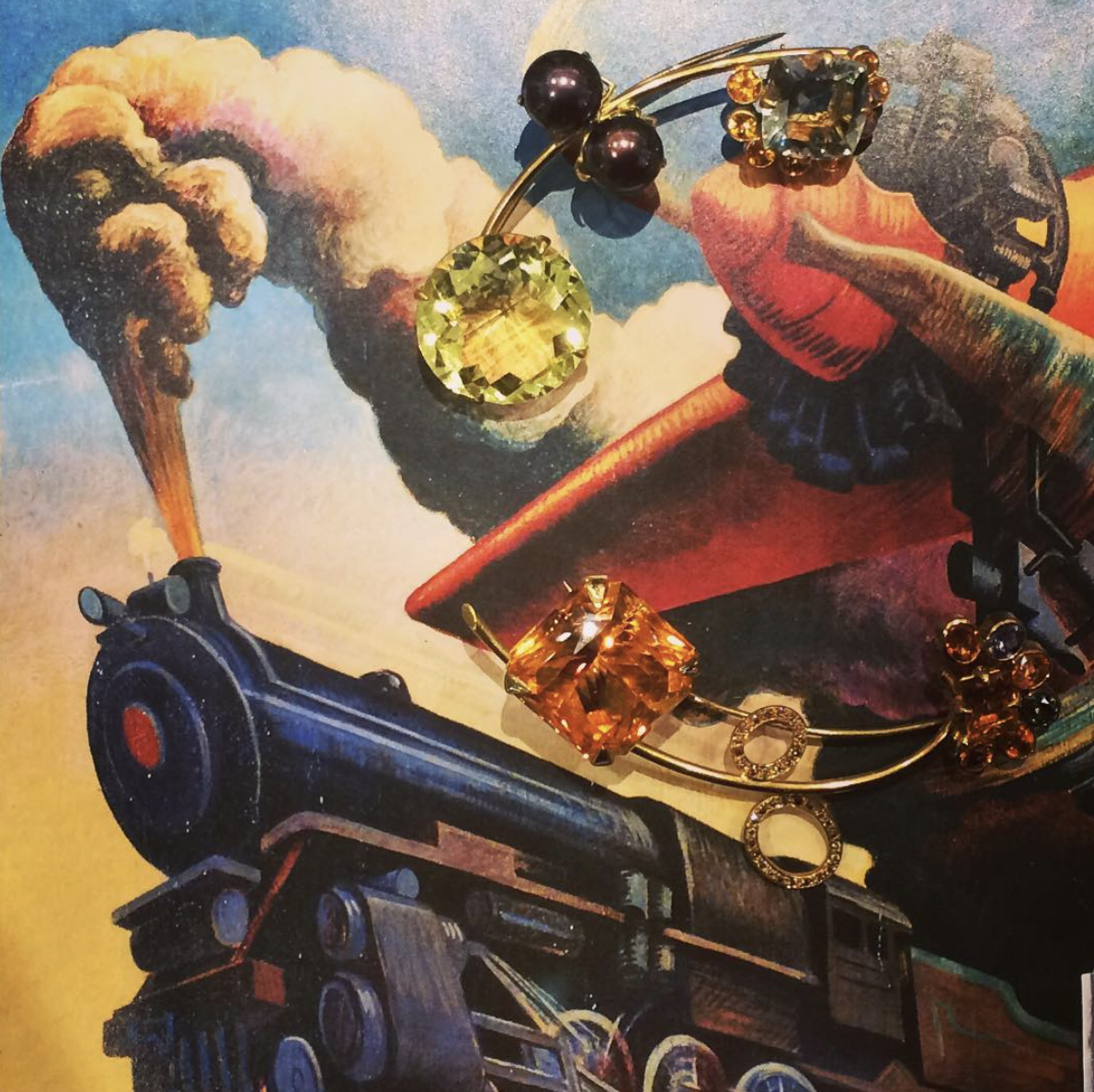 Mahrokh Beck, Munich, Stylized flower brooch with a large round cut green beryl, a cushion cut aqua marine set with orange sapphires and citrines and two large black pearls all set in 18K yellow gold, c. 2005 (top), Mahrokh Beck, Munich, Stylized flower brooch with a large square cut citrine, a smaller square cut citrine, yellow and orange oval citrines, sapphires and cognac diamonds all set in 18K yellow gold, c. 2005 (bottom), Art: Instruments of Power from America Today by Thomas Hart Benton, 1930-31 (image courtesy of the Metropolitan Museum of Art, New York)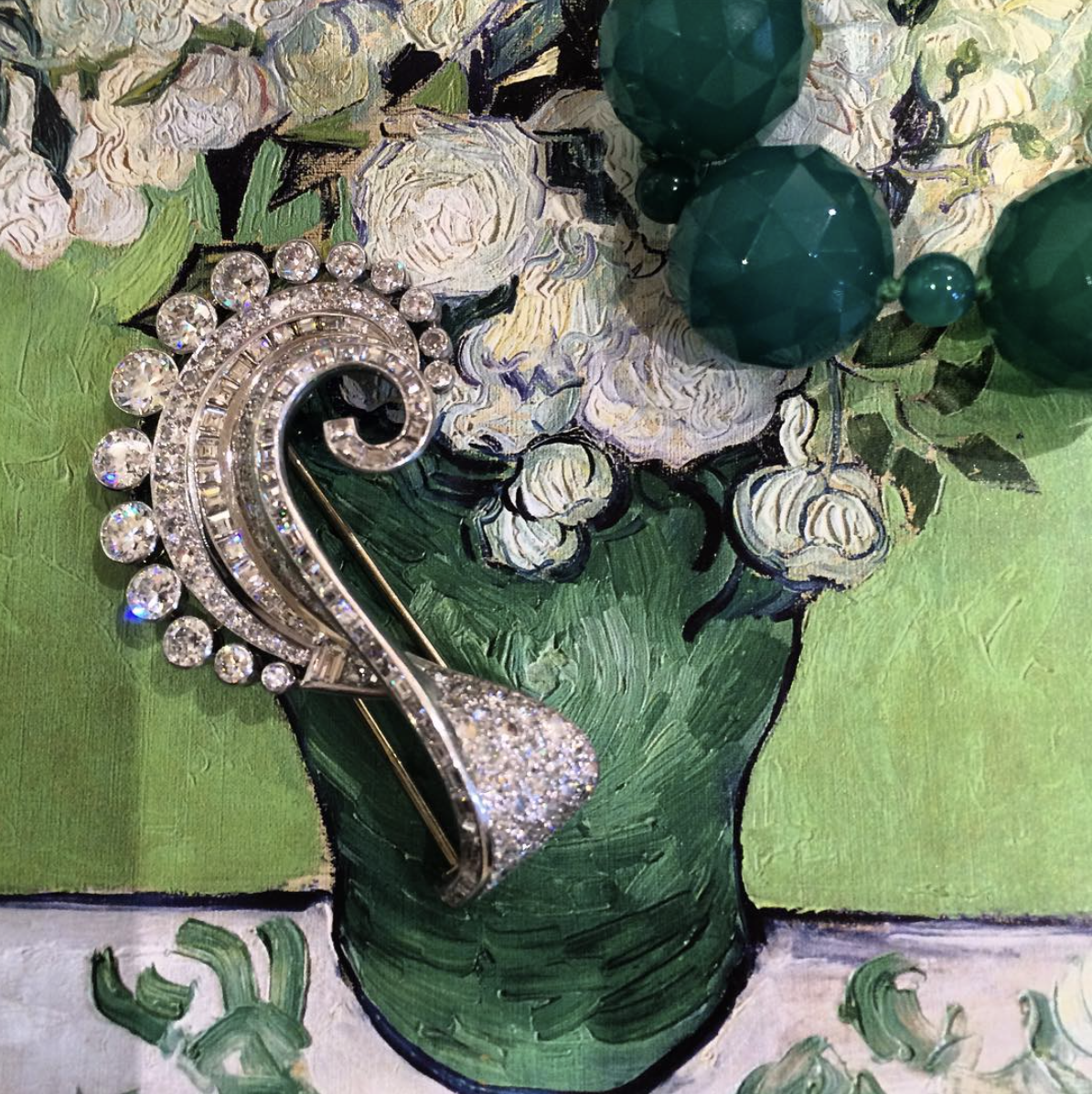 French Art Deco "Swirl" brooch with round and square cut diamonds (15 carats TW) all set in a platinum mount, marked, c. 1930 (left), Art Deco gem quality chrysoprase (apple green chalcedony) large rose-cut faceted bead necklace (27 inches long, ¾ inch diameter beads, with ¼ inch diameter round beads spaced in between) with a 14k gold ball clasp, marked, c. 1930's, Art: Roses by Vincent van Gogh, 1890 (image courtesy of the Metropolitan Museum of Art, New York)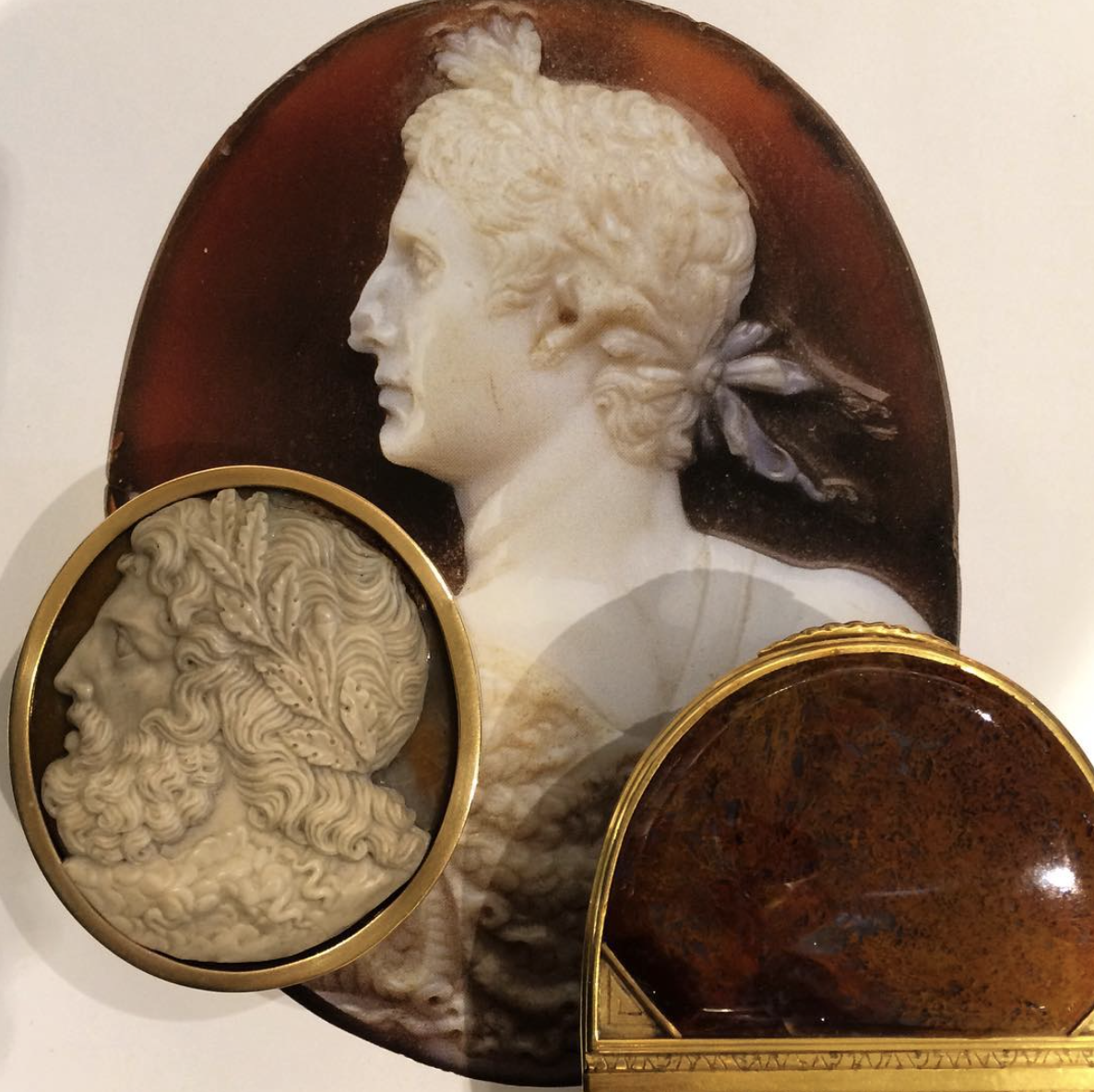 Faberge (attr.) Oval gold (18K rose gold) box with an extremely fine and intricately carved agate cameo medallion of Zeus, c. 1895 (left), 19th Century fine German double compartment box, specimen agate with finely chased gold mounts, c.1820 (bottom right), Art: Cameo Portrait of the Emperor Augustus, Roman, c. AD 41-54 (image courtesy of the Metropolitan Museum of Art, New York)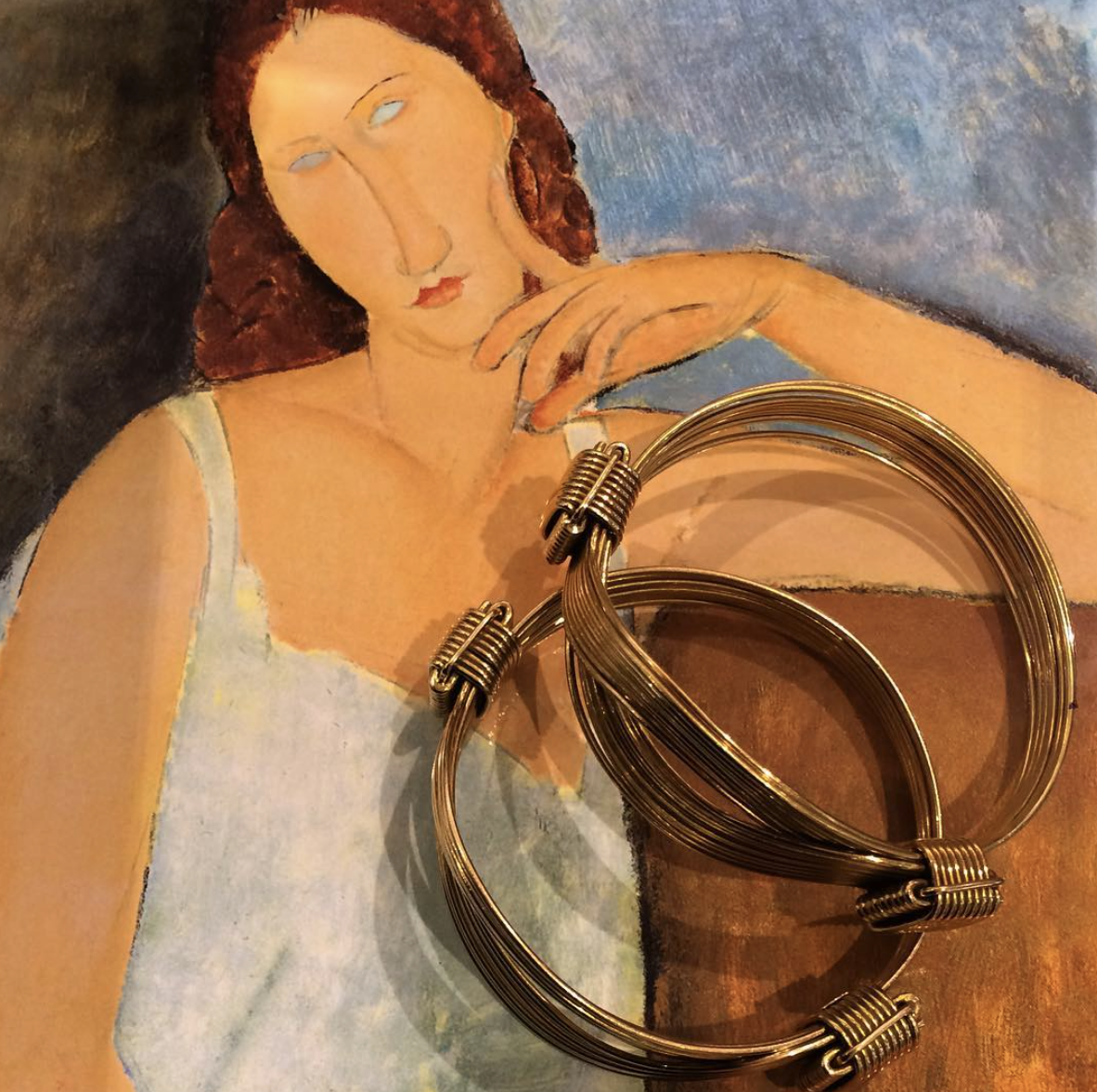 Pair of Gucci "Elephant Hair" 18K gold adjustable cuff bracelets, signed, c. 1970's, Art: Jeanne Hebuterne by Amedeo Modigliani, 1919 (image courtesy of the Metropolitan Museum of Art, New York)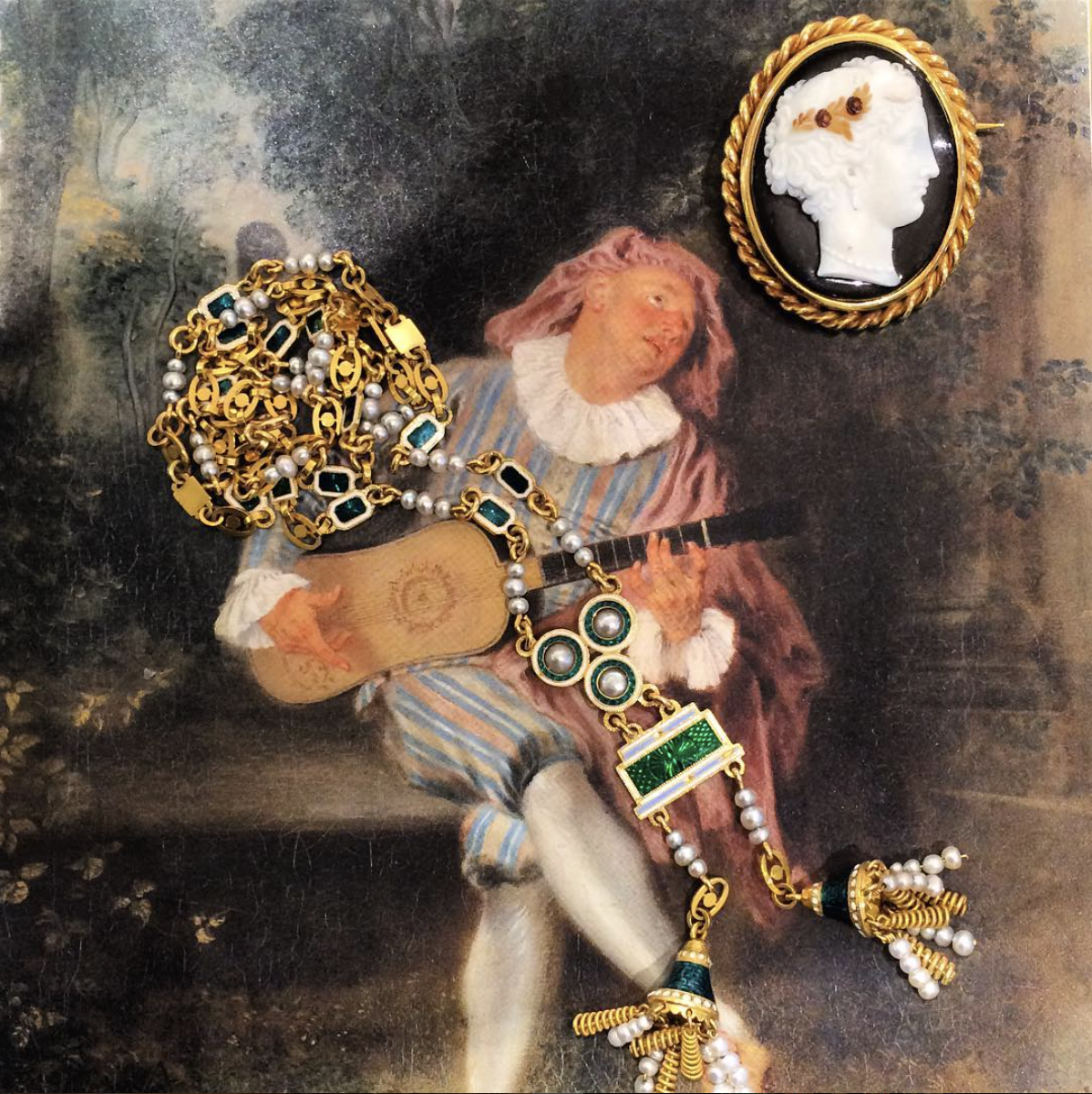 Late 19th Century Swiss or French Origin pendant necklace, 18K yellow gold set with guilloche green and white enamel and pendant medallion set with sea pearls throughout, c. 1885 (lower left); French 19th Century "Greek Revival" brooch, carved agate cameo set in an 18K gold mounting, marks, c. 1880 (upper right), Art: Mezzetin by Antoine Watteau, c. 1718-20 (image courtesy of the the Metropolitan Museum of Art, New York)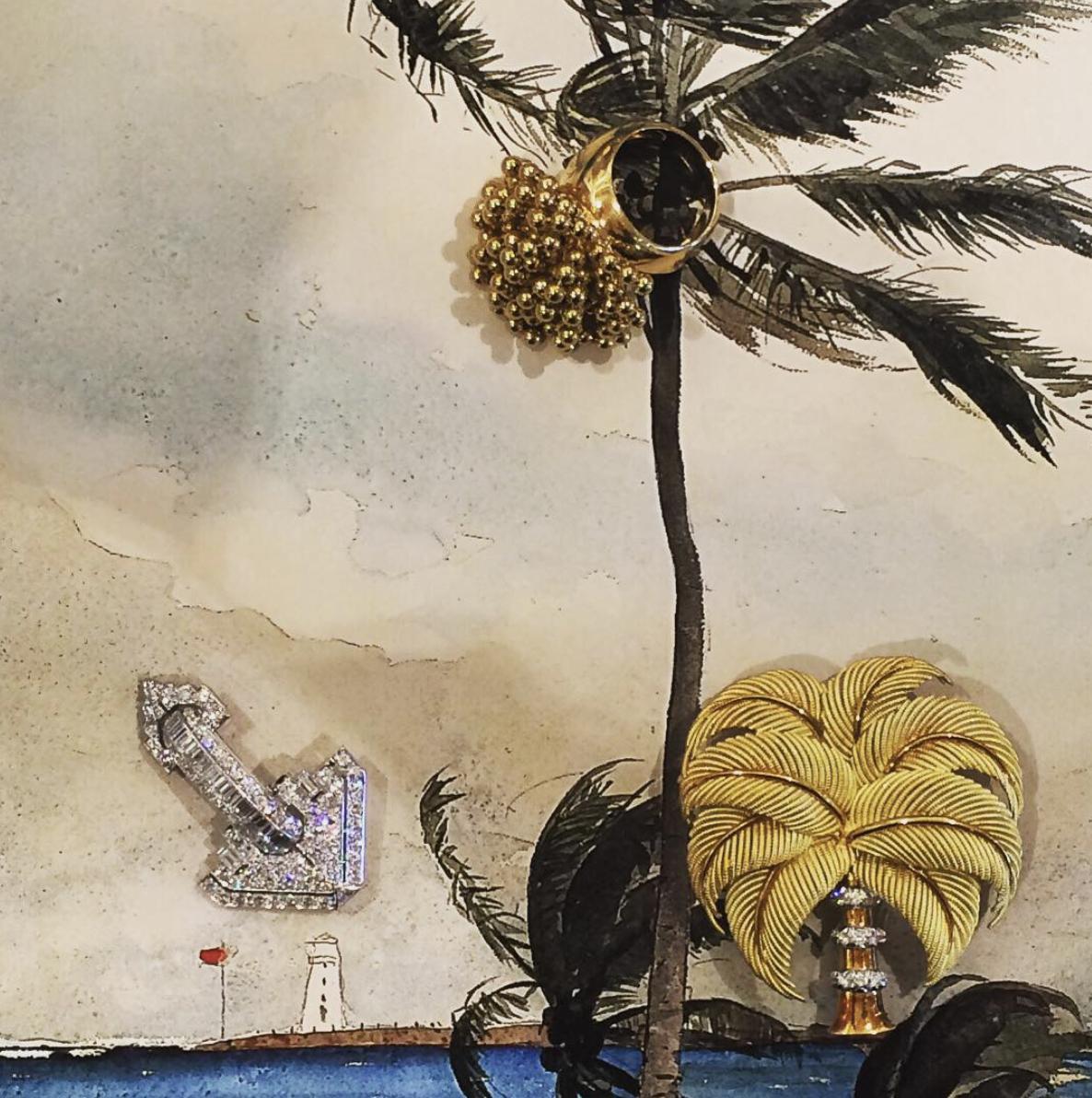 Marchak "Arrow" brooch, articulated platinum set with round and square cut diamonds (approx. 9 carats TW), signed, c. 1930 (left); Cartier ring 18K gold "Perruque", signed, 1999 (middle); Tiffany & Co. Italy "Palm Tree" brooch, 18K gold set with diamonds, signed, c. 1960's (right); Art: Palm Tree, Nassau by Winslow Homer, 1898 (image courtesy of the Metropolitan Museum of Art, New York)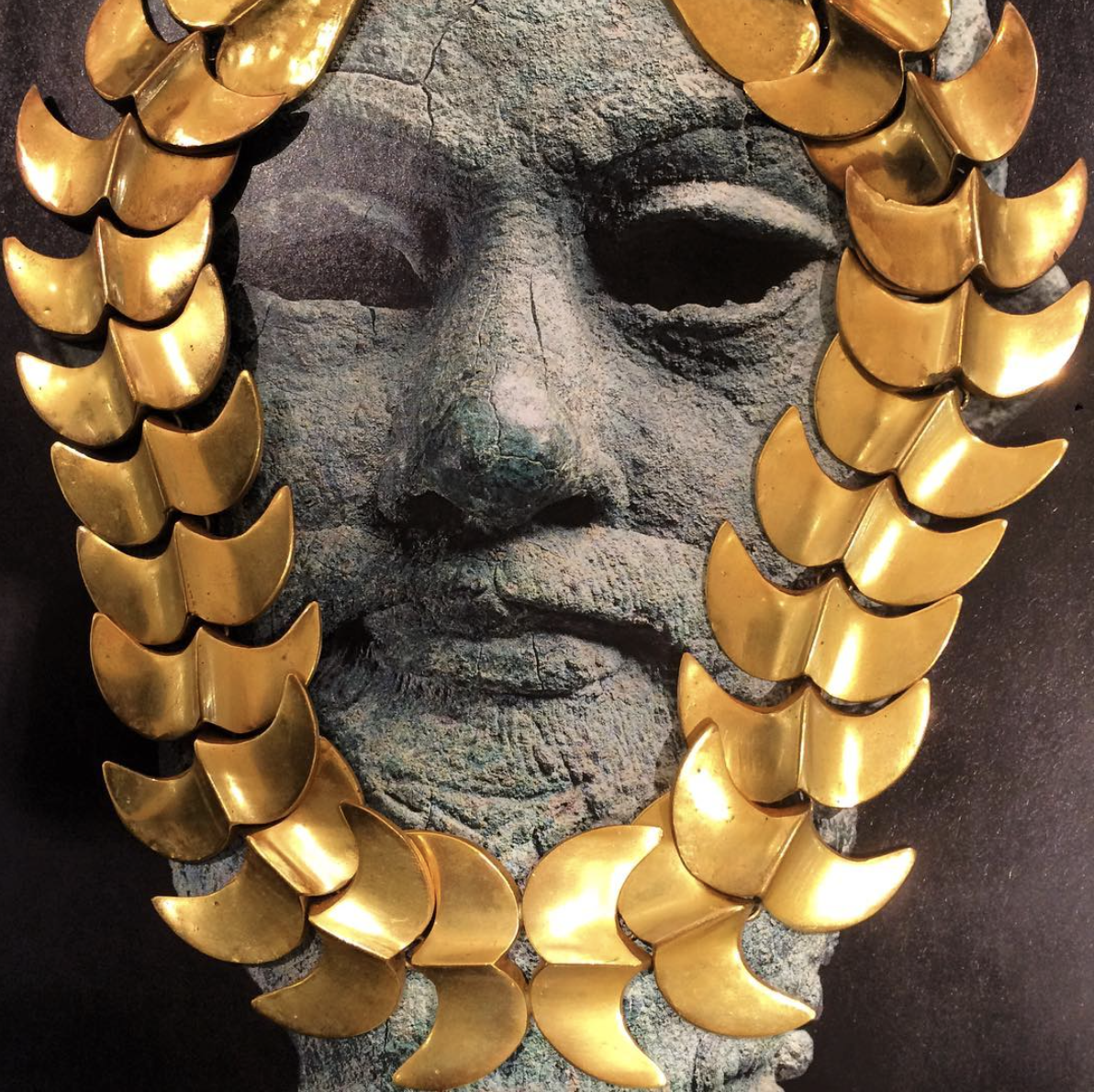 Line Vautrin Vertebrae gilt bronze necklace, signed, c. 1950's, Art: Head of a Ruler, Iran or Mesopotamia, c. 2300-2000 BC (image courtesy of the Metropolitan Museum of Art, New York)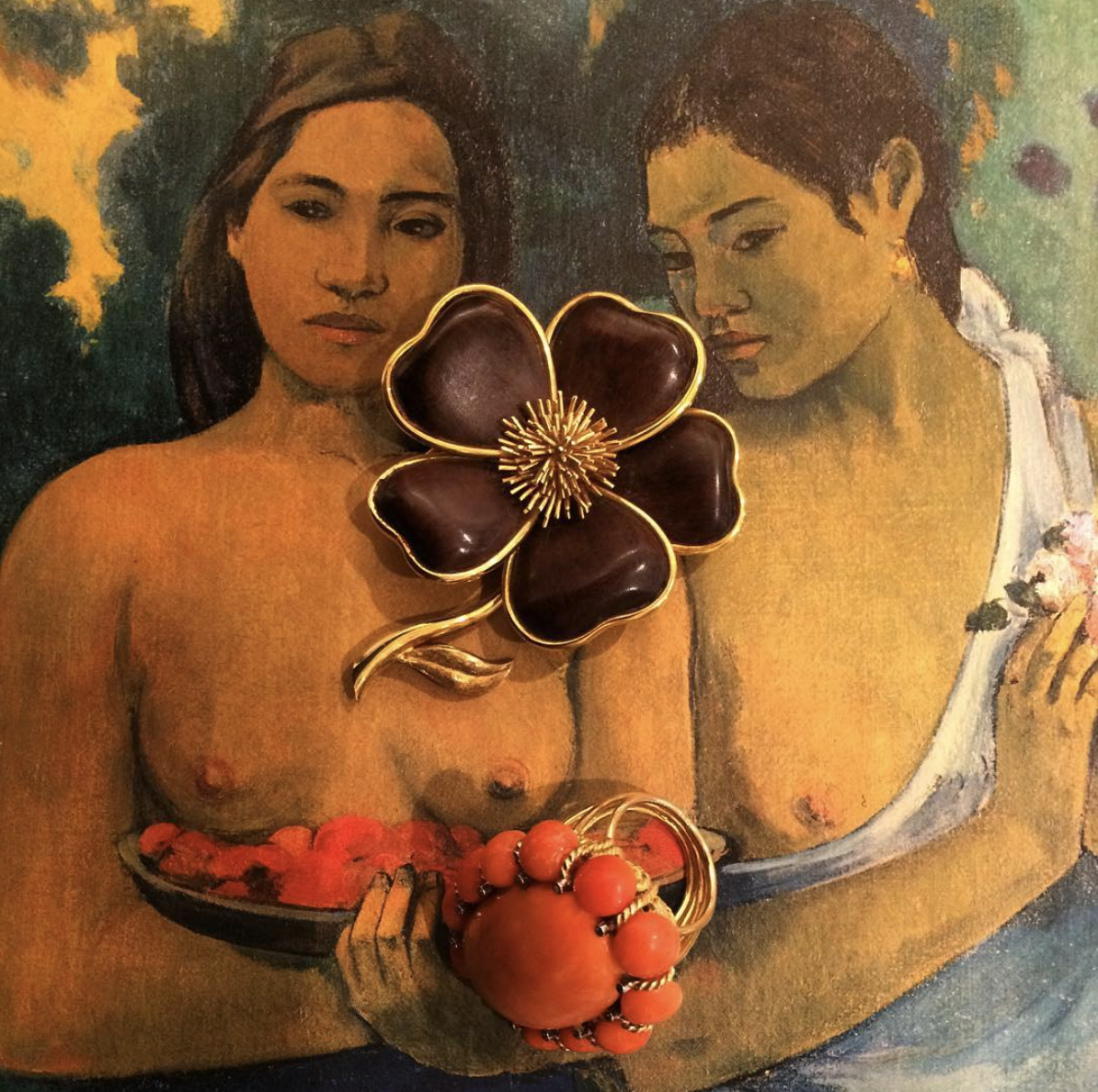 Van Cleef & Arpels, Paris, "Clematis" brooch, wood petals and 18K gold, signed, c. 1970 (top); Italian "Retro" large coral ring set in 18K gold with diamond accents, marked, c. 1950 (bottom); Art: Two Tahitian Women by Paul Gauguin, 1899 (image courtesy of the Metropolitan Museum of Art, New York)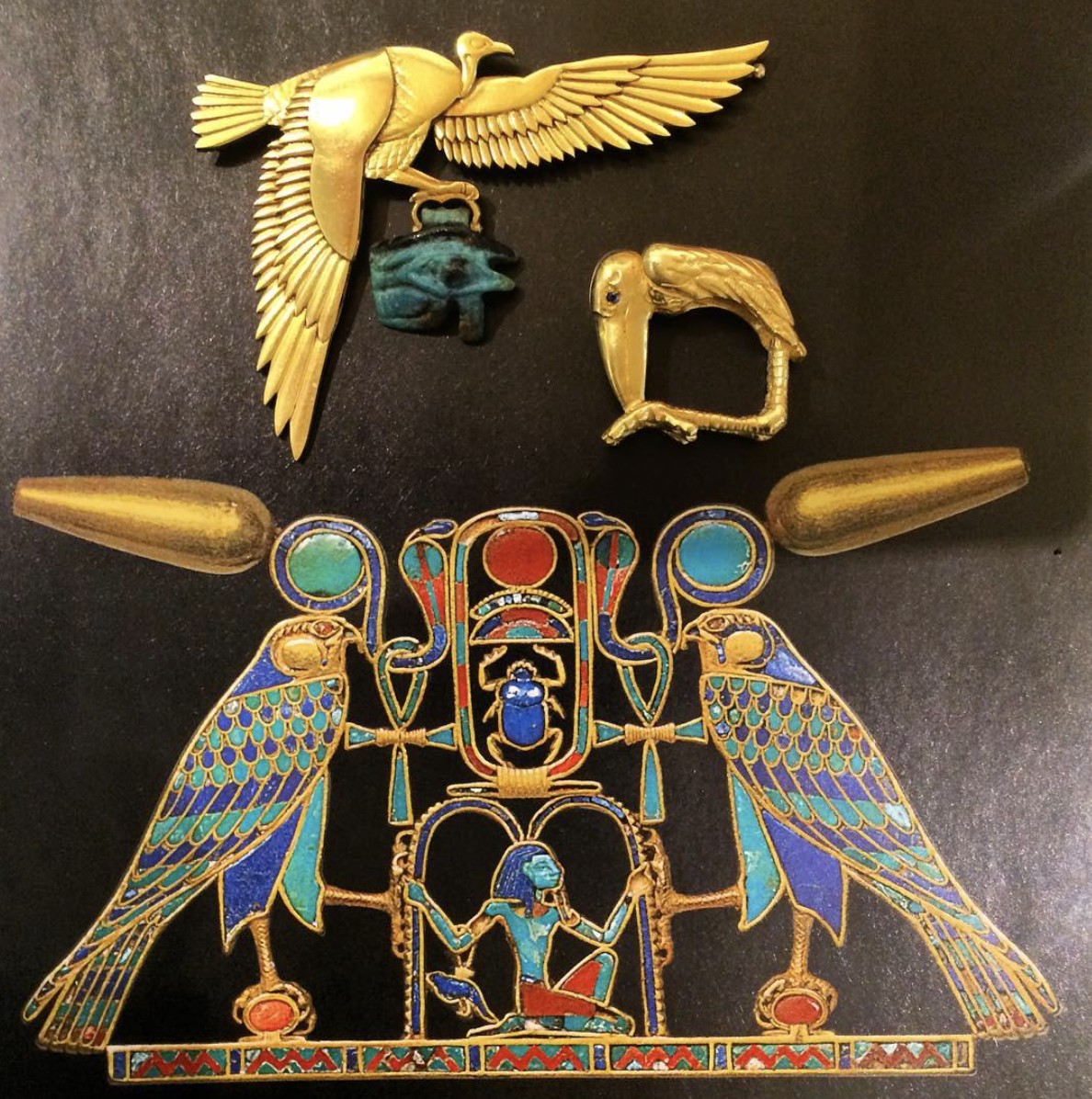 Egyptian Revival 18K gold flying Ibis and ancient faience "Eye of Horus" brooch, c. 1920's (left); Moshe Oved "Marabou Stork" ring, 18K gold (right) Art: Pectoral of Sithathoryunet with the Name of Senwosret II, Egypt, c. 1887-1878 BC (image courtesy of the Metropolitan Museum of Art, New York)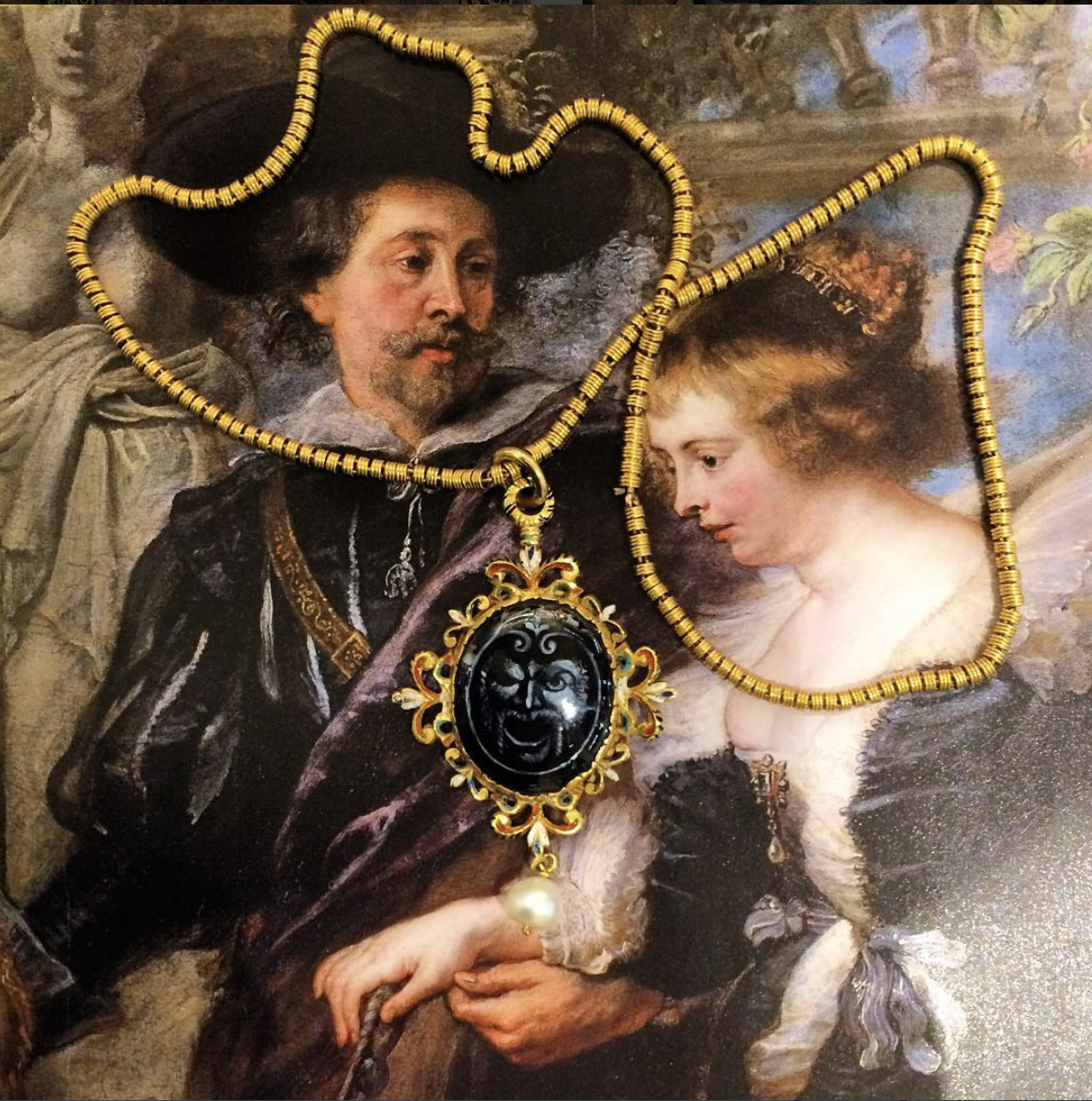 Carlo Giuliano (attr.) "Renaissance Revival" pendant, 18K yellow gold and pearl pendant with an en grisaille enamel classical face on one side and a carved carnelian cameo on the other, with matching chain; Art: Rubens, His Wife Helena Ferment and Their Son Frans by Peter Paul Rubens, c. 1635 (image courtesy of the Metropolitan Museum of Art, New York)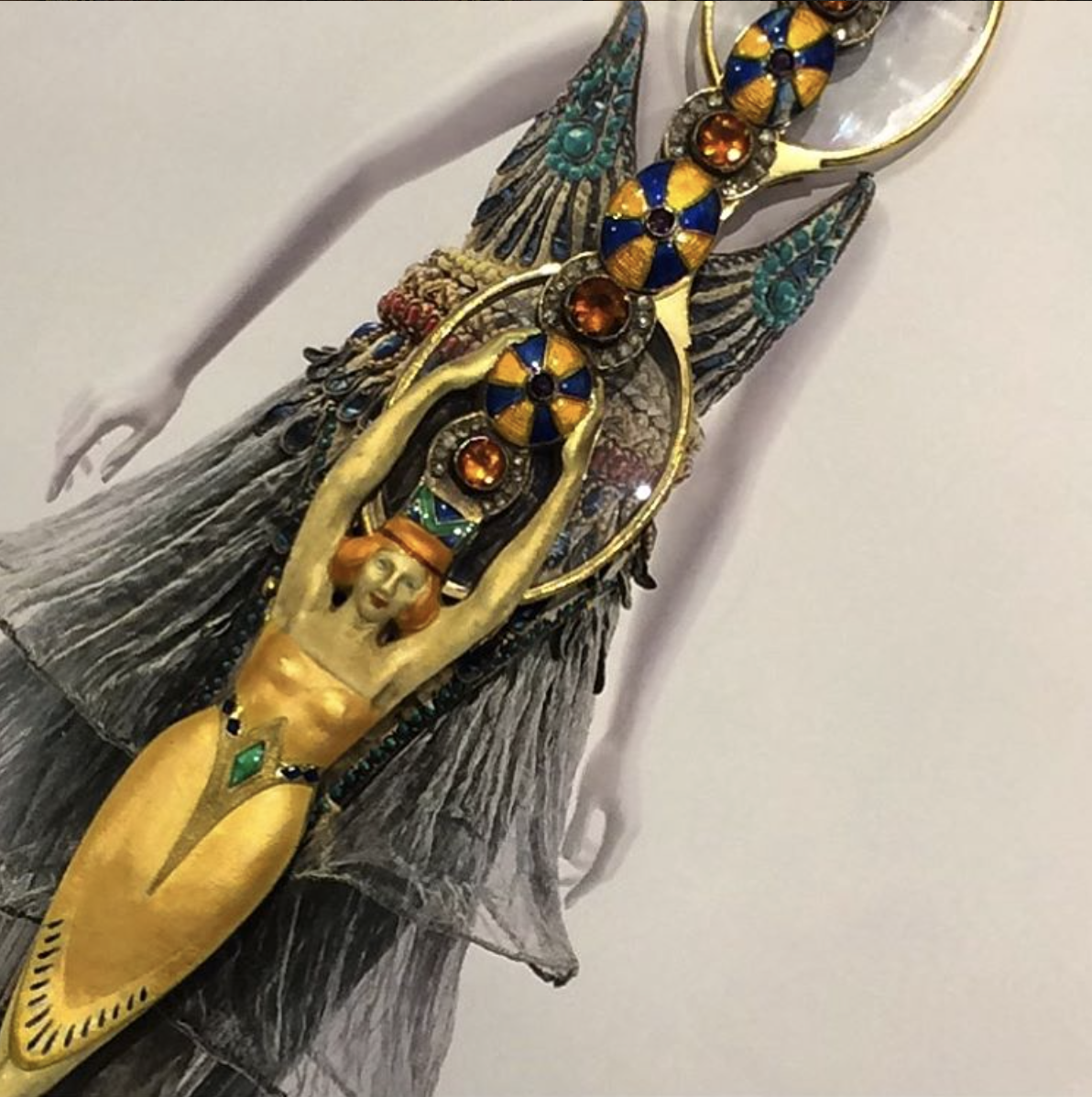 Eugene Grasset (attr.) figural lorgnette, elaborately enameled 18K gold set with citrines, amethysts and diamonds, marked, c. 1900; Art: Fancy Dress Costume by Paul Poiret, 1911 (image courtesy of the Metropolitan Museum of Art, New York)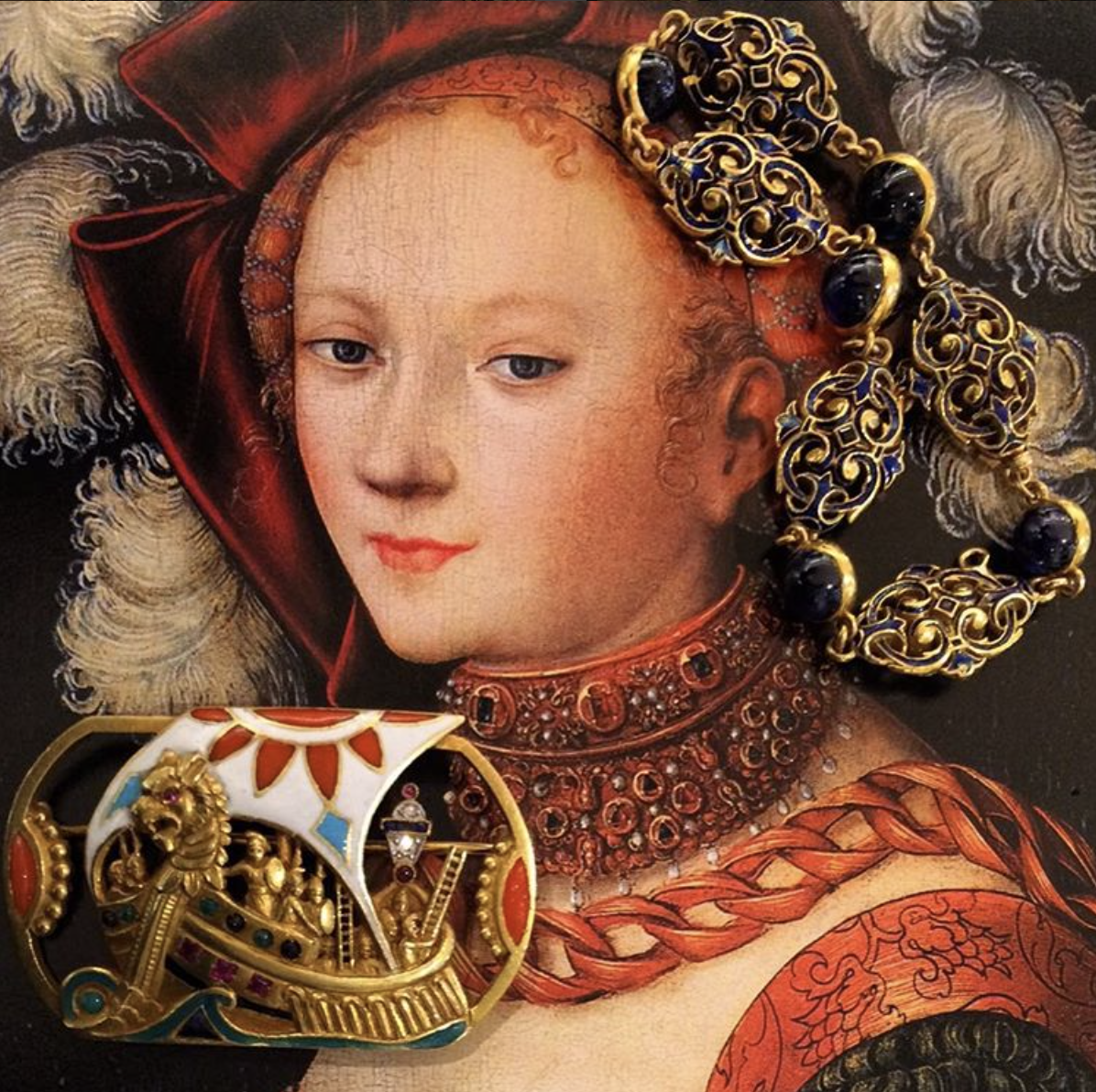 French "Renaissance Revival" bracelet, 18K gold with champleve enamel as decorative carved medallions set with square sapphires, further set with polished sapphire round beads, marked, c. 1890 (right); Fuset y Grau Joyeros, Barcelona, Viking brooch gem set 18K gold with champleve enamel details, marked, c. 1900 (left), Art: Judith with the Head of Holofernes by Lucas Cranach the Elder, c. 1530 (image courtesy of the Metropolitan Museum of Art, New York)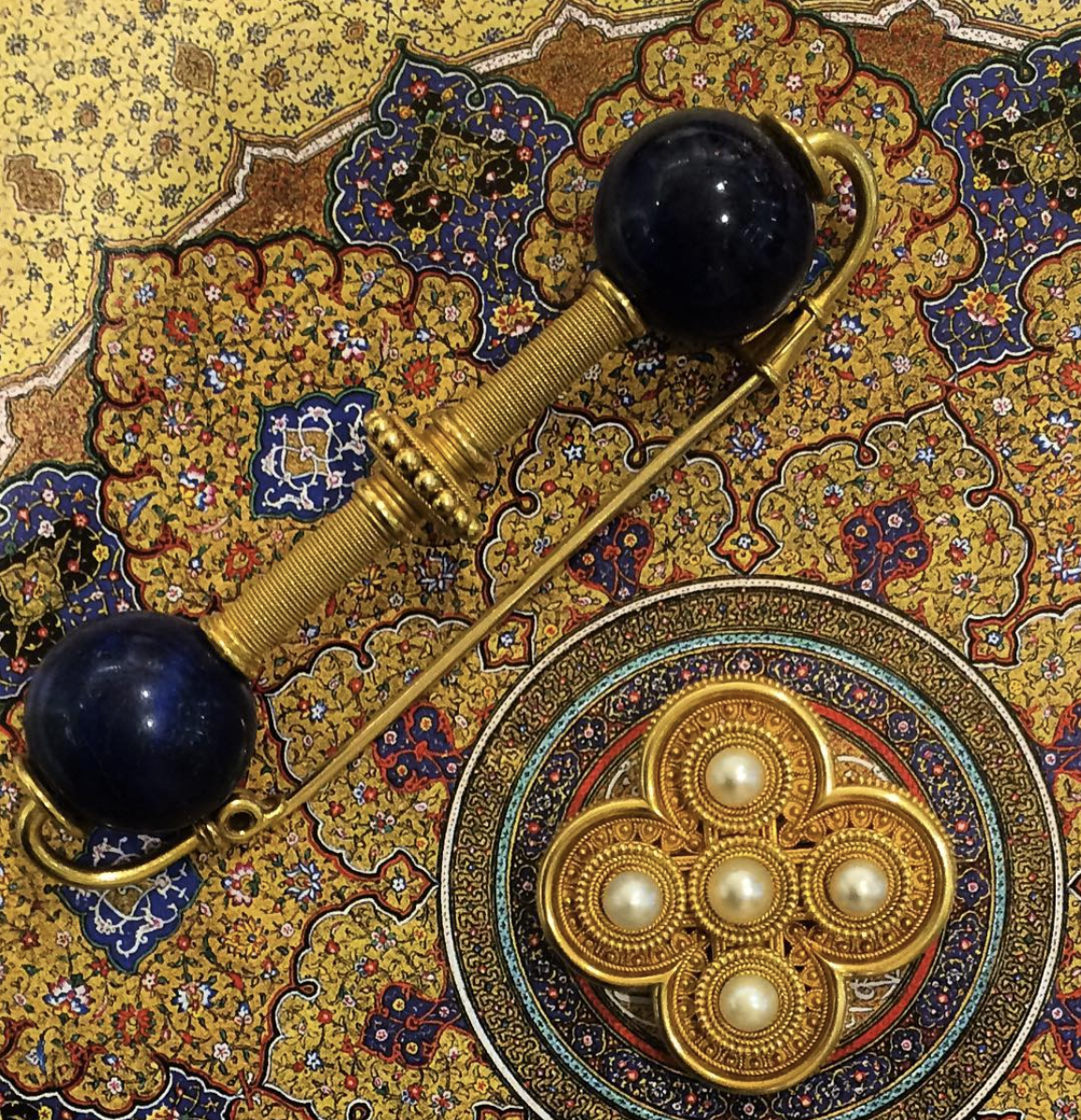 Robert Phillips (attr.) "Etruscan Revival" Fibula brooch in 18K gold with granulation and twisted rope gold details and two large lapis balls, c. 1880 (top left); Robert Phillips (attr.) "Etruscan Revival" Quatrefoil brooch in 18K gold with granulation and twisted rope gold details further set with five natural pearls, c.1880 (bottom right); Art: Rosette Bearing the Names and Titles of Shah Jahan, Mughal Period, c. 1645 (image courtesy of the Metropolitan Museum of Art, New York)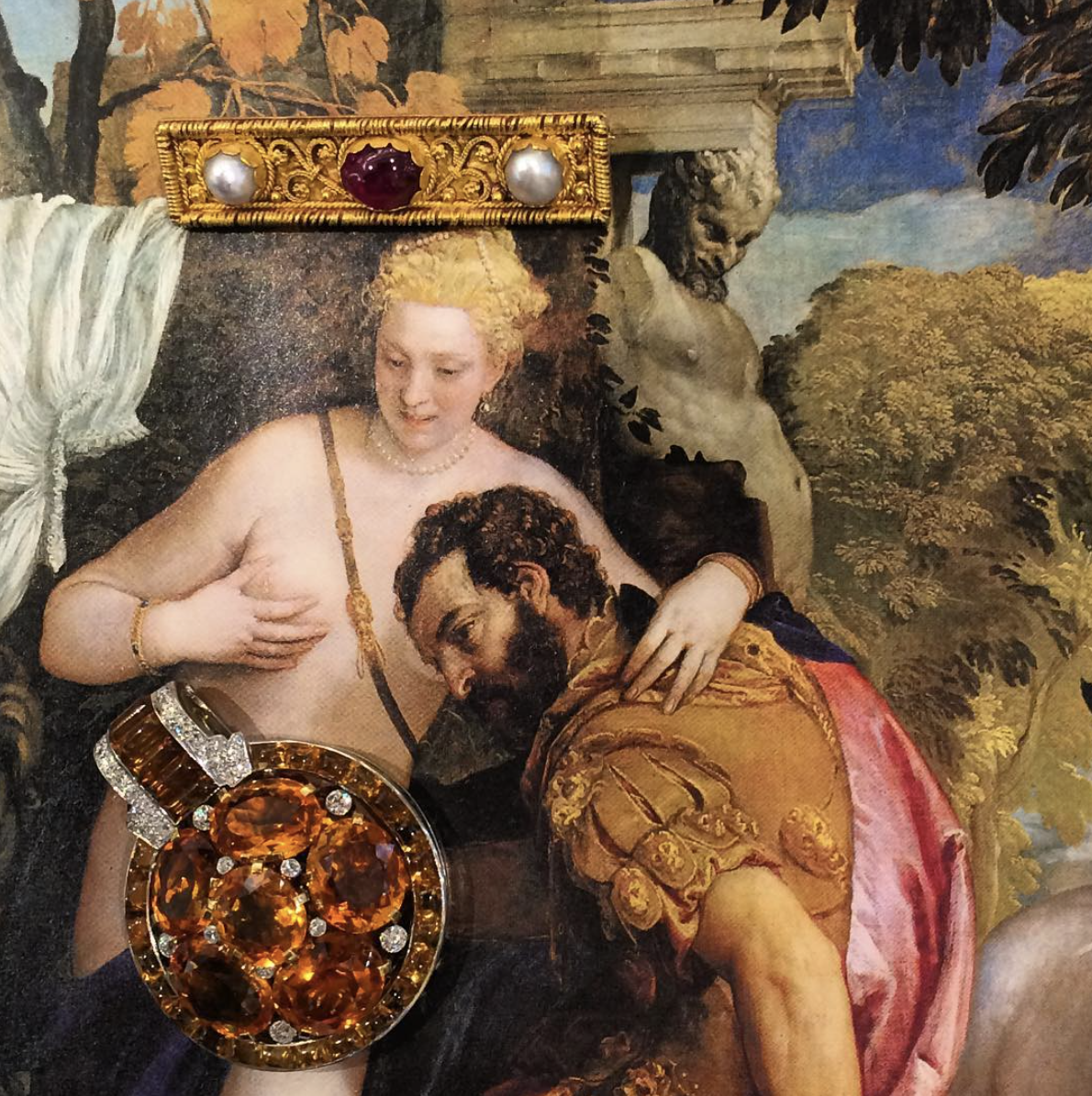 Jules & Louis Wiese "Renaissance Revival" jeweled 18k gold brooch set with two natural pearls and a large cabochon ruby, signed, original leather and silk velvet box, c.1875; Cartier clip / brooch, 6 large oval orange citrines (G.I.A. certificate, natural brownish orange oval citrines, no heat, with buff cut citrines encircling the oval cluster, buff cut baguette citrines and diamonds set in platinum, signed Cartier, 0510, c. 1930 (bottom), Art: Mars and Venus United by Love by Paolo Veronese, 1570's (image courtesy of the Metropolitan Museum of Art, New York)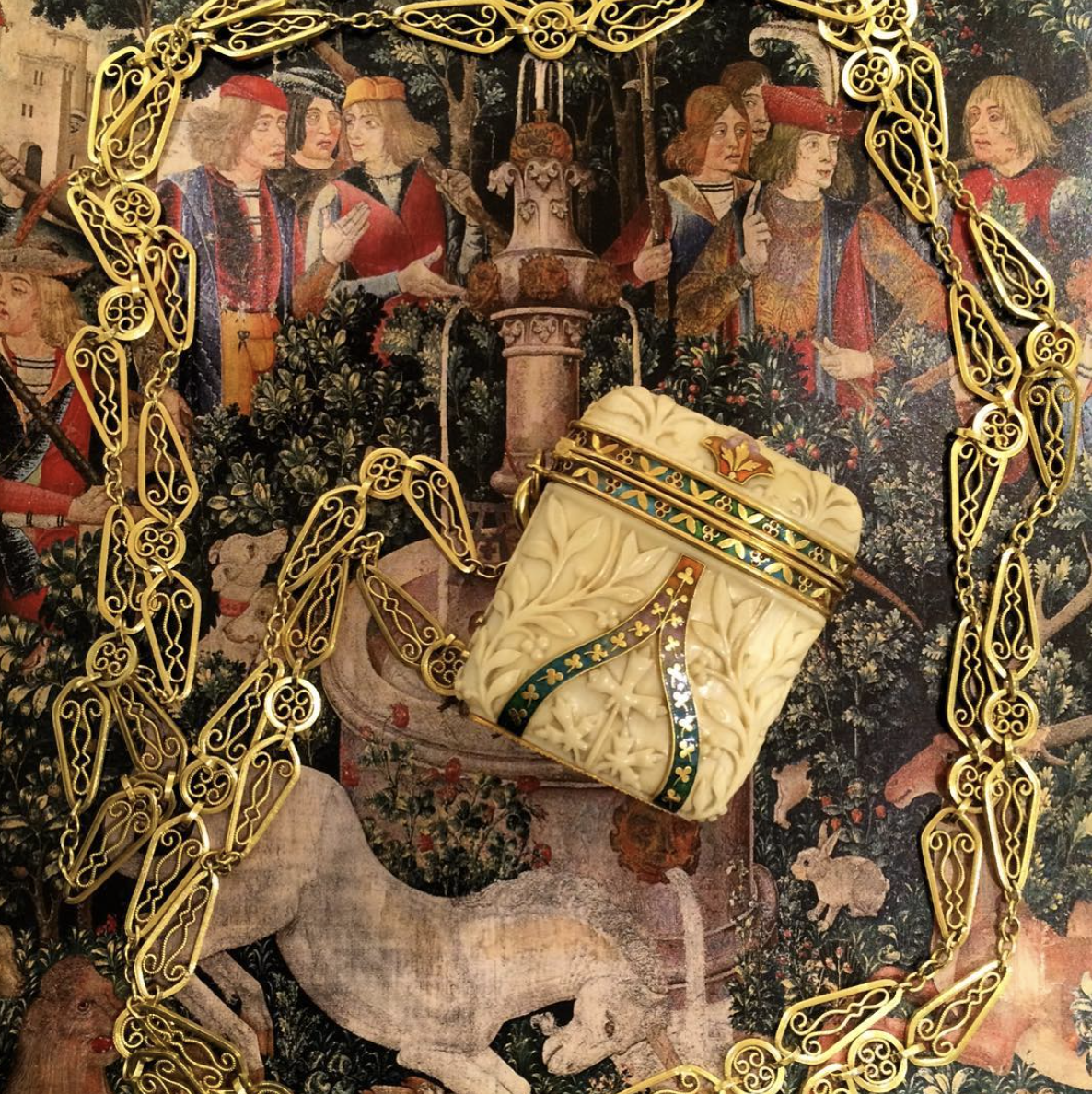 Georges Le Sache for Tiffany & Co. pendant locket box on long chain, 18K gold decorative details with champleve enamel and bone with a matching 18K gold open work decorative long chain, signed, c. 1885; Art: The Unicorn is Found, Unicorn Tapestries, South Netherlandish, 1495-1505 (image courtesy of the Metropolitan Museum of Art, New York)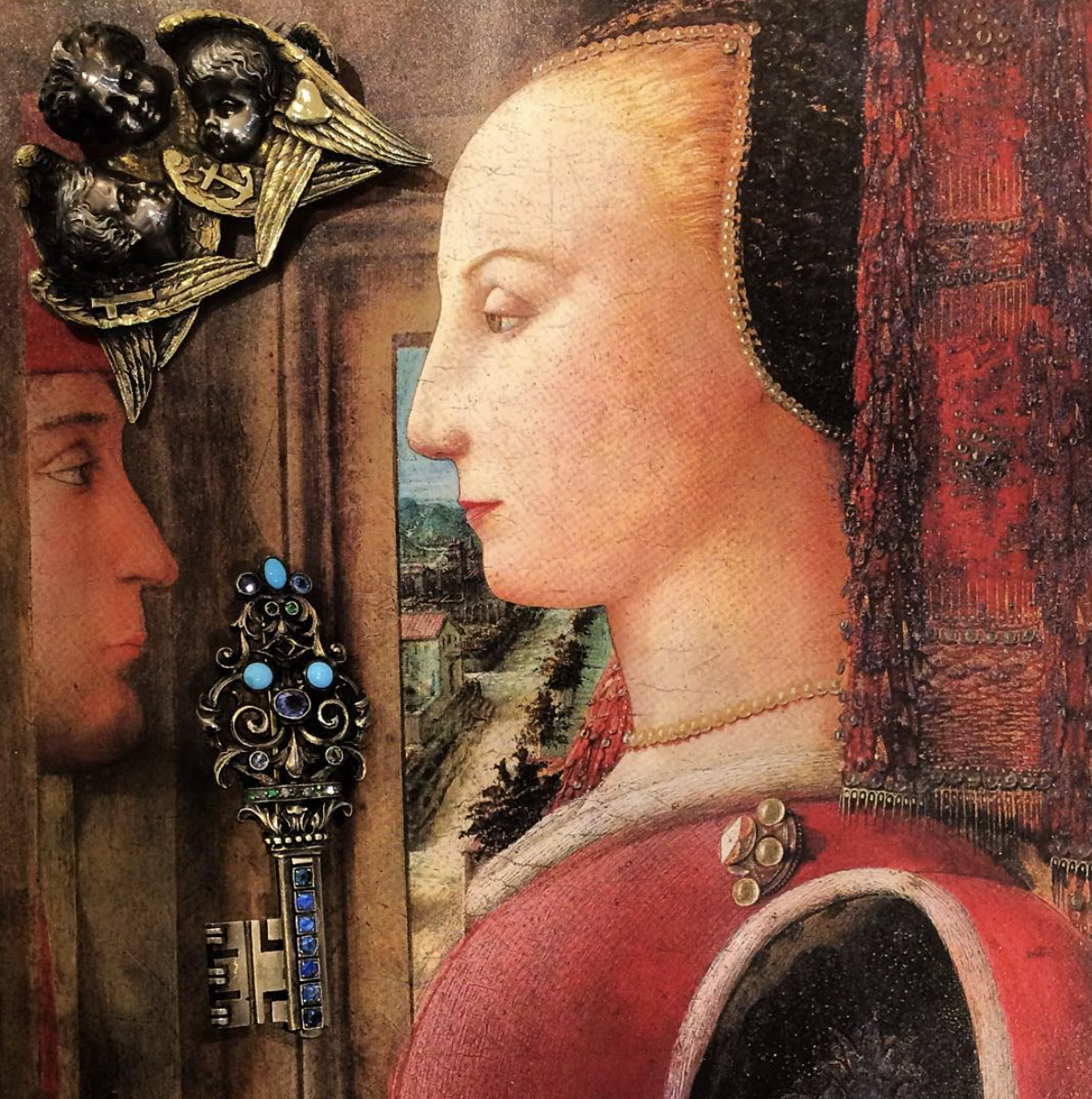 French 19th Century Three angel brooch representing "Faith, Hope & Charity" in gilt silver, signed, original box c. 1895 (top); French 19th Century "Key to your Heart" brooch, silver set with sapphires, cabochon turquoise and demantoid garnets, marked, c. 1890 (bottom); Art: Portrait of a Woman with a Man at a Casement by Fra Filippo Lippi, c. 1440 (image courtesy of the Metropolitan Museum of Art, New York)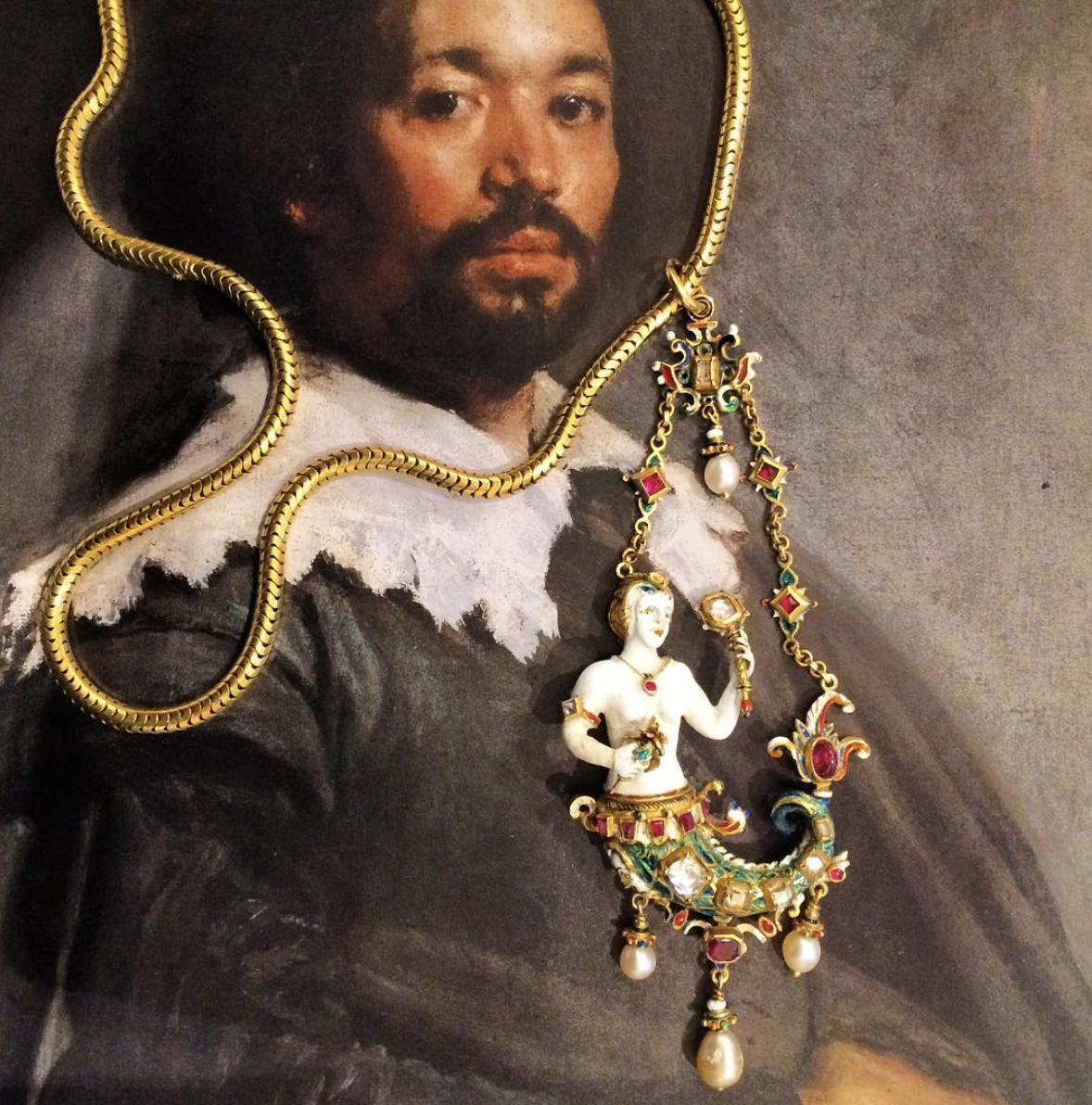 Reinhold Vasters / Alfred Andre "Mermaid" Renaissance pendant jewel, 18K yellow gold enameled and set with rubies, diamonds and pearls, finely detailed in the form of a mermaid and Narcissus; Art: Juan de Pareja by Diego Velazquez, 1650 (image courtesy of the Metropolitan Museum of Art, New York)
HAPPY HOLIDAYS and come visit us at our new location!
Historical Design presents HD Jewels
The Carlyle Hotel
35 East 76th Street
New York, NY 10021
Tel: 212-593-4528
Cell: 917-969-8977
Email: hdjewels@historicaldesign.com
www.historicaldesign.com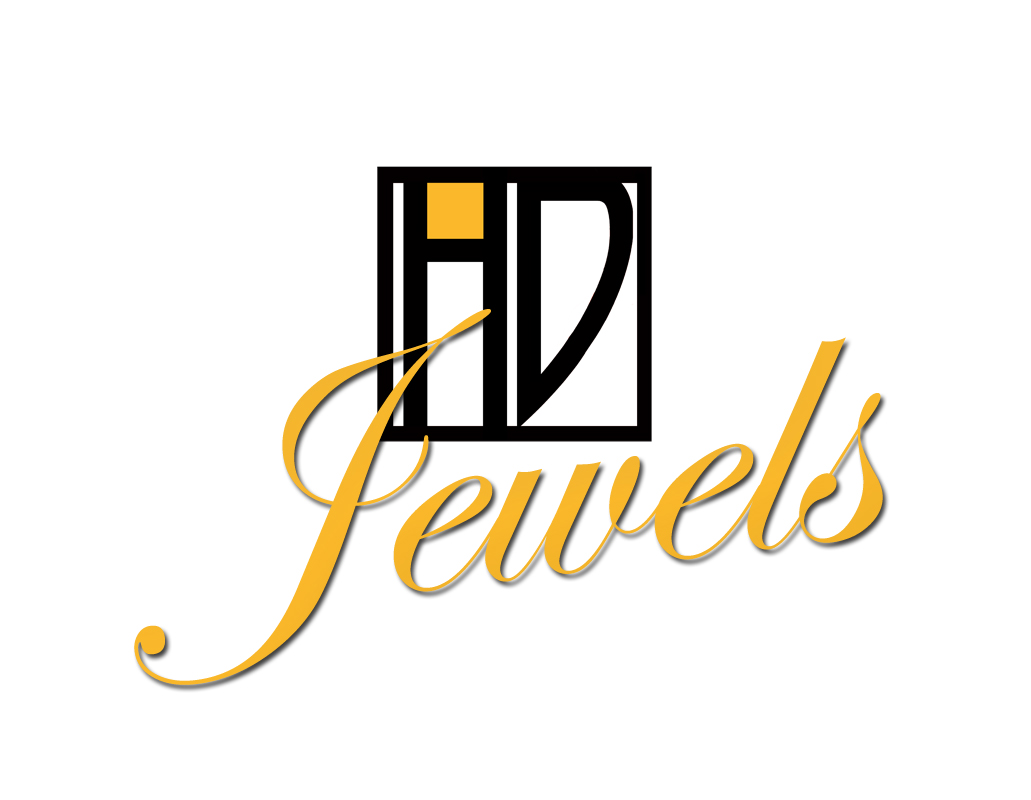 THE ART INSTITUTE OF CHICAGO
We have also spied a few Old Friends at The Art Institute of Chicago. It is always a delight when we see works that were acquired from our collection on display and in good company. Enjoy our photos from our last visit!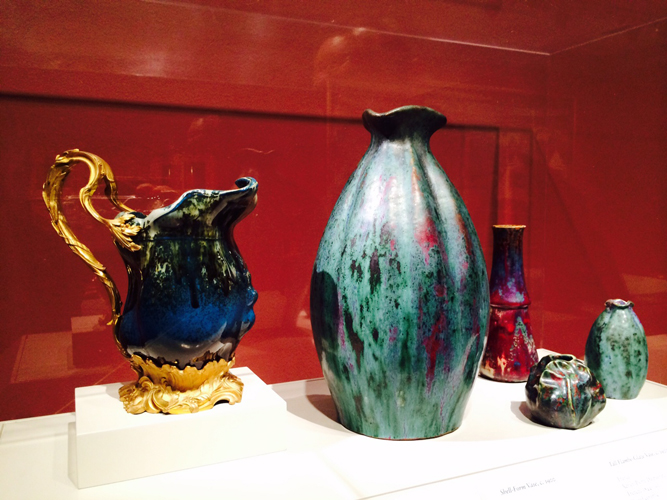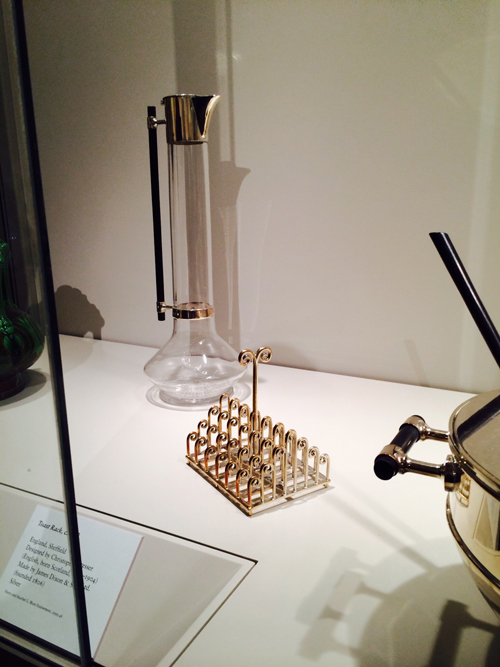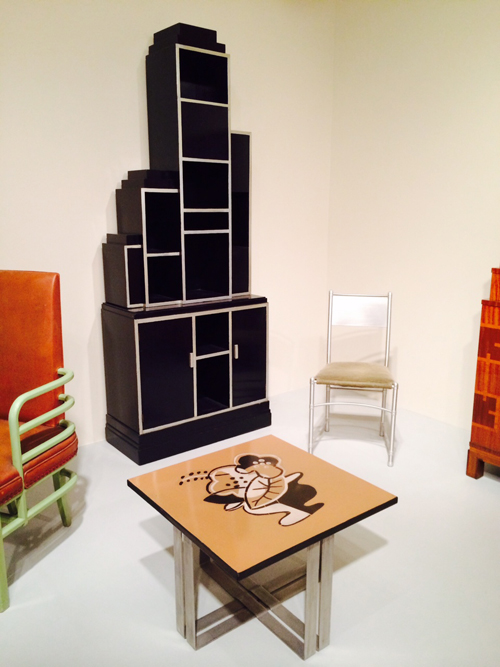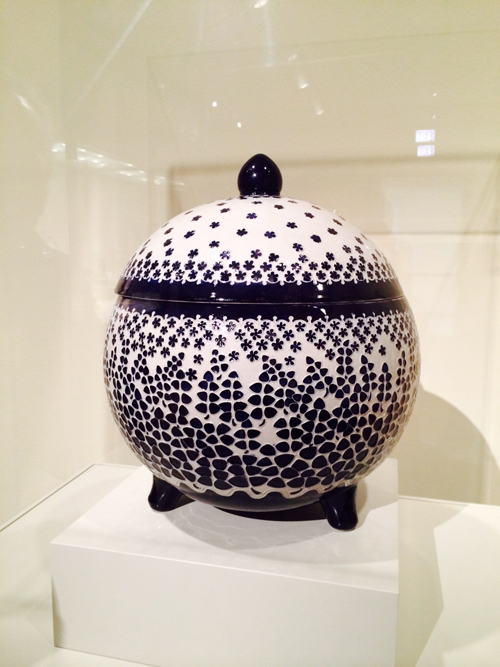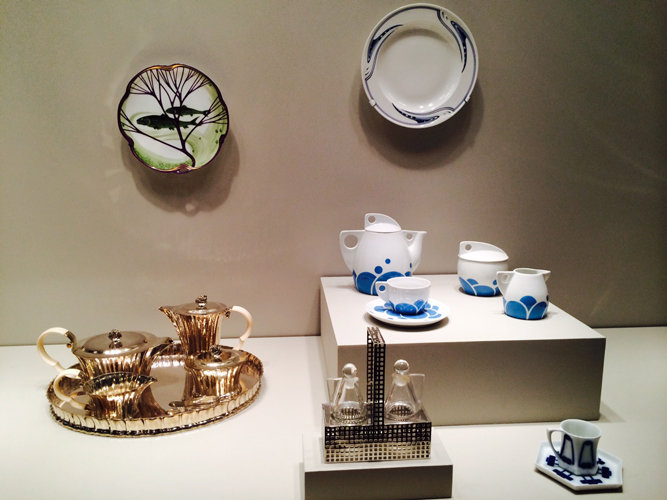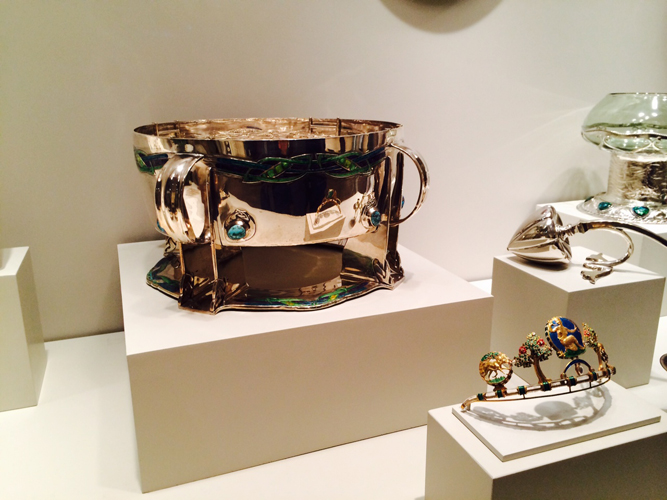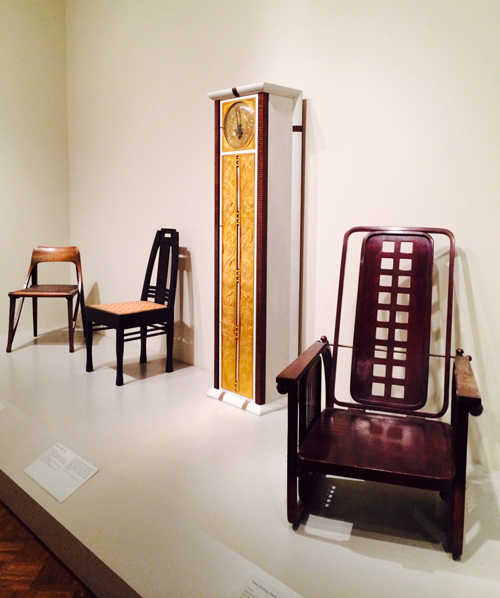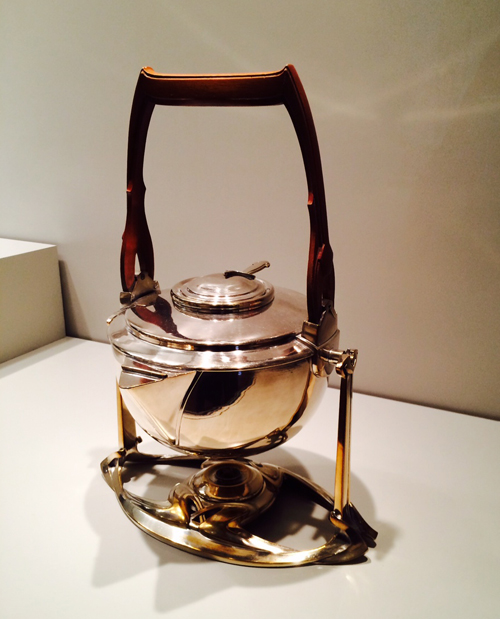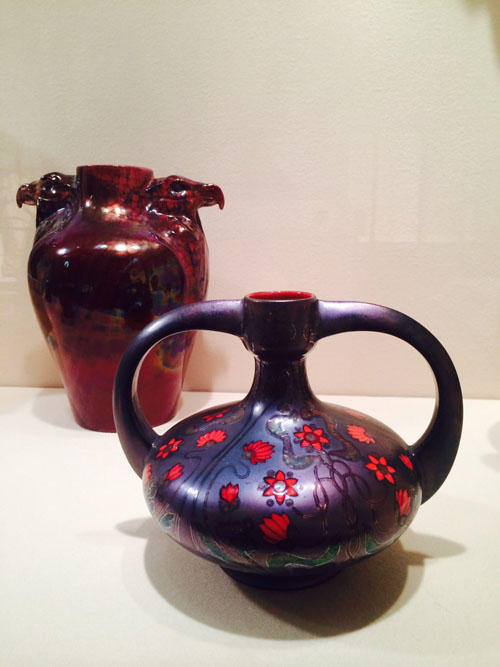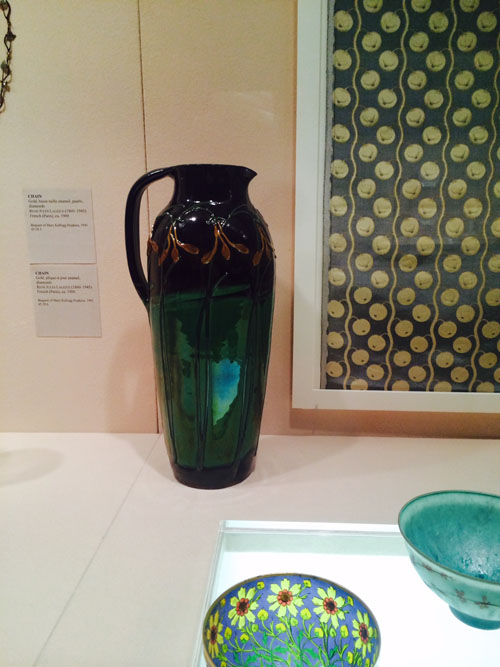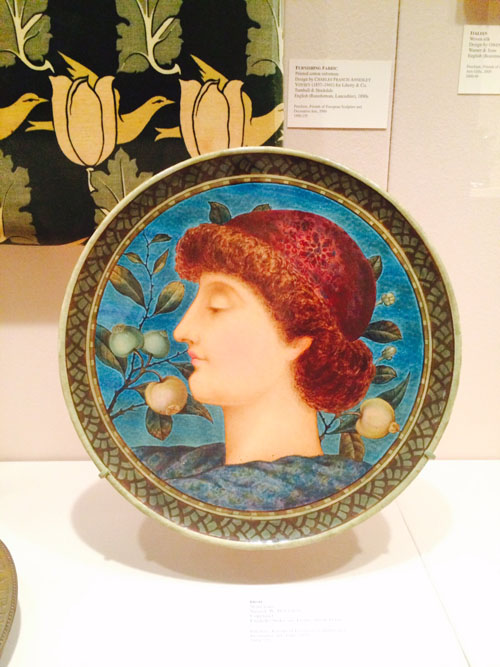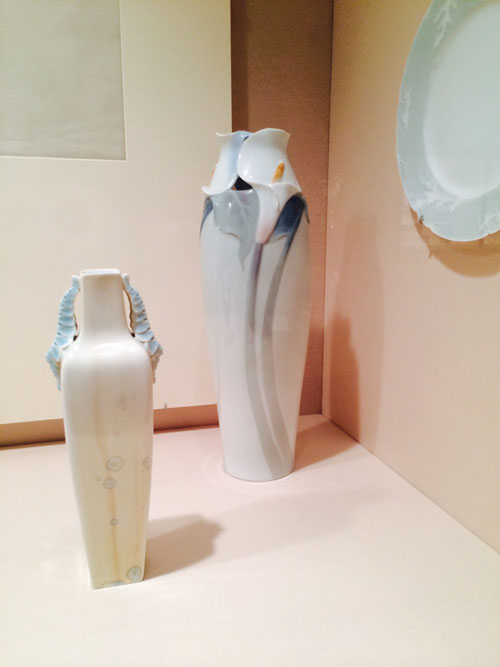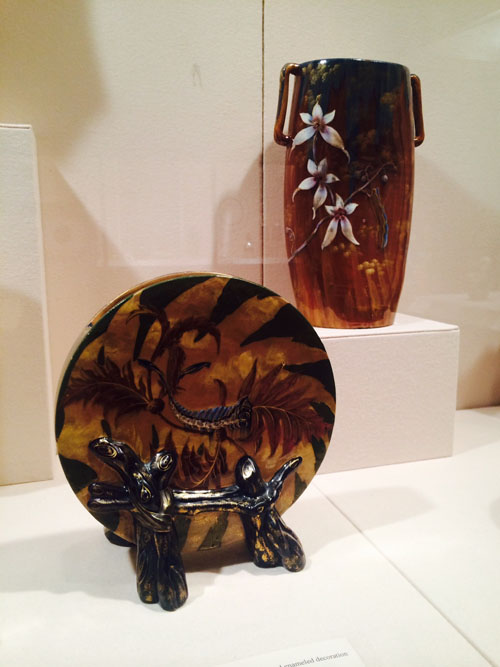 OUR LEGACY CONTINUES…..
Come join our visual tour of Historical Design's past installations of antique fairs and shows at the Park Avenue Armory in New York City.