HD 21 Furniture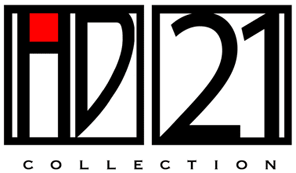 HD 21 Furniture
Carla Tolomeo, Panca Ananassa, Unique Silk Velvet Settee, 2004

Carla Tolomeo (1941-) Italy

Panca ananassa  settee (unique) 2004

Exotic variety of silk and cut silk velvets sewn and sculpted in the form of a spray of various pineapple shapes on a tufted cushion seat and upholstered legs.

Marks:  Tolomeo (written on the velvet), Tolomeo script signature (brass plaque)

Exhibited: Fondazioni Cerratelli, Pisa, Italy, Summer 2006
Model illustrated and biographical information on Carla Tolomeo: Il Fogliaccio, July 7th, 2006

For further information see: Carla Tolomeo Mai Sedersi Sugli Allori, Never rest on your laurels 1995-2004, Carla Tolomeo (Milano 2004)

H: 75 ½" x W: 63" x D: 21 ½"

Price: $48,000

Bakalowits & Söhne Spectacular "Starburst" chandelier c. 1970's

BAKALOWITS & SÖHNE (founded 1845 in Vienna)

"Starburst" chandelier  c.1970's

Crystal rods of varying lengths with nine lights,
chromium-plated metal ceiling cap and spherical chandelier parts.

Ceiling to drop length: 46 1/2″ x overall diameter: 33 1/2″

Price: $24,000

The Bakalowits Company was founded in Vienna, Austria in 1845 by Elias Bakalowits. After his son Ludwig joined the company, E. Bakalowits &  Sons grew and became one of the foremost crystal chandelier manufacturers in the Austro-Hungarian Empire. In 1892 Ludwig Bakalowits received the order to manufacture the chandeliers for the Neue Hofburg Palace in Vienna for Emperor Franz Joseph I and was  appointed Imperial and Royal Purveyor to the Court.
The company's reputation for excellence grew outside Europe, and by 1885 the company was exporting its products to America and Asia. In  1900, Bakalowits & Sons displayed their crystal chandeliers at the World Exposition in Paris. Other exhibitions in St. Petersburg, London, Geneva and Turin followed and attracted more clients from around the world. In 1928, the company obtained patents for its crystal chandeliers.  In 1955 Bakalowits was entrusted with the manufacture of new lighting fixtures for some of the Viennese buildings that had suffered damage during the Second World War. These included the Parliament, the State Opera House, the National theatre, City Hall, St. Stephan's Cathedral,  and others.

Andrea Branzi "Cucus" chair c. 1985

Andrea Branzi (1938 – )   Zabro, Italy.

"Cucus" chair c.1985

Lacquered wood, tree branches

Illustrated: Domestic Animals: The Neoprimative Style Andrea and Nicoletta Branzi, (London, 1987) n.p.; Designed by Architects in the 1980s, Julie Capella and Quim Larrea, Barcelona, 1987, p. 37; Anne Bony, Paris Les années 80, 1995, p. 520; Charlotte and Peter Fiell, 1000 Chairs, Cologne, 2000, p. 588

H: 42 3/4″ x W: 19 3/4″ x D: 24″

Price: $19,000

The  "Cucus" chair was part of  the "Domestic Animals" series
designed in 1985/86 by Andrea Branzi for Zabro.

Andrea Branzi's "Domestic Animals" series was designed in 1985 and 1986 for the Italian firm Zabro. Designs were later also manufactured by Zanotta. Andrea Branzi created "Domestic Animals" in collaboration with Nicoletta Branzi, who produced limited edition art clothing for this series. The "Neoprimitive" style in which this collection has been rendered utilizes natural materials such as sticks to create an object that brings archetypal symbols into the home to produce emotional effects. These objects combine technology and nature and the symbols and codes that these entail demonstrating that "a hybrid love between different creatures is possible." (Branzi, Domestic Animals, 1987, n.p.) With these objects Branzi aims to "domesticate" technological inventions so as to make them a positive presence in man's life.
"The difference between a domestic animal and a trained (or tamed) one lies in the fact that the latter is the outcome of an unnatural and violent attitude, while the domestic animal establishes the dream of a loving relationship with man." (Branzi, Domestic Animals, 1987, n.p.)

Andrea Branzi, architect and designer, born in Florence in 1938, where he graduated in 1967, lives and works in Milano. From 1964 to 1974 he was a partner of Archizoom Associati, first vanguard group internationally known, whose projects are preserved at Centro Studi e Archivio della Comunicazione in Parma and at Centre Georges Pompidou in Paris.
Since 1967 he works in the fields of industrial and research design, architecture, urban planning, education and cultural promotion.He is Professor at the Third Faculty of Architecture and Industrial Design of Politecnico di Milano.

Aldo Tura / Italian Post-War Coffee table with furled edges c. 1950

ALDO TURA  Italy

Coffee table  with furled edges c. 1950

Vellum-covered birch with mahogany lacquered cherry legs

Illustrated: Mid-Century Modern, Furniture of the 1950s, Cara Greenberg
(New York: Harmony Books, 1984) p. 160.

H: 18 1/2" x D: 21"  x  37"

Price: $14,500

Fernando and Humberto Campana, Zig Zag Screen 2001

Humberto Campana (1953 – )  Brazil
Fernando Campana (1961 – ) Brazil

Zig Zag Screen, 2001

Circular iron frame with electrostatic silver painted surface, translucent PVC hose stretched in a web pattern.

Illustrated: Campanas, Humberto and Fernando Campana (Sao Paulo: Bookmark 2003) p. 240; Mood River, February 3 – June 26, 2002, exh. cat. Jeffrey Kipnis and Annetta Massie (Ohio: Wexner Center, 2002)

H: 78" x D: 69"

Price: $11,500

Marcel Wanders, One Morning They Woke Up, mosaic table/stool 2004

MARCEL WANDERS (1963-) The Netherlands

"One morning they woke up" mosaic occasional table or stool 2004

Gilt and lively colored glass mosaic, fiberglass body

H: 13″ x D: 17″

Price: $18,500

Marcel Wanders (1963) grew up in Boxtel, the Netherlands, and graduated at the School of the Arts Arnhem in 1988 with a cum laude certificate. He is now an independent industrial product designer operating out of Amsterdam where he has his own studio, Marcel Wanders studio. Marcel continues to work on diverse products and projects for Cappellini, Mandarina Duck, Magis, Droog Design and Moooi amongst others. For the latter he is associated as creative director. Marcel also co-operates in other design-related projects, such as the Vitra Summer Workshop where he was project leader for the second time. Also he was a juror for various prizes like the Rotterdam Design Prize (for which his own products were nominated several times) and the Kho Liang Ie prize. He lectured at SFMoMA, Limn the Design Academy and has taught at various design academies in the Netherlands. Marcel won the Rotterdam Design Prize (public prize) for the Knotted Chair, and received several other awards including the George Nelson Award (Interiors magazine) and Alterpoint Design Award 2000. In the 2001, Marcel has been nominated in the category 'designer of the year' in WIRED magazine's 2001 wired rave awards. Designs of Marcel Wanders have been selected for the most important design collections and exhibitions in the world, like the Museum of Modern Art in New York and San Francisco, the Stedelijk Museum in Amsterdam, Museum Boijmans van Beuningen in Rotterdam, the Central Museum in Utrecht, and various Droog Design exhibitions. In the book 'Wanders Wonders, design for a new age' (1999) which accompanied a solo exhibition in Museum 't Kruithuis in Den Bosch, the most important products are shown, from the Knotted Chair to the Shadows lamps and from the Nomad Carpet to the Eggvase. Works of Marcel have been published in all leading design magazines.

Italian Design "Pop-Art" Oversized "Anywhere" Lamp c. 1960's-1970's

ITALIAN DESIGN / POP ART

"Oversized "anywhere" lamp circa 1960's-1970's.

Real blown glass bulb with a yellow metal "protector" paying homage to the classic "anywhere" work light.  It is interesting to note that at a later date Ingo Maurer who designed the famous "flying bulb lights" used this light as an inspiration and did a paired down simple version utilizing plastic rather than glass for the actual glass bulb part.

H: 19″ X W: 11 1/2″

Price: $2,450

Werner Schmidt, Folding Triangle Swiss Cheese chair, Faltstuhl 1991

WERNER SCHMIDT  (b. 1953)  Switzerland

Swiss Cheese chair  1991

Yellow laminated plywood, hinges.

Signed:  WERNER SCHMIDT (block letters), 91/10

For related folding table by Schmidt see illustration: Aluminum by Design, Sarah Nichols et al. (Pittsburgh, PA:  Carnegie Museum of Art, 2000) p. 57.

Open dimension- H: 31 3/4" x  W: 28 1/2" x D: 20"
Closed dimension – H: 31 3/4" x W 22 ½

Price: $11,500

Alberto Marconetti / Italian Post-War Design Armchairs c. 1960's

ALBERTO MARCONETTI  Milan, Italy (active Argentina)

Armchairs (Two available) c. 1960's

Oak, painted iron, leather strapwork and seat

Marks:  by Alberto Marconetti  (script signature)

H: 40 1/2"  x  W:  27"  x D: 21"
Seat height: 19″

Price: $7,450 (each)

This pair of armchairs nods to the influence of such Italian designers as Carlo Bugatti and Carlo Mollino yet are their own unique creation.  They have an unusual anthropomorphic quality in that the frame suggests a skeletal structure.  In addition, the leather strapwork, iron loops and hooks allude to the equipage of the ancient Roman equestrian order.

Nigel Coates, Rare, Early and Iconic Genie stool 1988

NIGEL COATES  (b. 1949)  England
BRANSON COATES ARCHITECTURE  London

"Genie" stool  1988

Carved and sandblasted solid ash seat on twisted mild steel legs

Marks: NIGEL COATES  GENIE STOOL
Illustrated: 1000 chairs, Charlotte & Peter Fiell (Cologne: Taschen Verlag, 1997), p. 615.

H: 26: x D: 13 1/2″

Price: $9,500

British architect and designer. He studied at Nottingham University and the Architectural Association, London, where he graduated in 1974 and subsequently taught until 1989. In 1983 he formed the group NATO (Narrative Architecture Today) with a group of former students and began to practice independently; two years later he went into partnership with Doug Branson (b 1951). Coates became known for his fluid and lively graphic style and the overt theatricality of his designs. His proposals for the redevelopment of London, involving sophisticated allegories of popular culture, were shown in two exhibitions: ArkAlbion (1984), with drawings of new development areas such as County Hall and the Isle of Dogs, and Ecstacity (1992), with computer simulations and video clips. In the renovation (1980) of his own flat in London he juxtaposed the original, ornate late 19th-century interior with 'found' furniture and decorative objects. The publication of this project brought Coates to the attention of Japanese clients who were seeking fashionable Western designers, and he carried out several projects in Japan that became increasingly theatrical: in Tokyo the Metropole Restaurant (1985) evokes a European café, while the Parco Café Bongo (1986) juxtaposes classical English furniture with an imitation aeroplane wing mounted on the ceiling; and the Arca di Noè (1988), Sapporo, is an eclectic mixture of classical motifs and a concrete boat. Coates's radical approach was dissipated in later British works, such as a series of London shops: one for Katharine Hamnett in Sloane Street (1988) has a shop front formed of aquaria, and one for Jigsaw in Knightsbridge (1992) has its shop front formed of a two-storey copper column in the shape of a phallus. In 1992 he began designing an extension to the Geffrye Museum, London.
Coates was an influential teacher at the Architectural Association from 78- 86, and has lectured extensively abroad. In 1995 he was appointed Professor of Architectural Design at the Royal College of Art and now divides his time equally between the college and his office. Nigel Coates furniture is represented in the Modern Furniture Collection of the Victoria & Albert Museum, London.

"I go for architecture that overlays and enhances. By blending observation and wit with reason, I want my work to generate a sense of the unexpected, and the seemingly spontaneous."

 

 

Werner Schmidt Folding Triangle Chair "Falt-Stuhl" 1993

WERNER SCHMIDT (b. 1953)  Switzerland.

Folding triangle chair, 1993.

Dark brown laminate Plywood, hinges.

Signed:  Werner Schmidt, 8/10, '93 (script signature in white permanent marker)

For related folding table by Schmidt see illustration: Aluminum by Design, Sarah Nichols et al. (Pittsburgh, PA:  Carnegie Museum of Art, 2000) p. 57.

Open dimension: H: 31 5/8" x  W: 28" x D: 20"
Closed dimension: H: 31 5/8" x W 22 1/2"

In the style of Jean-Michel Frank / Hermès Pair of French Art Deco "Rodo" chairs 20th Century

In the Style of JEAN-MICHEL FRANK (1895 – 1941) France

Pair of "Rodo" chairs 20th Century

Light ceruse oak with red Hermès sueded leather

For more information see: Jean-Michel Frank: The Strange and Subtle Luxury of the Parisian Haute-Monde in the Art Deco period, P.E. Martin-Vivier (Paris, 2006)

H: 32 1/2″

Sori Yanagi / Tendo Co. Ltd. / Japanese Crafts "Butterfly" Stool c.1956

Sori Yanagi (1915-2012), Japan
Tendo Co. Ltd., Japan

Butterfly stool, 1956.

Bleached rosewood veneer on plywood with brass.

H: 15" x W: 16 ½" x D: 12"

Price: $4,900

This model can be found in the collections of the Museum of Modern Art and the Metropolitan Museum in New York.

The Japanese designer Sori Yanagi is best known for his 1956 Butterfly Stool. It is both elegant and utterly simple: two curved pieces of molded plywood are held together through compression and tension by a single brass rod. The stool's graceful shape recalls a butterfly's wings, and has also been compared to the form of torii, the traditional Shinto shrine gates. He loved traditional Japanese crafts and was dedicated to the modernist principles of simplicity, practicality and tactility that are associated with Alvar Aalto, Charles and Ray Eames, and Le Corbusier."

Yanagi, who studied architecture and art at Tokyo's Academy of Fine Art, was inspired by the work of Le Corbusier and by the designer Charlotte Perriand, with whom he worked in the early 1940s, while she was in Tokyo as the arts and crafts adviser to the Japanese Board of Trade. But perhaps the most indelible influence on Yanagi was that of his father, Soetsu Yanagi, who led the "mingei" movement, which celebrated Japanese folk craft and the beauty of everyday objects, and who founded the Nihon Mingeikan (or Japanese Folk Crafts Museum) in Tokyo. Yanagi fils, who was named director of the museum in 1977, succinctly described his design aesthetic in a 2002 interview in The Japan Times: "I try to create things that we human beings feel are useful in our daily lives. During the process, beauty is born naturally." Throughout his life, Sori Yanagi was inspired by what he called "anonymous design" — he cited the Jeep and a baseball glove as two examples — and he in turn inspired younger designers, like Naoto Fukasawa, Tom Dixon and Jasper Morrison.