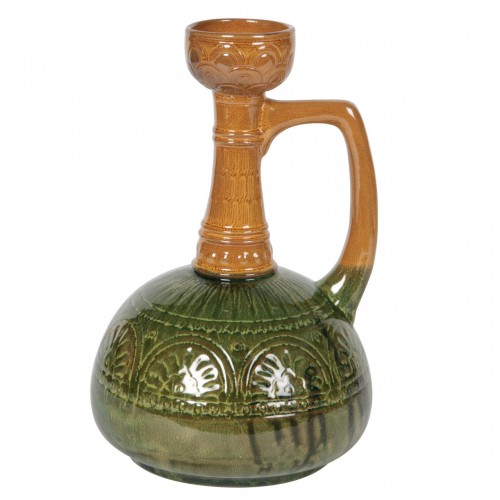 Christopher Dresser / Linthorpe, Rare Aesthetic Movement "Persian" jug 1879
More Information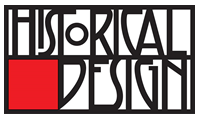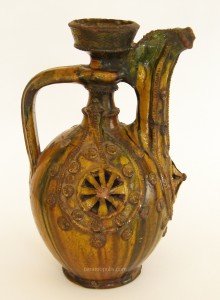 Product Description
Christopher Dresser / Linthorpe, Rare Aesthetic Movement "Persian" jug 1879
Related Products
Christian Dell / Bauhaus "Tee-Ei" Tea infusers (Rare set of eight) 1924

CHRISTIAN DELL (1893-1974)  Germany
BAUHAUS  (1919-1933) Germany

"Tee-Ei"  (tea ball) 1924 (rare set of 8)

Silvered brass.

***These are all in fine original, untouched condition.

Illustrated: Christian Dell: Silberschmied und Leuchtengestalter im 20. Jahrhundert, Beate Alice Hofmann, Museum Hanau (Hanau: Heller Druck,1996) illus. 15, p.56; Modernist Design 1880-1940, Alastair Duncan, The Norwest Collection (Woodbridge, Suffolk: The Antique Collectors' Club, 1998), p. 173; Decorative Arts 1850-1950, Judy Rudoe, (London: British Museum Press, 1991) cover,  p. 276; Die Metall Werkstatt am Bauhaus, (Berlin: Bauhaus-Archiv, Museum für Gestaltung, 1992) pp. 140-141 Silver of a New Era,  (Rotterdam: Museum Boymans-van Beuningen, 1992)  p. 157;  cat. no. 140.

Length: 5 1/4″

Price: $9,600

Christian Dell, metal artist and industrial designer, played a formative role in shaping the Bauhaus style. Dell was the master of the metal workshop at the Bauhaus, 1922-25, in Weimar, working closely with László Moholy-Nagy.

Born the son of a locksmith in Offenbach in 1893, he had a great impact as a teacher on the curriculum of the Weimar metal workshop. He had done an apprenticeship as a silversmith in Hanau before and had also attended the drawing academy, followed by a stay at the Weimar School of Applied Art. Henry van de Velde, director of this institution, coined Christian Dell's early works with his organic-flowing use of forms, a feature that can also be observed on Dell's later works.

Metal workshop at the Bauhaus in Weimar:
From 1922, the former goldsmith, silversmith and coppersmith workshops of the Weimar phase became a laboratory for design where metal vessels and lamps were made. This is also where the designs for industry, as well as metal furniture, were ultimately created. In 1922, the silversmith Christian Dell took over as master of works. Following Itten's departure in 1923, the workshop developed in a new direction with the Hungarian Constructivist László Moholy-Nagy. Instead of individual pieces, prototypes were now made for mass production. In order to manufacture the individual models, a production line was established.

Amedee de Caranza Art Nouveau Rare Iridescent Art Glass vase 1903-1906

AMÉDÉE DE CARANZA  (active 1875-1914)  (b. Turkey / active France)
COPILLET ET CIE  Noyon

Nasturtium vase   1903-1906

Blown glass with floral & foliate luster decoration handpainted on a muted iridescent ground.

Signed: A. de CARANZA (on the side near base)

Marks: Copillet et Cie, Noyon, 842 (twice)

For more information and related illustrations: European Art Glass  (New York: Ray & Lee Grover, Charles E. Tuttle Publishers, Inc., 1970) pp. 69, 94-96; L'Art Du Verre En France 1860-1914, Janine Bloch-Dermant (Edita Denoel, 1974) pp. 36-37; Glass: Art Nouveau to Art Deco, Victor Arwas (New York: Abrams, 1987) pp. 56-58;  L'Europe de L'Art Verrier, des Precurseurs de l'Art Nouveau a l'Art Actuel 1850-1990, Giuseppe Cappa (Liège: Mardaga, 1991) pp. 72-74.

H: 10″

Price: $11,500

Copillet, H.A. Thomas Henri Alfred Copillet was originally a printer, and produced a local newspaper in Paris. When he moved his works to 13 Fauburg de Paris he acquired a kiln in the process, and thus in 1903 was began a new glass works. His designers were Amedee de Caranza and Edouard de Neuville. They produced a whole range of Art Nouveau glassware, many with a dark iridescent finish. They also produced opaline glass, and glass panels for use in church windows. The company went bankrupt in 1906, although the new management (Lefevre and Lhomme) kept a little of the production going for a while, the factory was destroyed during the First World War.