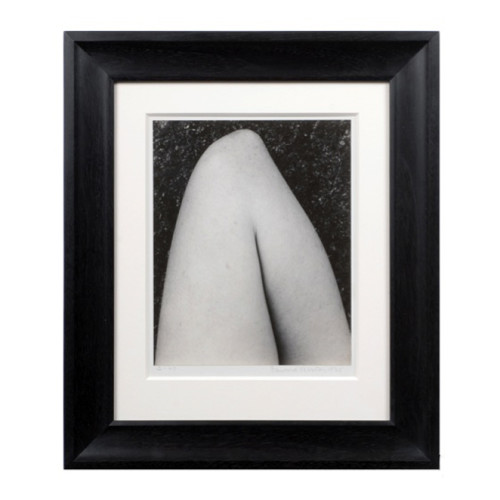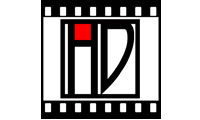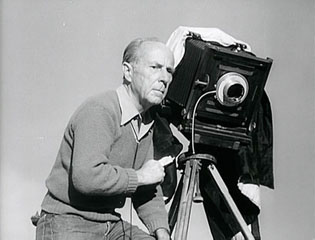 Product Description
Edward Weston, Elbow, Gelatin Silver Print 1935
Related Products
Werner Rohde, Mask, Gelatin Silver Print c. 1920's

WERNER ROHDE (1906-1990) Germany

Mask   c. 1920s

Gelatin silver print

Signed on the back of the photo: Werkbundausstellung "Film und Foto" (typed on label); 9.) 9/ (in ink and red crayon); Kupfer ofun Rourk 60 m R 10.5 x 14.5 cm / ump ubonpposhm bu 6/5 10088 (all in pencil script); fmlg-Rohde Woopswerk (in pencil); Werner Rohde Malen Breuien Oobben 58 (ink script)

H: 21 7/16" x W: 18 13/16" (framed)

Price: $17,500

Werner Rohde's visual play with the animate and inanimate draws him close to the aesthetics of the surrealists while maintaining a strong alignment with Germany's new-vision avant-garde. Rohde experimented widely with double exposures, photomontage, perspective and dramatic lighting that reflected his interest in filmic effects. The son of a glass painter (a medium he would turn to later in life), Rohde took up photography during his studies at the Arts and Craft School in Halle. Like Kesting, Willy Zielke and Kretschmer, he participated in the 1929 'Film und foto' exhibition in Stuttgart that remains one of the historical focal points for Germany's new photographic vision. Despite this early recognition of his work, Rohde fell into obscurity after the war until the rediscovery of his photographs in the mid 1970s. Rohde's fascination with the play between life and lifeless, animate and inanimate, has strong reverberations with surrealism. Masks, mannequins and paper models were used in his photographs to illuminate the uncanny. They were also employed in his self-portraiture in which he mimicked his idol Charlie Chaplin. These techniques of visual illusion provided a mnemonic tool for the images of his wife in which she is posed and photographed to resemble a doll or mannequin. In the act of art imitating life, 'Wachspuppenkopf' is uncanny in its mimicry of the human form with realistic teeth, eyes, skin and even the unusual detail of small wrinkles under the eyes. The downward angle, lighting and odd doubling of the neckline utilizes standard surrealist methods to infer life and movement.

Lucien Lelong / French Art Deco Handpainted Porcelain Vase circa 1935

LUCIEN LELONG (1889 – 1958) Paris, France

"Metaphysical" vase c. 1935

Hand painted and glazed porcelain with aqua, black and silver tones.

Marks: LL monogram, AB

H: 13 3/4″

Price: $6,450

Lucien Lelong was born in Paris, France on October 11, 1889. Lucien learned his trade from his father, Arthur Lelong, who owned a textile factory in 1896, and his mother Eleanore, a dressmaker. He discovered his vocation in the family business and as soon as World War I was over, he expanded the family business by creating his own fashion house in the late 1918.

He became immediately famous due to the neat tailoring of his designs and his skill in choosing and manufacturing fabrics. He did not actually create his own designs but hired the most prominent designers of the moment to design his collections such as Christian Dior, Pierre Balmain and Hubert Givenchy. Lelong was one of the first designers to diversify into lingerie and stockings. He introduced a line of ready-to-wear in 1934 which he labeled "editions." In 1939, Lelong's collections showed tightly waisted, full skirts; a style which became the "new Look" in Dior's collection in 1947. After the war, in 1947, Lelong showed pencil-slim dresses; pleated, tiered, harem hemlines; and suits with wasp waists, cutaway fronts and square shoulders.

After a trip to the United States where he learned everything pertaining to the working methods in the mass production of clothes, he returns to France and creates a line of pret-a-porter (ready-to-wear) collection, branded "LL" Edition. Lelong used his double" LL" logo to influence his designs as well as refining the packaging design of his perfumes and cosmetics. He was a master of the use of knits and bias to shape the body in the most complementary way. His house's trademark was their unique ability in designing with fur.

He was married to Natalie Paley who was the daughter of the Grand Duke Paul of Russia that assisted him with his business. Lelong was an active member of high society; socialized with the women he dressed, and did not miss the opportunity to capitalize on his name. From 1937 until the end of the war in 1948, Lelong was President of the Chambre Syndicale de la Couture Parisienne, in which role he was able to fight and hinder the transfer of the Parisian fashion houses to Berlin during the German occupation. It was largely due to his efforts that ninety-two houses stayed opened during the war.

Poor health caused the end of his career; Lelong retired in 1952, and died in 1958 of a heart attack.