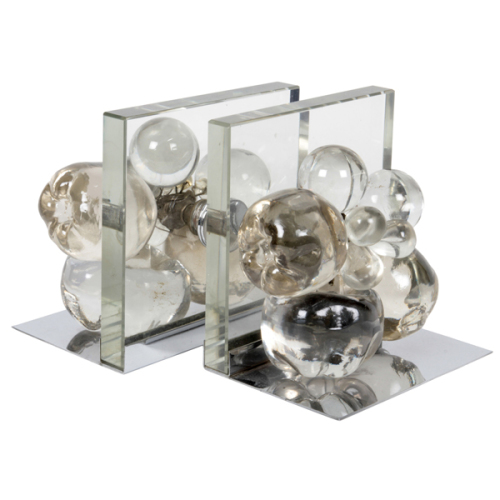 Fontana Arte Italian, Mid-Century Glass "Fruit" Bookends, circa 1950
More Information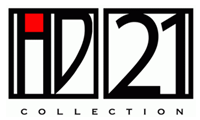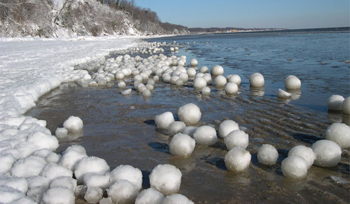 Product Description
Fontana Arte Italian, Mid-Century Glass "Fruit" Bookends, circa 1950
Related Products
Alexandre Noll rare and early Art Deco mahogany and glass box c. 1930

ALEXANDRE NOLL (1890-1970) France

Covered box c. 1930

Mahogany with ebony peg details and 1 ¼ inch thick Saint-Gobain glass.

Marks: ANoll

Provenance: Private Collection New York, Galerie de Beyrie Paris, Odile Noll (A. Noll's daughter), Alexandre Noll Estate
For more information see: Alexandre Noll, Olivier Jean-Elie, Pierre Passebon (Paris:Edition du Regard, 1999); Alexandre Noll: Les Matres de L' Art Decoratif Contemporain, Collection dirigée par R. Moutard-Uldry edited by (Geneve: Pierre Cailler, 1954); Le Mobilier du Xxe Siécle: Dictionnaire des
Créateurs, Pierre Kjellberg (Paris: Les Éditons de l'Amateur, 1994) p. 455-456.

H: 2 1/2″ x D: 5 3/8″ x W: 8″

Price: $14,500

Borek Sipek Bagatti Valsecchi Art Glass Goblet c. 1994

BOŘEK ŠĺPEK  (born Prague 1949) Prague, Czech Republic

Goblet "BAGATTI VALSECCHI" c. 1994

Blown clear glass with blue bow details

Exhibited: The Twenty One (Millenium) Exhibition, Arzenal Gallery, Prague, 2000

For more information see: Sípek, Philippe Louguet, Dagmar Sedlická  (Paris: Éditions Dis Voir, 1999); Borek Sipek and Christian Tortu: Collection Twentyone 2001 (Prague: Arzenal Edition, 2001)

H: 12″ x Dia: 4 1/2″

Price: $1,150

The Czech architect, furniture designer, and glass artist Borek Sípek was born in Prague in 1949. From 1964 to 1968 Borek Sípek studied furniture design at the Prague School for the Applied Arts. In 1969 he began to study architecture at the Hochschule für bildende Künste in Hamburg. In 1973 he studied philosophy at Stuttgart University. From 1977 until 1979 he was an academic assistant at the Hannover University Institute of Industrial Design. Borek Sípek took his degree in architecture at Delft Technical University. Then he taught design theory at Essen University until 1983. In 1983 Borek Sípek also opened an architecture and design practice in Amsterdam. He founded Alterego, a design business, with David Palterer. In the 1980s, Borek Sípek designed Postmodern furniture and glass objects, which brought him international renown. Borek Sípek's designs are formally distinctive, both ingeniously conceived and sumptuous, and are often executed in unconventional materials and combinations of materials. Borek Sípek views design as an interpretation of culture. For this reason, he rejects the functional and rational approach to design and does not want striving for technical perfection to lead to disregard of individuality. In 1983 Borek Sípek designed "Bambi", a fragile-looking tubular steel chair with brass fittings and a back covered in silk. In 1991 Borek Sípek designed the "PCSS" table with blue glass legs and metal fittings. Borek Sípek's superlative glass objects are executed by glassblowers in Murano and Novy Bor. Borek Sipek is also known worldwide as an architect and has received prestigious commissions. Between 1993-2002 Borek Sípek worked on the Het Kruithuis Museum in 's Hertogenbosch (the Netherlands). In 1994 Borek Sípek designed the Kyoto Opera Houseentsteht das Opernhaus in Kyoto. In 1995 Borek Sípek designed a Paris boutique for Karl Lagerfeld. In 1990 Borek Sípek became a professor of architecture at the Academy for the Applied Arts in Prague, where he taught until 1998. Since 1999 he has taught at the Universität for angewandte Kunst in Vienna.

His works are included in major international museum and private collections throughout the US and Europe including Museum of Modern Art, Stedelijjk Museum, Denver Art Museum, The Corning Museum of Art, The Hauge Municipal Museum, Kunstmuseum in Düsseldorf and Design Museum in London.