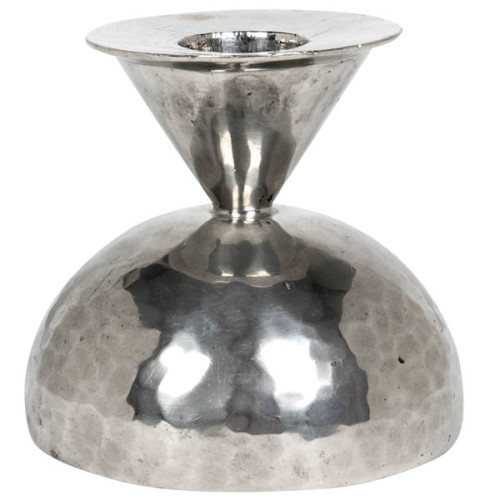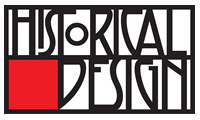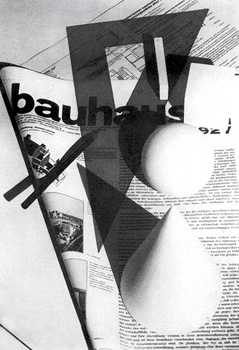 Product Description
Karl Raichle / Bauhaus Hand Hammered Pewter Candlestick c. 1928
Related Products
Wolfgang Kreidl / Max Roesler Jugendstil Keramik "Darmstadt" charger c. 1930

WOLFGANG KREIDL (1906-1972) Dresden, Germany
MAX ROESLER FEINSTEINGUTFABRIK A.G. Germany

"Darmstadt" charger c. 1930

Brown, orange and cream glazed earthenware with a triangle and circle airbrush design, on stand

Marks: Max Roesler Rodach (shield mark), 9, 2925, 6239 1 (under the glaze)

Model illustrated: Keramiken der Neuen Sammlung im Internationalen Keramik-Museum Weiden, Hans Wichmann, (Munich: Staatliches Museum für angewandte Kunst, 1990), cover image and p. 65; Design Contra Art Déco: 1927-1932 Jahrfünft der Wende, Hans Wichman (Munich: Prestel Verlag, 1993), p. 101.

For more information about Wolfgang Kreidel and other models with matching air brush design see: Max Roesler, Keramik zwischen Jugendstil und Art Deco, Rolf Peters (Darmstadt: Museum Künstlerkolonie Darmstadt, 1998), p. 98-102.

Dia: 12 5/8"

Louis W. Rice / Apollo Studios / Bernard Rice's Sons Skyscraper Tea and Coffee set on tray c. 1928

LOUIS W. RICE (designer) USA
APOLLO STUDIOS, BERNARD RICE'S SONS, INC. New York

Skyscraper Tea and Coffee service on tray c.1928

Silver-plated brass with black patinated handles

Stamped marks on all four pieces and the tray: SKYSCRAPER, Des. Patent Pending, APOLLO EPNS within a rectangle, MADE IN USA BY BERNARD RICE'S SONS INC., 5259 (5x)

For related Skyscraper objects see: Silver in America, 1840-1940: A Century of Splendor, Charles L. Venable (Dallas/New York: Dallas Museum of Art, Harry N. Abrams, Inc., 1995) p. 288; (teapot) Modernism: Modernist Design 1880-1940, The Norwest Collection, Norwest Corporation, Minneapolis, Alastair Duncan (Woodbridge, Suffolk, England: The Antique Collector's Club, 1998); (cocktail shaker) American Modern 1925-1940, Design for a New Age, J. Stewart Johnson, exh. cat. Metropolitan Museum of Art (New York: Harry N. Abrams, American Federation of Arts, 2000) p. 48. For more information on the firm of Bernard Rice's Sons see: Encyclopedia of American Silver Manufacturers, Dorothy T. Rainwater, (West Chester, PA: Schiffer Publishing Ltd., 1986) p. 161.

Teapot: H: 6 3/8" x W: 8 ¼" x D: 4 ½"
Coffee pot: H: 9 ½" x W: 8 ¼" x D: 4"
Creamer: H: 5" x W: 5" x D: 2 ¾"
Sugar: H: 4 5/8" x W: 5 5/8" x D: 3 1/4"
Tray: L: 18 ½" x D: 15 ¼" x H: 2 5/8"

Apollo Studios of New York was a division of Bernard Rice's Sons. In 1872, the Apollo Silver Co. merged with the bankrupt Redfield & Rice Co., forming Bernard Rice's Sons. Louis W. Rice started designing silver around 1899 and became president of Bernard Rice's Sons in 1917. He was also one of the designers for the Apollo Studios "Skyscraper" line. These designs include a dressing table set, a famous "Skyscraper" coffee and tea set, candlesticks and a sauce server and tray. The square-forms are a wonderful architectonic stepped design, much like the Manhattan skyscrapers of the time, and according to advertisement from the period, "smoke stack" handles! Some pieces are marked Apollo Studios NY or Apollo/Ovington, followed by style numbers and were made from 1909-1922, whereas the "Skyscraper" line, was introduced in 1928 and with the advent of the stock market crash in October 1929, ended that same year. Thus the Apollo Studios was made for only one year and that explains its rarity in the market place. Apollo Studios was also a contemporary of Tiffany Studios and was mentioned in advertisements as manufacturers of hollow ware, boudoir accessories, and gift items in silver plate, gold plate, and other metals. Apollo Studios pieces were also sold in the prestigious Ovington's store in New York City, also known as the The Gift Shop of Fifth Avenue.