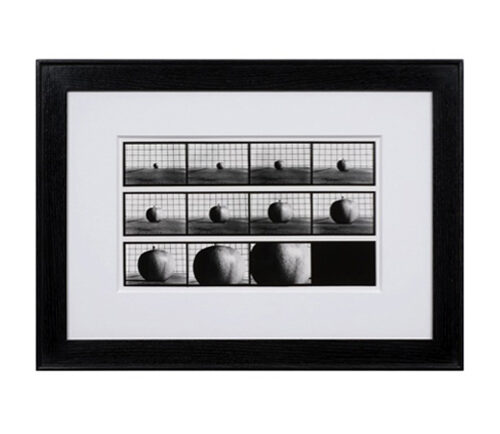 Marion Faller & Hollis Frampton, Apple Advancing, Gelatin silver print, 1975
More Information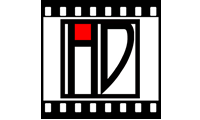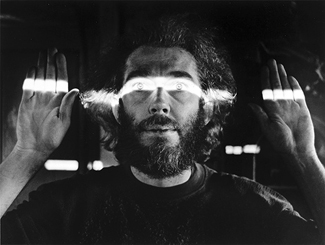 Product Description
Marion Faller & Hollis Frampton, Apple Advancing, Gelatin silver print, 1975
Related Products
Werner Rohde, Mask, Gelatin Silver Print c. 1920's

WERNER ROHDE (1906-1990) Germany

Mask   c. 1920s

Gelatin silver print

Signed on the back of the photo: Werkbundausstellung "Film und Foto" (typed on label); 9.) 9/ (in ink and red crayon); Kupfer ofun Rourk 60 m R 10.5 x 14.5 cm / ump ubonpposhm bu 6/5 10088 (all in pencil script); fmlg-Rohde Woopswerk (in pencil); Werner Rohde Malen Breuien Oobben 58 (ink script)

H: 21 7/16" x W: 18 13/16" (framed)

Price: $17,500

Werner Rohde's visual play with the animate and inanimate draws him close to the aesthetics of the surrealists while maintaining a strong alignment with Germany's new-vision avant-garde. Rohde experimented widely with double exposures, photomontage, perspective and dramatic lighting that reflected his interest in filmic effects. The son of a glass painter (a medium he would turn to later in life), Rohde took up photography during his studies at the Arts and Craft School in Halle. Like Kesting, Willy Zielke and Kretschmer, he participated in the 1929 'Film und foto' exhibition in Stuttgart that remains one of the historical focal points for Germany's new photographic vision. Despite this early recognition of his work, Rohde fell into obscurity after the war until the rediscovery of his photographs in the mid 1970s. Rohde's fascination with the play between life and lifeless, animate and inanimate, has strong reverberations with surrealism. Masks, mannequins and paper models were used in his photographs to illuminate the uncanny. They were also employed in his self-portraiture in which he mimicked his idol Charlie Chaplin. These techniques of visual illusion provided a mnemonic tool for the images of his wife in which she is posed and photographed to resemble a doll or mannequin. In the act of art imitating life, 'Wachspuppenkopf' is uncanny in its mimicry of the human form with realistic teeth, eyes, skin and even the unusual detail of small wrinkles under the eyes. The downward angle, lighting and odd doubling of the neckline utilizes standard surrealist methods to infer life and movement.

Thomas F. Barrow, Register Synthesis, Gelatin silver print photogram with applied spray paint, 1978

THOMAS F. BARROW (b. 1938) Kansas City, MO

Register Synthesis Photogram 1978

Gelatin silver print photogram with applied spray paint

Signed: Register Synthesis – 1978 – Thomas F. Barrow (in ink on back)

Exhibited: J.J. Brookings & Co. (San Jose, CA): Thomas F. Barrow: Inventories and Transformations, A Twenty Year Retrospective, Nov. 6 – Dec. 16, 1986. This exhibit occurred simultaneously with the following two museum shows: the San Francisco Museum of Modern Art (Nov. 6, 1986 – Jan 11, 1987) and the Los Angeles County Museum of Art (Feb. 26 – May 10, 1987).

Related photograph illustrated: Aperture: The New Vision: Forty Years of Photography, no. 87 (New York: Aperture Foundation, Inc., 1987), cover image.

Framed size: H: 19 5/8" x W: 23 7/16"

Thomas Barrow, American was born in Kansas City, Missouri. He studied at the Art Institute of Design in Chicago, Illinois and received his M.A. in 1967. At the George Eastman House, Barrow was the Assistant Director from 1971 to 1972 and served as the Associate Director of the University of New Mexico Art Museum from 1973 to 1976. Barrow started teaching photography in 1976 in the Art Department of the University of New Mexico and by 1985 he became the Acting Director of the University Art Museum. His Midwestern academic pedigree includes studying with Aaron Siskind at the Art Institute of Design in Chicago and with filmmaker Jack Ellis at Northwestern University in Evanston, IL. Barrow has received two NEA Photographers Fellowships in 1973 and 1978.

Barrow has produced a series of silver-gelatin photograms and then applied spray paint to the prints. These combine the feeling of a split-toned black and white print and at the same time appear as color-print photograms. He has produced a series of photograms entitled Disjunctive Forms. His images appear as surreal assemblages of various found and created objects superimposed with stencil text. Barrow works in the "academic" tradition—his pictures are deliberately and consistently experimental, highly intellectualized, scholarly in their concerns, and chock-full of references to the work of other artists.