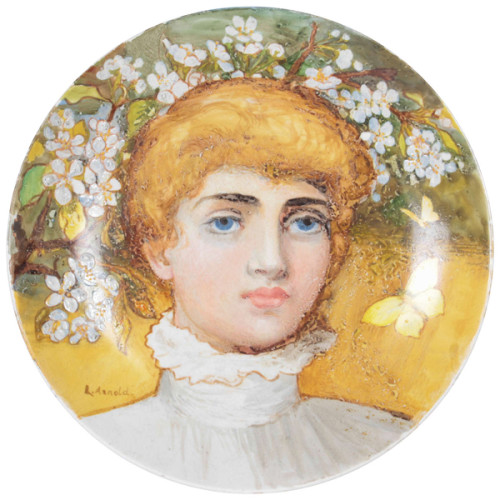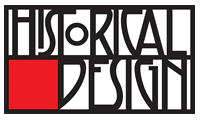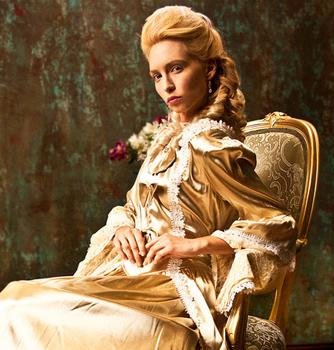 Product Description
Minton's Ltd. / L. Arnold "Pre-Raphaelite" charger 1881
Related Products
Gorham Sterling "Exotic" Tea and Coffee Set in Original Presentation Chest 1880

GORHAM MFG. CO SILVERSMITHS   Providence, RI

"Exotic" tea and coffee set in original Gorham presentation chest   1880

Sterling silver 5-piece service with "butler" finish, bright-cut chasing and repoussé surface in the Far Eastern exotic style with elephant trunk spouts and handle forms, tent-like splayed lids, interior gilding, engraved conjoined initials, bone spacers in the original deep teal velvet-covered presentation chest with hot pink silk- satin interior

Marks:  Gorham marks, STERLING, 1560, "M" (date mark for 1880)
Lid of case interior stamped in gold:  Gorham Mfg. Co., Sterling Silver, Union Square, NY

Coffeepot: H: 5 3/4" handle-to-spout: 9 1/4" (length);
teapot: H: 4";
sugar w/ lid: H: 4";
waste bowl: H: 2 1/2";
cream: H:  2 3/4";
chest:  H: 7" x W: 21" x D: 15"

For related pieces and further information see:  Gorham Silver 1831-1981, Charles H. Carpenter, Jr., Chapter 6, "Innovation and Fantasy", p. 94-121 (New York: Dodd, Mead & Company, 1982); In Pursuit of Beauty: Americans and the Aesthetic Movement, Chapter 8,"Metalwork: An Eclectic Aesthetic" by David Hanks, p.253-294 (New York: The Metropolitan Museum of Art / Rizzoli, 1987); Silver in America, 1840-1940: A Century of Splendor, Charles L. Venable, Chapter 6, "Consumption and Design" p.123-204, (New York: Dallas Museum of Art, Harry N. Abrams, Inc., 1995).

Price: $42,500

Edward Welby Pugin "Granville" early Arts & Crafts walnut chair c. 1870

EDWARD WELBY PUGIN  (1834 – 1875) UK

"Granville" chair  c. 1870

Walnut, klismos-style A-frame back with exposed pegs, shaped seat and base with exposed mortise and tenon joinery.

Illustrated: Victorian and Edwardian Decor: From the Gothic Revival to Art Nouveau, Jeremy Cooper (New York: Abbeville Press, 1987) fig. 117; Nineteenth Century Design: from Pugin to Mackintosh, Charlotte Gere and Michael Whiteway (New York:  Harry N. Abrams, Inc., 1993) p.143, pl. 173 (in oak); Catalogue Sommaire Illustré des Art Décoratifs, Musée d'Orsay (Paris: Éditions de la Réunion des Musées Nationaux, 1988), p. 184; Truth, Beauty and Design. Victorian, Edwardian and later decorative art, exhibit. cat. (Fisher Fine Art Limited, London, 1986.) p. 32, No. 50

A "Granville" chair is in both the Permanent Collection of the Metropolitan Museum of Art and the Museum of Modern Art in New York and the Musée D'Orsay, Paris.

H: 33″ x D: 18 1/2″ x W: 18″

Price: $42,000

Edward Welby Pugin, son of gothic-revivalist A.W.N. Pugin, was thrust into professional and family responsibilities upon his father's death in 1852 when the young Pugin was only eighteen years of age.  His style closely resembled his father's although his furniture for the Granville Hotel in Ramsgate (1873) had its own robust individuality. Like his father, he designed both church and domestic furnishings, mostly executed by Hardman & Co. of Birmingham, the firm established by his father's collaborator John Hardman. During his lifetime E.W. Pugin was regarded as the leading Catholic church architect of the High Victorian period, in fact he left for New York in 1873 and set up an office on Fifth Avenue and received commissions for some 30 churches across the U.S., including Chicago and Washington, D.C.