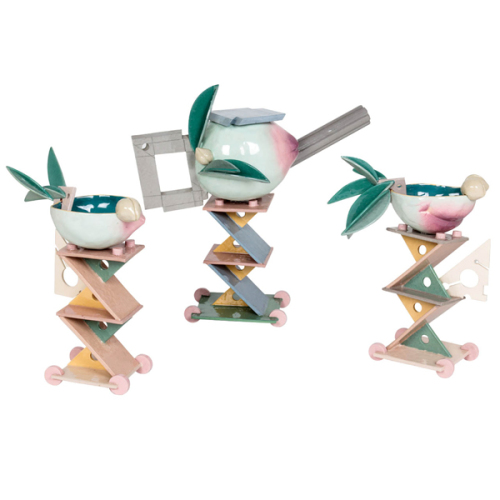 Peter Shire Memphis Group California Art Pottery Rare Early "Peach Tea Set" 1980
More Information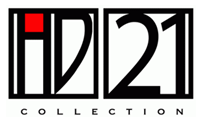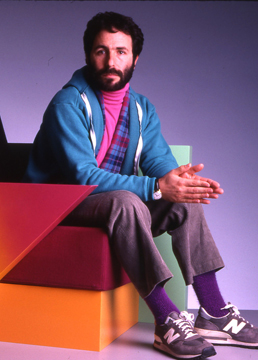 Product Description
Peter Shire Memphis Group California Art Pottery Rare Early "Peach Tea Set" 1980
Related Products
Robert Schellin American Studio Pottery Hand Thrown Floor Vase 1958

ROBERT SCHELLIN (1910 – 1985) USA

"Calligraphy" Floor Vase 1958

Hand thrown earthenware with a light and dark brown glaze with a stylized abstract calligraphic motif encircling the body

Marks: various marks and estate stamps Robert Schellin, Made in 1958, P88, C118 (paper labels)

For more information see: Schellin, A Retrospective (Milwaukee: School of Fine Arts, The University of Wisconsin, 1975); Who Was Who in American Art,  (Madison, Conn.: Sound View Press, 1985), p. 547.

H: 23 1/2″ x Dia: 7″

Price: $9,000

Robert Schellin's life as an artist was consistent, productive, and based on firm philosophical foundations.  Regarding his own progress, he had always been aware, as a young art student and later as a mature artist, that deliberately narrowing the focus of his interests to assure a more constant public notice would run the risk of his becoming highly expert, but sterile in expression.  From the beginning of art student days Schellin moved from very satisfying periods of drawing and painting to work in three-dimensional
Media, frequently in the medium of ceramics.

Schellin left the W.P.A. in 1937 to teach at the University of Wisconsin in Milwaukee. After a year he moved to East Orange, New Jersey, supervising art in the public schools.  It was during this stay in the New York metropolitan area that he studied with Hans Hoffmann at his Eighth Street School and witnessed at first hand the changing art scene and the growing commercialism of the artists market.  Robert Schellin later returned back to Milwaukee rejoining the faculty of the University of Wisconsin (UWM). His works have been exhibited for many years in Wisconsin and national shows including the Wisconsin State Fair; the Art Institute of Chicago, 1944; the Walker Art Center, Minneapolis, 1946; and the Milwaukee Art Institute numerous times between 1939-1960.  He was included in the USIA European Traveling exhibition 1959-61.

Asprey & Co., Important Cardinal Sculpture gem set with natural rubies, 18K gold and amethyst quartz, signed,1980

ASPREY & CO. LTD. (founded 1781) London, UK

Important Natural Ruby Gem Set 18K Gold Cardinal Bird Sculpture   1980

Finely chased and chiseled 18K yellow and white gold realistically rendered sculpture of a Cardinal bird set with
75+ carats (approx.) of natural gem quality oval and round cut Burmese rubies (GIA certificate) further heightened with enamel eyes and blackened gold face plumage details, the 18K gold and natural ruby cardinal sets atop a natural Amethyst crystal "mountain rock" with a tooled and gilt (script mark) on the leather under-pad.

Marks: A & Co. (in a quatrefoil), Crown mark, 750 (gold standard mark) Lion's head (London assay mark) "F" date mark for 1980, tooled and gilt Asprey (script mark) on the leather under-pad

Provenance: Privately commissioned by the Sultan of Brunei's younger brother, Prince Jefri Bolkiah who also later became the owner of Asprey & Co in the 1995. This rare sculptural 18K gold and natural ruby Cardinal was handmade by the finest jewelers and work masters in the workshop of the London Asprey & Co. located above the flagship store at 167 New Bond Street.

H: 3 ¾" x L: 5 3/4" x W: 1 ½"(Cardinal only)
H: 6" x W: 6 ¾" x D: 5 ¾" (with Cardinal atop natural Amethyst crystal rock)

As one might guess, a large part of the animal symbolism of the cardinal comes from the brilliant red color of the males. In fact, its name is derived from the royal red vestments worn by Catholic cardinals. This shock of red, especially against the stark backdrop of winter snow, is a magnificent sight. The male cardinal reminds us passion, warmth and vibrancy is available to us – even under the cloak of Winter's grey clouds. Interestingly, the more bold and bright his color is, the more successful the cardinal will be at prolonging his lineage. Dull colored male cardinals are less likely to mate successfully than bright colored ones. True to the fire of his color, the crimson cardinal has got some major spunk. He will aggressively defend his territory, and fight attackers with ferocity. Indeed, they have been known to fight ghost males (their reflections) in mirrors for hours on end. Both male and female give us glorious songs. Along with peeps and pips and warbles, the tuned ear can also hear "cheer, cheer, cheer!" Very appropriate to the animal symbolism of cardinals, because they are a delight to both eyes and ears. The cardinal makes a fantastic animal totem. It reminds us to hold ourselves with pride, not ego pride but rather the cardinal asks us to stand a little taller, be a bit more regal and step into our natural confidence as if we were born to lead with grace and nobility. Those who attract the cardinal as their totem are naturally energetic, love life, and happily help others where and when they can!